caravan, motorhome & vehicle storage
Whether you are looking to store your caravan, motorhome, car, boat and trailer or any another vehicle Safe N Stored at Aldeby is the ideal location.
Your leisure vehicles are great when you're off on holiday and enjoying weekends away, but if you would like to benefit from extra space on your drive, particularly during the winter or indeed at other times you aren't using your caravan, motorhome or boat, why not leave it safe and secure at our Aldeby vehicle storage facility.
safe and secure
Our storage facility is monitored 24hrs a day by our CCTV coverage. All vehicles are stored on hard surfaces so you will not arrive to find a grass field. Decide how long you wish to leave your vehicle with us - for a day, a week, a month or even a season. Bring your vehicle down and we will store it for you safe and secure.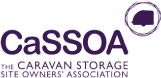 caravan storage site owners association
CaSSOA Membership Number SAF0203. We are proud members of CaSSOA who's aim is to reduce caravan theft by promoting the highest levels of security on caravan storage sites. As an accredited CaSSOA storage site, we give our customers total peace of mind by minimising security risks to your caravan with full perimeter fencing, lockable gates, CCTV and monitored entry and exit of the site.