Hamiltons FX Service
For more information on our Currency Exchange Service...

click here
detailed quote
To get a FREE detailed quote of your move fill out our online Contents of House form
CALL US TODAY!
0800 246 5622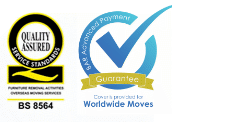 How to choose a good international removals company
It has long been said that the process of moving house ranks among the most stressful of experiences a person can go through. It's right up there with getting married or having a baby. So add to that an international move, to Europe or overseas, another language, a different currency, a different culture and you have a recipe for potential disaster.
It is therefore imperative that you employ the services of an international
removals company
that are well versed in anticipating and dealing with any pitfalls before they arise. This will help your move to your new address go as smoothly as possible.
Do you need a removals company?
Having already been through the various stresses and strains that go with buying and selling your property, it is reassuring to know that come moving day, you can relax and leave it all to a professional
removals company
.
This really does have its advantages. Precious ornaments, valuable paintings, mirrors and furniture are all wrapped, packed and loaded with confidence and extreme care, to avoid damage in transit.
Using a removals company also helps reduce the likelihood of you or a family member injuring themselves whilst lifting furniture or boxes. Back strains and muscle pulls through lifting and carrying heavy items incorrectly are commonplace, so it makes good sense to employ a company properly trained in such things.
Moving house Internationally involves clearing your belongings through customs. At Hamiltons we can simplify this process, advising on procedure prior to departure, providing all the necessary paperwork and liasing with the relevant authorities on your behalf, should any issues arise during your move.
How to select the right removals company for you
When choosing a removals company to assist in your International or European house move, special attention should be paid to their levels of service, both before and during the move and to their credentials.
The length of time they have been trading often reflects directly upon their experience. Hamiltons have been moving people at home and abroad since 1993.
Note also the levels of experience of their staff members. Whilst everyone has got to start somewhere, there is no substitute for time-served employees.
It is also important to check that your chosen company is a member of a professional body such as The British Association of Removers. This professional organisation exists to monitor and uphold the standards of the industry and Hamiltons are very proud to be members of it.
Organise your removals company well in advance of your move
If you can, start planning your removal as early as possible. Book early as this reduces stress and it's one less thing to worry about.
However sometimes this isn't possible and if you need to arrange your overseas move in a hurry, we can usually arrange things within a few days providing that you have all the necessary documents in hand for the country you are moving to. This includes any necessary visa or work permits.
Take out removals insurance
It is important to choose your removals insurance carefully and ensure that you take out adequate insurance to cover all of your goods and effects.
Beware of companies offering what appears to be an insurance product but is actually liability cover. In the event of any damage incurred, you would have the problematic task of establishing who is liable for the damage before recompense will be considered.
If you take out removals insurance with Hamiltons, you will have peace of mind knowing that your property is protected. We offer a bespoke removals insurance policy through Brit insurers, which will allow you to claim for loss or damage to your property whilst in transit.
For more information on our removals insurance please click here.

Does your move include any specialist items such as pets, vehicles or machinery?
If you need to transport specialist items when moving to your new home, it is important to find a company who are experienced in this. You will also need to arrange transportation of these well in advance of your moving date.
Hamiltons can assist you with removals for a wide range of specialist items including horses, vehicles, pianos and machinery. We have custom-built machinery to assist with the movement of valuable items, and only use experienced horsemen to care for horses during transportation ensuring regular feeds and exercise programmes.
For more information on our
specialist removals
service please click here.