detailed quote
To get a
FREE
detailed quote of your move click the button below and fill out our online Contents of House form.
detailed quote

CALL US TODAY!
0800 246 5622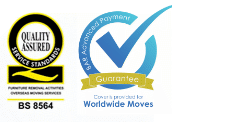 Removals to South Africa | Shipping to South Africa | Moving Home Overseas
Hamiltons carry out regular removals to South Africa including all of South Africa's nine provinces: Eastern Cape, Northern Cape, Western Cape, Free State, Gauteng, KwaZulu-Natal, Limpopo, Mpumalanga and North-West. We offer three types of shipping to South Africa depending on the volume and type of possessions involved: full container shipping, groupage and airfreight services, all at competitive rates.
Depending on how much you wish to transport, we will either recommend you use our dedicated service, which gives you sole use of a 20 or 40ft container, or assign your shipment to groupage, where it is carefully packed with a number of other small loads in a shared container. Airfreight can be arranged for items that will be needed quickly on arrival, such as clothes, documents and personal items.
We can provide quotes for international removals to South Africa and most other worldwide destinations, as well as for moving South Africa to UK.
Our quality removals to South Africa service includes all major cities including Bhisho, Bloemfontein, Cape Town, Durban, East London, East Rand, Johannesburg, Kimberley, Mafeking, Nelspruit, Pietermaritzburg , Polokwane, Port Elizabeth and Rustenburg.
Our removals service involves a great deal more than simple shipping to South Africa and can be tailored to your requirements to include full packing and unpacking, insurance, cleaning, storage, help with customs and more, to suit your needs. We cater for international house moves, commercial moves, specialist items, pets and vehicles.
Removals to South Africa – Moving Home Overseas – International Removals South Africa – Shipping to South Africa – Online Moving Quotes
Here at Hamiltons, we understand that moving home overseas can be a daunting experience and removals to South Africa is no exception. Our fully trained staff will advise you on every aspect of your move including which removal option is the best choice for you, removals insurance and clearing your belongings through customs. On the day of your move, we will ensure that everything runs as smoothly and efficiently as possible, through careful planning and using friendly, experienced removals staff.
Shipping to South Africa – click here for a free online quote
About South Africa
South Africa is a vibrant country full of amazing people and breathtaking scenery. It is known for its quality of life, wildlife, temperate climate and low cost of living and there is much cultural diversity here.
Many people are choosing to emigrate to South Africa to fill skill shortages in IT, engineering and medical positions, while at the same time benefitting from lower property prices and living costs, resulting in a steady stream of requests for removals to South Africa. Likewise, may South Africans are attracted to the UK for work and study, so we also cater for many people moving from South Africa to the UK.
Although eleven languages are spoken throughout the country, English is widely used, making it easy for English speakers to live and work here.
Cape Town
Cape Town is a busy, colourful and cosmopolitan city with a diverse range of attractions, sights and activities. The city has something for everyone, from the landmark beaches of Clifton and Camps Bay to the lively V&A Waterfront and the award winning wine lands of Stellenbosch and Franschhoek. The city is also famous for the awesome Table Mountain, shrouded in its fluffy white tablecloth. The views from the top are spectacular, where you get a bird's eye view of the city in all directions.
Removals to Cape Town – click here for a detailed quote
Durban
Durban is a heady mix of design, art, music and food – peppered with cultural influences. Even in winter there's lots to experience, especially with snow-capped mountains, top game reserves, country walks and many other popular attractions nearby. The city offers miles of soft, sandy swimming beaches, great surfing and warm weather all year round. This lush green, subtropical city is famed for its well preserved art deco and Victorian architecture, particularly along Victoria Embankment and the history of the area is laid out for all to see in the dozen or so museums that tell its unique story.
Removals to Durban – click here for a detailed quote
Johannesburg
Dubbed the 'City of Gold' due to its gold mining past and also known as 'Jo burg', Johannesburg is a city of both considerable wealth and abject poverty. One of the largest cities in all of Africa and growing fast, it will soon rank amongst the top 10 largest cities in the world. Even now it is the world's biggest inland city. Modern South Africa's financial capital, its city centre is teeming with skyscrapers and huge shopping complexes but Johannesburg is rich in history too. From the discovery of gold to the period of apartheid, the museums of Johannesburg have a fascinating story to tell. Check out The Museum of Africa and the Johannesburg Art Gallery. The Gallery dates back around 100 years and contains a priceless collection of contemporary and impressionist masterpieces, together with works by leading South African artists.
Removals to Johannesburg – click here for a detailed quote
Port Elizabeth
South Africa's second oldest city, Port Elizabeth or PE as it is known colloquially, is situated on the South Eastern Coast of South Africa. It has a growing economy and there's a lot of new building taking place – and yet, it still has that friendly, small town feel to it. Port Elizabeth benefits from a moderate climate and some lovely beaches which have attained blue flag status. Boasting a major university (NMMU), good schools and great shopping, PE has a lot going for it.
Removals to Port Elizabeth – click here for a detailed quote
Pretoria
Since the arrival of democracy, Pretoria has become increasingly cosmopolitan. It used to be staid, stuck in its boorish ways but things have changed; most Pretorians are not Afrikaans, but Pedi and Tswana, and the change of government has brought many more middle-class blacks into the area. The city no longer has an overwhelming Afrikaans community, nowadays there are thousands of students, a progressive art scene and a thriving gay and lesbian community. The nightlife here is energetic and fun and it is close enough to Johannesburg's airport to be practical for work and travel and yet feels safer and much less sprawling.
Removals to Pretoria – click here for a detailed quote
Soweto
Soweto is the acronym used for that area of South Africa known as the South West Townships. The townships were created even before apartheid properly took hold in the country, to accommodate black mine and factory workers, outside of the city centre. Soweto today is vibrant and friendly. It's a trend setter, not just in fashion but in politics, music, dance art and language and its many heritage sites and restaurants make it very popular with visitors and locals alike.
Removals to Soweto – click here for a detailed quote
Moving Home Overseas – click here to talk to a removals specialist.
South Africa removals customs information
South Africa relocation guide

Removals to Johannesburg | Removals to Durban | Removals to Cape Town
Removals to Port Elizabeth | Removals to Pretoria | Removals to Bloemfontein