detailed quote
To get a
FREE
detailed quote of your move click the button below and fill out our online Contents of House form.
detailed quote

CALL US TODAY!
0800 246 5622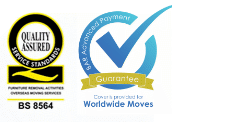 Removals to Cape Town South Africa | International Removals
Hamiltons Removals provide removals to South Africa's south-western city of Cape Town. for all domestic and commercial relocations. Our high quality shipping to South Africa service can be tailored to suit your specific requirements and include shipment of your belongings in a 2ft or 40ft container, groupage services or air freight. For removals to Cape Town South Africa we can offer a full packing, loading, transporting and unloading removals service, or just the movement of your belongings. Whether you require removals to South Africa, back to the UK, or between another European or International destination, we provide professional, reliable removals service at highly competitive rates.
With Cape Town one of the most popular destinations in Africa for UK people moving overseas, it's no surprise to learn that we carry out regular shipping to South Africa. But for those requiring removals to South Africa's most westerly city, Hamiltons can provide a great deal more than shipping. With container shipping to South Africa involving up to 3 weeks transit time, a complete removals service can involve a significant amount of coordination of different elements such as packing, storage and arranging personal travel. In particular when shipping to South Africa it is necessary for you to arrive in South Africa before your belongings so that they can be cleared through customs. As part of our removals to South Africa service Hamiltons can help to arrange storage, packing, insurance and even cleaning, as well as advising you on which personal effects to ship and which to send by airfreight, and how to deal with the moving of pets or vehicles.

Removals to South Africa – Click here for full information on our removals to South Africa service.
Hamiltons are a member of the trade association BAR (British Association of Removers), The Road Haulage Association and are BS EN ISO 9001:2000 registered.
About Cape Town
tually every first time visitor to Cape Town makes straight for Table Mountain, whether simply to marvel at it or to ride the cableway to its summit. The 3,559ft, flat topped mountain makes for a truly awesome sight and a fabulous photograph, especially when shrouded in its fluffy white table cloth. Be aware however, weather conditions from base to summit can vary dramatically. You might be happy in just a t-shirt at base level but you will need a warm jacket the closer you get to the top.


Cape Town's climate is Mediterranean, presenting hot, dry summers followed by cold, wet winters. The months of November through to March enjoy the lowest average monthly rainfall, the long sunny days and late sunsets making these the best months of the year to take a ride to the top of the mountain or to sit at one of the many pavement cafés enjoying a glass or two of Bushman's Creek or a refreshing cup of Rooibos or Honeybush.


The city has a wonderfully bright and vibrant feel to it. It is a cultural, colourful and very musical melting pot, bubbling over with shops, bars and restaurants pulsing to the beat of music of every genre. As you walk the streets you'll be treated to recorded performances from everyone from Cat Stevens to Simon & Garfunkel, Bob Marley and Hugh Masekela. Among the world famous names to appear live here have included Duran Duran, The Beach Boys, Public Enemy, Crowded House, Elton John, Cliff Richard, Tom Jones and The Killers as well as DJ's Armin Van Buuren and Paul Oakenfold.


Cape Town offers a diverse range of attractions, sights and activities from the budgeted basics to the lavishly luxurious. The beaches of Clifton and Camps Bay, the vibrant V&A Waterfront and Cape Town's own city centre, together with the award winning winelands of Stellenbosch and Franschhoek make time spent in Cape Town a never to be forgotten experience.


Exhibitions, comedies and cabarets are regularly being performed throughout the city. There are 5 different theatre venues putting on a range of weekly performances from kids shows through to classical concerts, ballet, opera and theatre. Art galleries to look out for are: the South African National Gallery on Government Avenue which hosts a permanent collection of South African and international paintings and sculptures, the Rust-en-Vreugd on Buitenkant Street which delves into Cape Town's colourful colonial past, District Six again on Buitenkant Street, which provides an insight into life in South Africa through the apartheid years and The South African Jewish Museum which documents the history of the South African Jews and their struggle with anti-Semitism.


For the adventurous and sporting among you Cape Town offers a full range of activities from hiking, climbing and abseiling to watersports, diving and golf. The Cape Peninsula has an array of walking and hiking trails to suit all fitness levels. The hikes can take you through lush green forests, indigenous "fynbos" vegetation and rocky terrains, to be rewarded with breathtaking views and wonderfully fresh, clean mountain air. You are advised to go prepared though – the Cape's weather is notorious for changing without warning. Take plenty of water and warm clothing regardless of the weather when you set out.


If watersports are your thing, Cape Town will quite literally spoil you for choice. Surfing, windsurfing, kayaking and kite-surfing are all available at the beaches and offshore you can scuba dive and check out the reefs, caves and shipwrecks that line the coastline. The braver among you may even fancy a spot of game fishing off the Cape Point coast. Here you can do battle with Tuna, Yellowtail, Reef Fish, Swordfish and even the odd Marlin. If nothing but shark fishing will do then you could always try a shark cage dive which is guaranteed to get the heart racing.


For those of you that would rather be shopping, Cape Town is a consumer's paradise. An eclectic and affordable selection of shops offer a wide range of goods from handcrafted jewellery to intricate beadwork, traditional African art, designer labels, diamonds and precious stones. Trendy shopping malls with large chain stores and boutiques exist alongside local flea markets, curiosity shops, street stalls, restaurants, cafes and bars.


If craft markets are your bag then pay a visit to Greenmarket Square in the centre of town. It's a vibrant craft market, full of authentic African carvings, masks and drums, beadwork and jewellery, clothing, leatherwork and ceramics. The Red Shed Craft Workshop and the Waterfront Craft Market, both at the Waterfront, are indoor markets open 7 days a week. Clothing, jewellery and an array of crafts and artwork are available here. Open air craft markets are held most weekends in various locations throughout the city – look out for the markets at Hout Bay, Constantia, Kirstenbosch and Rondebosch. Kalk Bay is great for antiques, memorabilia and bargains whilst Hout Bay offers an array of craft shops and galleries set in quite beautiful surroundings.
Shipping to South Africa – Cape Town
Hamiltons specialise in removals to South Africa, including Cape Town, as well as most other International destinations. Please click here for a free online removals quote.
Removals to South Africa – Click here for a free detailed quote of your move, or contact us to discuss your requirements.
South Africa removals customs information
Removals to Johannesburg | Removals to Durban | Removals to Cape Town