detailed quote
To get a
FREE
detailed quote of your move click the button below and fill out our online Contents of House form.
detailed quote

CALL US TODAY!
0800 246 5622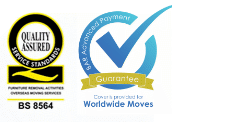 Removals to France | Moving House to France
When it comes to moving house to France, Hamiltons removals to France department offers a weekly service catering for all your removals needs - from domestic house moves, corporate relocations and commercial moves. We can tailor our removals to France service to your requirements, including full packing, moving and unpacking, or just the transportation of your belongings. We can also provide a range of cleaning services if required, to have your old or new home professionally cleaned. All helping to make organising moving house to France as simple as possible.
We are proud to work in partnership with Clé France who have amassed a great level of expertise and experience about the French Property market and can give independent advice on the various regions of France, and also on the culture and lifestyle.

Hamiltons and Clé France - Click here for more information
Our Removals to France Service
We offer three main types of service for our removals to France: a dedicated service, which means that you have sole use of a vehicle; a special service, which allows you to specify collection and delivery dates; and a part load / groupage service. Part load / groupage means that several loads for different customers moving house to France are grouped together and share the same vehicle. Please note delivery times for this service vary depending on how quickly consignments are consolidated.
Moving house to France has never been easier and with airlines offering cheaper flights, more people are choosing to relocate and commute back to the UK for work. Added to the people emigrating we have seen a substantial increase in the volume of our weekly designated and groupage moves to mainland Europe, including removals to France.
Based in Norfolk, Hamiltons National & International Removals are approximately 150 miles away from the Channel Tunnel, so we are ideally placed for removals to France . Our road trains travel directly from your home, through to Calais, and then on to your final destination.
Removals to France - Click here for a free detailed quote of your move or contact us to discuss your individual requirements.
Moving House to France - Moving to a Truly Cosmopolitan Country
France, officially known as the French Republic, is a country whose metropolitan territory is located in Western Europe and is bordered by Belgium, Luxembourg, Germany, Switzerland, Italy, Monaco, Andorra, and Spain. It also includes a number of islands and overseas territories.
France is the most visited country in the world, receiving over 79 million foreign tourists annually. It is easily accessible from the UK via the Channel Tunnel. France is a founding member of the European Union and it has the fifth or sixth largest economy in the world.
The capital of France is Paris, a beautiful, romantic city that is situated on the River Seine, in the North of the country. Well known city landmarks include the Eiffel Tower - an iron tower built on the Champ de Mars and the Arc de Triomphe - a monument that stands in the centre of the Place Charles de Gaulle, at the western end of the Champs-Elysees.
Approximate distances from London to France's main towns and cities
Amiens
Angers
Bordeaux
Brest
Caen
Cannes
Dijon
Grenoble
Le Havre
Le Mans
Lille
Limoges
Lyon
Marseille
Metz
Montpellier
Nantes
Nice
Orleans
Paris
Perpignan
Reims
Rennes
Saint Malo
Saint Tropez
Strasbourg
Toulouse
Tours

175 miles
440 miles
620 miles
523 miles
291 miles
823 miles
431 miles
613 miles
248 miles
386 miles
146 miles
501 miles
549 miles
743 miles
365 miles
735 miles
496 miles
840 miles
339 miles
257 miles
804 miles
247 miles
405 miles
395 miles
806 miles
462 miles
679 miles
405 miles

Paris
Possibly the most romantic of all European cities, Paris is beautiful at any time of year. The different architectures, its history, its art and the wonderful River Seine with its boat taxis and cruisers all play a key role in the creation of what is, undeniably, a world class city. Whether you are visiting Paris for the first time or are quite familiar with its boutique and restaurant lined streets, Paris never loses its flavour or appeal.
Removals to Paris - click here for a detailed quote.
Marseille
Looking out over the Mediterranean, Marseille is the main port of France and has been of major importance throughout history. The Greeks and Romans built cities on the same site, as have countless civilisations both before and afterwards, and as a result archaeological digs are constantly unearthing ancient and fascinating artefacts. Marseille is full of art and culture but it is also a Mecca for the young; famed for its water sports and sun-drenched beaches.
Removals to Marseille - click here for a detailed quote.
Lyon
Lyon has really taken culture to its heart. The city boasts museums coving a wide range of subjects, art galleries displaying works from every period and live entertainments like theatres, an opera house and various music venues. If you're into reading or antiques, you'll be spoiled for choice here. Pop down to the old part of the city or check out the area around rue Auguste Comte, you'll find book dealers and antique stores aplenty.
Removals to Lyon - click here for a detailed quote.

Toulouse
Toulouse is located on the banks of the meandering River Garonne. The "city of light" as it has become known has a great number of historical buildings, particularly within its old quarter that are illuminated at night time, making it quite a spectacle. The University of Toulouse, originally founded in 1229 is home to some 130,000 students. It is made up of a number of different and notable colleges, brought together under one banner.
Removals to Toulouse - Click here for a detailed quote.
Nice
Nice is the capital of the Cote d'Azur or French Riviera in the South of France. It is a vibrant city and a great place to shop for fashions, shoes, jewellery and stylish home wares. The Old Town is famous for its fruit and flower market and its many souvenir shops. Interesting little one of a kind boutiques abound in the city along with cafés, bars and restaurants for those well-earned shopping breaks.
Removals to Nice - click here for a detailed quote.
Nantes
Throughout its history, many people have come and gone from Nantes including the Gauls, Romans, Saxons, Franks, Britons and finally the Normans, all of whom have left their mark in one way or another. In more recent times Nantes has received high accolades from the popular press who have variously referred to it as "the best place to live" "the greenest city in France" and "the most liveable city in Europe."
Removals to Nantes - click here for a detailed quote.
Removals to France - Click here for a free detailed quote of your move or contact us to discuss your individual requirements.