detailed quote
To get a
FREE
detailed quote of your move click the button below and fill out our online Contents of House form.
detailed quote

CALL US TODAY!
0800 246 5622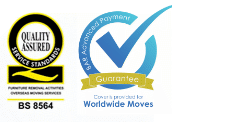 Removals to France | Shipping to Paris | European House Moves
Hamiltons Removals are a UK based removals company offering weekly removals to France and shipping to Paris, as well as from France to the UK. Whether you are moving to Paris on a permanent basis or you are setting up a holiday home, our removals to France department can provide a tailored removals service, including your shipping to Paris, to suit your requirements.
We offer three main types of service for removals to France and shipping to Paris. These are: a dedicated service, which means that you have sole use of a vehicle; a special service, which allows you to specify collection and delivery dates; and a part load / groupage service for smaller moves where you share space in a container.
Removals to France - click here for detailed information on our removals to France and shipping to Paris services, or click here for an online removals quote.

As well as removals and shipping to Paris, our removals to France team can help move you to all other French cities, including Amiens, Angers, Bordeaux, Brest, Caen, Cannes, Dijon, Grenoble, Le Havre, Le Mans, Lille, Limoges, Lyon, Marseille, Metz, Montpellier, Nantes, Nice, Orleans, Perpignan, Reims, Rennes, Saint Malo, Saint Tropez, Strasbourg, Toulouse and Tours.
Hamiltons are a member of the trade association BAR (British Association of Removers), The Road Haulage Association and are BS EN ISO 9001:2000 registered.

Removals to France - Introducing Paris
Paris, the capital of France is made up of 20 Arrondisements or villages, which joined together over time. Although now one big city, each of these villages brought with it a personal sense of style and individuality, together with its own traditions and history. These subtle differences in culture are still quite evident today.

The Inner City

Arrondisements 1-11 form the inner circle of Paris and contain many of the tourist attractions of the city. Among the many attractions that central Paris has to offer are:
Arr 1 - Palais du Louvre - This is the geographical centre of Paris and a tourist Mecca.
Arr 2 - Bourse de Paris - The French Stock Exchange - This is the business quarter of Paris.
Arr 3 - Musee Picasso - Arrondisement three is one of the oldest neighbourhoods in Paris. Many 17th century mansions still exist in this more peaceful area of the city.
Arr 4 - Cathedrale Notre-Dame - This is a lively neighbourhood with an alternative lifestyle scene, lots of trendy bars, shops, and restaurants.
Arr 5 - Quartier Latin (Latin Quarter) - This neighbourhood has a small village feel, where students mix with professionals in its quaint winding streets.
Arr 6 - ecole Nationale des Beaux-Arts - Once a bohemian hangout for intellectuals, this neighbourhood is now newly chic with classy boutiques, art galleries and restaurants in abundance.
Arr 7 - Eiffel Tower - This is a very wealthy neighbourhood with a distinctly international flavour.
Arr 8 - Champs-elysees - Arrondisement eight is an area famous for its shopping. Here tourism and business exist in perfect harmony.
Arr 9 - Quartier de l'Opera - This diverse residential area is popular among artists.
Arr 10 - Gare du Nord - A multi-cultural, quite bohemian area.
Arr 11 - Opera, Bastille - This is a primarily residential area.
The beautiful river Seine runs through central Paris dividing it in two. On the banks of the river in Arrondisements 1, 4 and 8 on the North side and 5, 6 and 7 on the South side you will find cafes, restaurants and every kind of entertainment. All year round, Parisians and tourists flock here to mingle, eat and drink al-fresco whilst admiring the sights and sounds of the city.

Outer Paris

Arrondisements 12-20 make up the outer ring of the city and tend to be more residential areas. Below is a guide to the outer areas of the city
Arr 12 - Bois de Vincennes - This is a residential area featuring the beautiful 'Parc Floral'.
Arr 13 - Manufacture des Gobelins - Arrondisement thirteen is also primarily a residential area and is home to Chinatown of Paris.
Arr 14 - Rodin's statue of Balzac - This residential district is known for its lively cafes and restaurants.
Arr 15 - Parc des Expositions - This large residential area features a range of housing to suit almost all budgets.
Arr 16 - Bois de Boulogne - Arrondisement sixteen is quite a wealthy neighbourhood with substantial houses.
Arr 17 - Palais des Congres de Paris - A good mix of housing can be found here.
Arr 18 - Le Moulin Rouge - This arty residential area has a lovely village feel and is popular among tourists.
Arr 19 - Cite des Sciences et de l'Industrie - This is mainly residential with a good ethnic mix.
Arr 20 - Pere-Lachaise Cemetery - Here you will find the final resting place of Oscar Wilde, Edith Piaf and Jim Morrison. It is also an up-and-coming residential area.


Removals to Paris France - Contact our removals to France department now to discuss your move and your shipping to Paris.
Removals to France
Removals to France Relocation Guide
Removals to France Stress Free
Driving in France
Removals and Shipping to Paris