detailed quote
To get a
FREE
detailed quote of your move click the button below and fill out our online Contents of House form.
detailed quote

CALL US TODAY!
0800 246 5622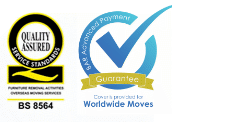 Removals Italy | Moving House to Italy
Removals Italy – Hamilton's European removals department offers removals to and from Italy. We offer three main types of removal service - a dedicated service (sole use of vehicle), a special service (where the client specifies collection and delivery dates) or a part load/groupage service (where several loads are grouped together and share the same vehicle – please note delivery times for this service vary depending on how quickly consignments are consolidated). These services are offered for all domestic house moves, corporate and commercial moves.
Hamiltons can get involved with as little or as much of your removal as you wish. We can simply turn up on the moving day to transport your items and effects to your new home or we can undertake a full packing, moving and unpacking service. You can even use our Moving Maid Easy service to have your old or new home professionally cleaned.
Removals to Italy - Click here for a free detailed quote of your move or contact us to discuss your individual requirements.
About Italy
For years the country now known as Italy (the Italian Republic) has been the cause of many foreign invasions and civil wars.
According to legend, Rome was founded in 753 B.C. and was ruled by seven Kings of Rome until 510 B.C. Rome started to gain territories defeating its neighbours one by one. By the Middle Ages central to southern Italy, once the heart of the Roman Empire, was far poorer than the north. The Papacy had also relocated to Avignon in France.
The Italian Renaissance began in Tuscany spreading mainly north it was at its height in the late 15th century. In 1478 the papacy returned to Rome but this remained poor and in ruins through the first years of the Renaissance.
A series of foreign invasions of Italy known as the Italian Wars began in 1494 that would continue for decades. The War of the Holy League (1508 – 1516) was a major conflict in these wars. The principal participants in the war were France, the Papal States and the Republic of Venice. They were joined over the years by every major power in Western Europe including the Kingdom of England and the Kingdom of Scotland.
The Italian unification (the unification of different states of the Italian peninsula into the single nation of Italy) was forged in 1861 and Victor Emmanuel II of Savoy was crowned King of Italy in 1861. At first it was the Kingdom of Italy but it went on to go through a difficult period with World War I, followed by Fascism under the then Prime Minister Benito Mussolini (1922 – 1943) which ultimately led to his death during World War II. Public opinion forced a referendum between retaining the monarchy or becoming a republic and in 1946 54% of the votes favoured declaring Italy a Republic Constitution. At the time that it ended in 1946 the House of Savoy was the longest surviving royal house in the world.
Whilst Italy is poor in natural resources, due to its mountainous and hilly terrain, few peoples have contributed so much to the arts as the Italians. All over the country there are incredible churches, palaces, town halls and bridges many of them built in the style of the Italian Renaissance.
Approximate distances from London to Italy's main towns and cities
| | |
| --- | --- |
| Amalfi | 1260.2 miles |
| Bergamo | 765.7 miles |
| Brescia | 796.9 miles |
| Capri | 1236.2 miles |
| Florence | 928.6 miles |
| Genoa | 817.5 miles |
| Lecce | 1380.7 miles |
| Milan | 739.5 miles |
| Naples | 1222.4 miles |
| Pescara | 1096.9 miles |
| Pisa | 916.5 miles |
| Rimini | 945.3 miles |
| Rome | 1100.7 miles |
| Siena | 968.3 miles |
| Sorrento | 1246.8 miles |
| Venice | 902.0 miles |
| Verona | 833.5 miles |
| | |
Rome

Arguably the most romantic of all European city's, Rome is quite simply beautiful. Thoughts of the city immediately conjure pictures of narrow winding streets, piazzas and tall gothic buildings that are intricate in both their design and detail. Many of these stunning façades conceal the most delightful shops and restaurants and before them, more often than not, lay the loveliest of large, open squares, many of them featuring great sculptures and fountains.
Removals to Rome – click here for a detailed quote.
Milan
One of the most stylish cities in Italy, Milan is brimming with history. There are many impressive buildings from the old Neo-classical Milanese palaces or palazzos to ultra-modern towers and office blocks. Milan is known for its important business centres and financial institutions like the Italian stock market, but it is perhaps best known for leading the way in high fashion and excellent design work. For the best fashion shopping in Milan, visit the Golden Quad area.
Removals to Milan – click here for a detailed quote
Naples
Naples is the capital city of the Campania region in southern Italy. Founded by the Greeks and then expanded by the Romans, it has a wonderfully interesting history which can be traced through its architecture, With Mt Vesuvius on one side and the Bay of Naples on the other, this really is a stunning location. The islands of Capri, Ischia and Procida are close by and are certainly worth a visit if you are in the area.

Removals to Naples – click here for a detailed quote.

Turin

Turin is famed for its ex car plant and its shroud. The Turin Shroud is supposedly the cloth that wrapped the crucified body of Jesus of Nazareth. The Fiat motor company had its base here until 1982. The factory has since been turned into a state of the art shopping mall but retains the old test track on its roof. Elsewhere, its wonderful Baroque architecture makes it a joy to explore.

Removals to Torin – Click here for a detailed quote.

Palermo

Palermo lies on the north-westerly coast of the island of Sicily, next to Monte Pellegrino. It dates back to the 8th century and is known for its many Norman buildings, magnificent palaces and lively local markets. The best way to explore Palermo is on foot. Take the time to wander around its winding streets and visit the Piazza Pretoria. Palermo has a Mediterranean character all of its own and the appeal of a coastal setting.

Removals to Palermo – click here for a detailed quote

Genoa

At first sight Genoa is not the most exciting city. It has a busy seaport and a large industrial area that detracts a little from the romantic ideal that Italy holds for so many. You'll find it though, at Genoas old town amidst the narrow winding streets and alleyways and in the old churches and palaces. The old harbour has recently been renovated so is well worth a look as is the Piazza de Ferrari.
Removals to Genoa
– click here for a detailed quote.
Removals to Italy - Click here for a free detailed quote of your move or contact us to discuss your individual requirements.