detailed quote
To get a
FREE
detailed quote of your move click the button below and fill out our online Contents of House form.
detailed quote

CALL US TODAY!
0800 246 5622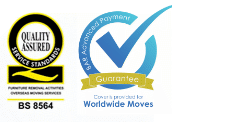 Removals to Australia | Moving House from UK to Australia
Hamiltons Removals provide high quality international removals to Australia from the UK. We guarantee your overseas move will be carefully planned and carried out, making your house move to Australia as smooth and stress-free as possible.
Removals to Australia and all overseas destinations are a lot more involved than moving within the UK. Relocating to a new country is a big enough task in itself - and moving everything you own requires excellent organisation and careful planning from start to finish. We will ensure that you receive the best advice on the packing and transportation of your possessions as well as insurance and customs regulations.
Hamiltons international removals department can provide both full containers for removals to Australia and a groupage part load service for smaller moves. We offer regular shipping and international removals to Australia's many major cities including Canberra, Sydney, Melbourne, Brisbane, Perth, Queensland, Victoria, Adelaide, Tasmania and New South Wales.
Removals to Australia
- click here for a free detailed quote of your move, or
contact us
to discuss your requirements.
About Australia
Australia is the sixth largest country in the world and also the smallest continent. Officially called the Commonwealth of Australia it is made up of six states (New South Wales, Victoria, Queensland, South Australia, Western Australia, Tasmania) and two territories (Australian Capital Territory and Northern Territory). It is one of the most popular destinations for UK people seeking to emigrate, encouraged by the Australian government's desire to attract people with specific skills into the country. International removals to Australia is therefore one of our most frequently requested services.
Cities
Adelaide is the capital city of the Australian state of South Australia. It is the fifth largest city in Australia and is known for its colourful festivals, fine wine, sports and art.
Removals to Adelaide - click here for a detailed quote
Brisbane is the capital city of the state of Queensland and is the third most populated city in Australia. It is situated on the Brisbane River in south-eastern Queensland and enjoys a humid, sub-tropical climate.
Removals to Brisbane - click here for a detailed quote
Canberra is the capital of Australia and the nation's largest inland city. The city is located in the Australian Capital Territory. It is an unusual city as it is entirely purpose built and was constructed from plans made by Chicago architects in 1913.
Removals to Canberra - click here for a detailed quote
Melbourne is the capital city of the state of Victoria and is a major centre of commerce, industry and cultural activity. Many of the nation's most important cultural and sporting events are held here and it has also been host to both the Summer Olympics and the Commonwealth games. Melbourne is known for its Victorian parks and gardens, contemporary architecture and its extensive tram network.
Removals to Melbourne - click here for a detailed quote
Perth is the capital and largest city of the Australian state Western Australia. It is also the fourth largest city in Australia. Perth was founded on 12 June 1829 by Captain James Stirling as the political centre of the British settlement 'Swan River Colony'. It has continued to serve as the seat of Government for Western Australia to the present day.
Removals to Perth - click here for a detailed quote
Sydney is the capital of state New South Wales and is situated on Australia's southeast coast. It was the site of the first British colony in Australia established in 1788. Sydney is known for its opera house, harbour, fabulous beaches and seafood restaurants.
Removals to Sydney - click here for a detailed quote
Useful Information
Currency: Australian Dollar (AUD)
Electrical Supply: 240 -250 volts Most domestic appliances from the UK should operate with an adapter, although being three pin it is of a different design to that used in the UK
Time: Sydney, Melbourne, Brisbane & Canberra GMT +10 hours, Adelaide GMT + 9 ½ hours, Perth GMT + 8 hours
International dialing code: 00 61 followed by local code - 6 for Canberra, 2 for Sydney, 9 for Perth
Removals to Australia customs information - click here for a rough guide to what you can and can't import and taxed you will be subject to.
Australia relocation guide - click here
Removals to Sydney | Removals to Melbourne | Removals to Adelaide | Removals to Perth | Removals to Canberra | Removals to Brisbane | Overseas Moves to Newcastle