detailed quote
To get a
FREE
detailed quote of your move click the button below and fill out our online Contents of House form.
detailed quote

CALL US TODAY!
0800 246 5622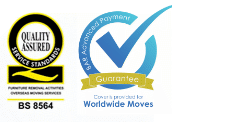 Removals to Sydney Australia | UK to Australia Shipping Service
Hamiltons International department provide removals to Sydney Australia. Our high quality removals service caters for all types of removals to Australia, including domestic, commercial and corporate. As well as organising shipping to Sydney of your belongings, our removals to Australia service can be tailored to your requirements and can include packing, loading, unloading, insurance or storage. We can even provide a professional cleaning service if required, and can advise and assist regarding customs regulations applying to shipping to Sydney.
Removals to Sydney - click here for full information on our removals to Australia service, or click here for a detailed quote of your move
Hamiltons are a member of the trade association BAR (British Association of Removers), The Road Haulage Association and are BS EN ISO 9001:2000 registered.
We have been carrying out removals to Australia for many years and regularly arrange shipping to Sydney, Melbourne, Perth, Canberra, Brisbane, Adelaide and other Australian cities, for the many UK people relocating here every year. As well as arranging your removals to Sydney you will no doubt be keen to find out more about what life has to offer in Australia's largest city.
About Sydney Australia
The city of Sydney in New South Wales is a vibrant and dynamic metropolis just waiting to be explored. It has a rich history, some of the world's most famous tourist attractions and an exciting year round calendar of events. Known as the gateway to Australia, Sydney is Australia's oldest and largest city. Set on one of the world's most stunning harbours whose golden sanded fringes effectively divide the city into its north and south sides, Sydney has a great deal to offer, from harbour-side village locations to beach-side suburbs and inner city areas that are full of life, colour and distinctive character.
Sydney has a dynamic arts and cultural scene and is home to some of Australia's leading arts organisations such as Opera Australia, The Sydney Symphony Orchestra, The Sydney Dance Company and The Sydney Theatre Company. All of these will from time to time appear at the iconic Sydney Opera House, but arts and culture don't stop there. There are many other venues throughout the city for you to check out. The Angel Place Recital Hall for instance, is an artsy location that is sure to impress, or there's the Art Gallery of New South Wales, which features performances, talks, films and music as well as regular installations. You might also want to take in Sydney's Museum of Contemporary Art, most major cities have one but Sydney's is rather special. It is Australia's only museum dedicated to exhibiting, interpreting and collecting contemporary art from across Australia and around the world.
If you prefer your art in the form of a well dressed shop window, you're in for a real treat. You'll find most of the large department stores and shopping centres within a few blocks of each other and virtually all of them can be reached via a network of malls, arcades and interconnecting covered walkways so you can stay dry while you shop. The usual shopping day starts at 09.00 and finishes at 17.00, Monday to Friday, nothing unusual about that but on Thursdays most stores stay open until 21.00 so in Sydney on Thursdays, you really can shop till you drop. The weekends in town are a little kinder on the shop assistants with a typical Saturday being 09.00 to 16.00 and varying opening times on a Sunday. In fact, if you're shopping on a Sunday, you're best advised to ring the store and check their opening times.
Perhaps THE place to shop in Sydney is the Queen Victoria Building. It first opened its doors back in 1898 in celebration of Queen Victoria's Golden Jubilee, Since then it has been both  neglected and revived and now stands fully restored, as one of the foremost pieces of Victorian architecture to be found anywhere in Sydney, or Australia for that matter. Testament to this is the fact that so many designer stores and exquisite restaurants have an address there.
More great shopping experiences can be had at The Strand Arcade. Virtually destroyed by fire in 1976, it was restored to its former glory by the shopkeepers themselves and now boasts a selection of hip and trendy designer shops, jewellers, boutiques and beauty salons.
There are many more shopping malls and precincts to choose from but if you'd like to get out and about in the fresh air, rather than go shopping and fancy yourself as a bit of an adrenalin junkie, there is a veritable A to Z of things to do that are guaranteed to get your heart racing.
From abseiling to yachting, you're bound to find something to interest and excite you. There's boating in Sydney harbour, caving in the Blue Mountains and driving courses with high performance cars. You can learn to fly, go gliding or ride in hot air balloons or jet boats. There's kayaking, paintballing, skydiving, surfing and white water rafting to name but a few and all are within the city limits. Or you could just content yourself with a sightseeing tour of The Sydney Opera House, Harbour Bridge, Observatory Hill, The Botanical Gardens, St Mary's Cathedral and Hyde Park.
One of the best ways to get around and see all these places is to use the city's cycleways. The city is doing all it can to get people out of their cars and on to bikes and to that end, is creating a 200km network of cycle lanes aimed at reducing pollution and congestion whilst also improving public health. Part of an ongoing development programme, the network is designed to link high employment areas like the central business district with recreational and residential areas and to encourage more and more people to take up pedal power and leave their cars at home. It's great to get on your bike anyway; the city has a sunny, moderate climate which contributes to its relaxed lifestyle and love of the great outdoors. There are five major national parks around Sydney with 8,000 square kilometres of open space to explore and enjoy. Whilst you're out and about, be sure to visit these popular destinations: The Rocks, Darling Harbour, Bondi Beach, Manly, Glebe and just in case you're feeling homesick, Kings Cross and Paddington too.
Please contact us now to discuss your requirements for removals to Sydney or click here for a free removals quote
Shipping to Australia Customs Information
Shipping to Australia Customs Information
Removals to Sydney | Removals to Melbourne | Removals to Adelaide | Removals to Perth | Removals to Canberra | Removals to Brisbane