detailed quote
To get a
FREE
detailed quote of your move click the button below and fill out our online Contents of House form.
detailed quote

CALL US TODAY!
0800 246 5622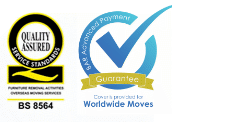 Removals to Australia | Shipping to Adelaide
Hamiltons' International removals department can arrange shipping to Adelaide, Sydney and Perth, as well as many other Australian destinations. With thousands of people relocating to Australia each year our removals to Australia service is in high demand and includes regular shipping to Adelaide for both domestic and business clients.
But our removals to Australia service can include far more than simply arranging shipping to Adelaide of your belongings.  It can be tailored to include full packing and unpacking, loading and unloading, insurance, cleaning and storage, either in the UK or Adelaide. We can even provide assistance with the customs and paperwork involved with removals to Australia, especially trickier items such as pets or motor vehicles.
Removals to Australia - click here for full information on our removals to Australia service, or click here for a detailed quote of your move

We are BS EN ISO 9001:2000 registered as well as being members of The Road Haulage Association and the British Association of Removers).
While you are likely to be focused on ensuring that your shipping to Adelaide goes smoothly, this is also a good time to learn something about the city where you plan to live and work.
About Adelaide Australia
One of the first things you'll notice about the city of Adelaide in South Australia is its large open green spaces, its cleanliness and the environmental awareness of its people. Adelaide has earned a well-deserved 'green' reputation, with a large number of environmentally-friendly initiatives and visitor experiences to be had.

Visitors to the city can get to know it properly by leaving their cars behind and availing themselves of one of the city's free pushbikes. These bicycles are provided for free, by Adelaide City Council to enable its workers and visitors to travel around at will, without polluting the environment. This green initiative has been in place since 2005 and has proved very popular among tourists, visitors, city workers, students and residents alike. Adelaide city bikes are free to hire daily between 9am - 4.30pm from Bicycle SA and other outlets and the hire includes the use of a helmet and bicycle lock. A current passport or driver's licence must be deposited by each user at the time of hire, this is returned to you on return of the bike.

If pedal power sounds too much like hard work, you could always explore the city by bus, and still be green about it. Adelaide has Tindo, the world's first solar-powered electric bus. Tindo is the perfect way to get around the City. It can hold up to 42 passengers in air-conditioned comfort and because it doesn't have a combustion engine, it is a very quiet, zero emissions vehicle. Tindo runs daily as part of the free Adelaide Connector Bus service, making it an extremely convenient way for visitors to see the city. The bus also features wireless internet access for the use of all travelling passengers.

If you love food and a vibrant, colourful food shopping experience then head down to Adelaide's central market. This area of town buzzes with life and colour all year round. It is a truly special place and its regulars are quoted as saying they wouldn't shop anywhere else. You'll find a huge range of fresh food including fruit and vegetables, meat and poultry, seafood, gourmet cheeses, bakery products, sweets, nuts and health foods all under one roof. One of the joys of shopping here is the fact you could, if you wanted to, make it last all day. The central market has some of the hippest cafés in Adelaide and people love to return, time and again to experience the noise, the smells of the fresh food, the variety, the colour and the atmosphere of this international melting pot of food and culture. The market is open on Tuesdays, Thursdays, Fridays and Saturdays and the best time to turn up is early in the morning for breakfast.

Of course, there's more to shopping in Adelaide than simply going to the market. Adelaide is a shopper's paradise, a wander down Rundle Mall will testify to that. Here you can indulge in some serious retail therapy. There are more than 800 shops to choose from, marketing everything from shoes to barbecues and boomerangs. A favourite pit stop for Adelaide's city folk is the East Rundle Street café. There's not an inch of wall space to be seen here as it is covered, floor to ceiling in poster art. Posters for sporting events, local gigs, drama performances, the opera, art festivals and carnivals are all displayed on the wall. Staff there make sure that the walls are kept bang up to date so if you want to know what's going on, pop in for a coffee and check it out.

At the end of Rundle Street if you take a left and stroll down the hill you'll come to Adelaide's famous botanical gardens. It's lovely to wander around looking at all the unusual plant life and the café near The Mediterranean Garden is a great place to sit and unwind. If you fancy something a bit more lively, then you won't have to look too far. Adelaide is full to bursting with entertainment possibilities. There are more than 700 restaurants, cafés and pubs to choose from. You could dine "al fresco" in East Rundle Street, tuck into seafood and Asian cuisine on Gouger Street or, treat yourselves to a meal at the restaurants and cafés of North Adelaide where you'll find some of the finest eateries in the country.

For those who have a hankering for life on or near the water, there is nothing better than spending some time wandering Adelaide's gorgeous coastline and relaxing in the village atmosphere of her beach-side suburbs. Gulf St Vincent, home to Adelaide's beach districts, stretches out some thirty kilometres and one of its principal attractions is the cosmopolitan Jetty Road which buzzes with people browsing the hundreds of shops and dining at its trendy pavement cafés enjoying the beach and summer entertainment. Not far from here, you'll find the seaside village atmosphere of Brighton where you can take in the stunning views from Kingston House on the Kingston Park Estate. Kingston House is the oldest building in the Holdfast Bay area, and is situated on a three acre reserve commanding a magnificent view of the coast.
Please contact us now to discuss your move or click here for a free removals quote
Shipping to Australia Customs Information
Shipping to Australia Customs Information
Removals to Sydney | Removals to Melbourne | Removals to Adelaide | Removals to Perth | Removals to Canberra | Removals to Brisbane