detailed quote
To get a
FREE
detailed quote of your move click the button below and fill out our online Contents of House form.
detailed quote

CALL US TODAY!
0800 246 5622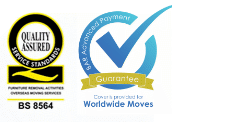 Shipping to Australia | UK to Brisbane Removals Service
Hamilton's International removals department provide quality, bespoke removals to Brisbane. We provide a tailored service for both private and commercial customers looking for shipping to Australia.
Shipping to Brisbane - click here for full information on our shipping to Brisbane service, or click here for a detailed quote of your move
When you're trying to find someone to carry out shipping to Australia for you, it really pays to pick someone with experience and attention to detail, who you can trust to deliver your belongings safely and on time. Many of the customers who come to us for shipping to Australia are corporate clients wanting to open branches in Australia or move personnel to work there. Our corporate customers require high standards, which is why we are BS EN ISO 9001:2000 registered - a standard which is also applied to all our private customers too. To show our commitment to meeting industry standards we are also a member of the trade association BAR (British Association of Removers), and The Road Haulage Association.

We understand that someone trying to arrange removals to Brisbane has far more on their minds than simply packing up their belongings ready for shipping to Brisbane. There are flights to book, accommodation to arrange, visas, schools and health care to be considered, and so on. That's why we offer all our clients a range of additional services to help make your removals to Brisbane as low-stress as possible. We can pack and unpack for you, arrange cleaning of your current property, sort out storage and help with customs paperwork - in any combination that you require.
With your shipping to Brisbane service safely organised, you can turn your attention to settling into your new life in this vibrant city.
About Brisbane Australia
Brisbane is a city, chock full of culture. From its theatres and art galleries, to its arty traffic light boxes, downtown cafés and street markets, it's a raw and happening place. The city features many fine galleries, museums and some first class shopping as well as some highly rated eateries and great nightlife.

The banks of the Brisbane River, or "Brissy" as it's known, are lined with parks, recreational areas and picnic stops. To take them all in and for some great views of the river itself, you could travel aboard Brisbane's great paddlewheeler. The paddlewheeler is a huge, floating entertainment complex of a boat that has been tripping up and down the Brissy at a leisurely pace, since she arrived back in 1988. She has been refurbished a number of times since then but retains her olde worlde charm despite being painted a bright, pillar-box red. The paddlewheeler can comfortably accommodate 120 people and is also available for hire as a party boat. For another more intimate river excursion, you could book a trip onboard one of the Brissy's golden gondolas. These limousines of the river provide a quiet and relaxed ambience, rarely found in today's busy world. The atmosphere and charm that these wonderful vessels exude, guarantees to kindle romance, tug at the heart strings and temporarily at least, pull you away from Brisbane's busy lifestyle.

Back on terra firma, there are some lovely walks and plenty of bike trails. Cycling is actively encouraged in the city with designated routes all over town and you can even have a bicycle delivered directly to your home or hotel to save you from having to hail a taxi. If you do need to get about that bit quicker and don't fancy working up a sweat in the process, you can always take the ferry. Fast, fun, cheap and efficient, the "CityCats" are a very popular transport option. With no traffic jams they make speedy connections up and down the river all day long. Other good public transport options include city ferries, buses and trains and between them, they provide a comprehensive travel network throughout the city.

A short walk across the Victoria Bridge from the centre of the city lies the area known as the South Bank. Brisbane's cultural, recreational and entertainment quarter, it houses the Queensland museum and art gallery as well as the Queensland library. This part of town is also home to Brisbane's Performing Arts Complex which stages some excellent theatrical and musical productions and one of Australia's largest cinema complexes.

The South Bank is not without its greenery either, the parklands offer up 16 hectares (39.5 acres) of river frontage which have been landscaped to reflect rainforest, lagoon and beach environments. On the riverbank itself, is Breaka Beach where sun, sand and lifeguards bring the beachlife experience to the heart of the city. Cafés and restaurants abound here and you haven't been to the South Bank until you've been to the South Bank Village Markets - they're open all over the weekend, starting on Friday nights.

A great day out for the family in Brisbane is the Queensland Sciencentre, in the heart of the city. This is a hands-on science experience with around 170 different exhibits. Your ticket gives you a pass, so you can come and go as you please all day, which is great if you fancy stopping for a bite to eat but haven't finished playing with all the gadgets.

Also well worth a visit is Queensland's Parliament House which backs onto the city's botanical gardens. Built in 1868, it was inspired by The Louvre in Paris. The gardens themselves date back to 1828 and the curator's cottage, which is not quite that old, now hosts the garden's café, a delightful place to sit for awhile and chat with friends whilst you admire the beautiful old trees.

If theatres, cinemas, libraries, galleries, museums, fine restaurants, party boats, parks, science buildings, gondolas or botanical gardens don't do it for you, then there's always shopping. Brisbane is a shopper's delight, and the Queen Street Mall is the place to be. It's a fully pedestrianised area with loads of space and it makes great use of light and shade to provide a wonderful shopping experience. The QSM live free music programme features the best emerging musicians as well as some big name acts and they all play for free, in and around the mall. There are al-fresco eateries of all kinds, large department stores and smaller independents aplenty here so if its shopping you're after, you'll be spoilt for choice.

For nightlife in Brisbane, head for Fortitude Valley. Once it was a dark and sleazy place but it's cleaned up its act and now offers trendy downtown living with apartment buildings close to clubs, pubs and restaurants. The Valley as it is known locally is the place to come for live bands and great international food. There are fine Chinese, Asian and Italian restaurants alongside some fun Irish pubs.
Please contact us now to discuss your removals to Brisbane requirements, or click here for a free removals quote