detailed quote
To get a
FREE
detailed quote of your move click the button below and fill out our online Contents of House form.
detailed quote

CALL US TODAY!
0800 246 5622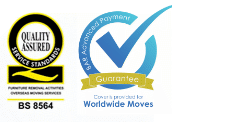 Removals to Luxembourg | Moving House to Europe
Hamiltons' European removals department offer weekly removals to Luxembourg. Our service caters for all your moving requirements, commercial, corporate or domestic and can include the full packing, loading, transporting and unloading of your belongings. We also provide a transport only service if preferred as well as professional cleaning.

We offer three types of removals to Luxembourg. Our dedicated service provides you with the sole use of one of our vehicles. Our special service allows you to specify your collection and delivery times and our part-load or groupage service provides shared space in a vehicle with other loads.

Located in Norfolk, just over 50 miles from the port of Harwich, Hamiltons' European and International Removals are ideally placed to service your moving requirements to Luxembourg.

Removals to Luxembourg - Click here for a free detailed quote of your move or contact us to discuss your individual requirements.

About Luxembourg

The Grand Duchy of Luxembourg, to give it its full and proper title, is a small, landlocked country sandwiched between Belgium, France and Germany. It has been hugely influenced over the years, by its larger neighbours but manages to retain an almost tangible sense of national pride and identity.

The national language, clumsily termed Luxembourgish, seems to take a little German, mix it with a bit of French and add a smattering of Belgian for good measure and in so doing, it has created something unique and quite charming. For administrative purposes however, the locals rely on French, and German is taught as a first foreign language making most inhabitants tri-lingual by the time they leave school.

For a small country, largely consisting of rolling hills and forests it does very well on the international stage and is recognised for its banking and insurance services. Its beneficial tax laws have resulted in it registering the largest maritime fleet of any landlocked country in the world. It's steel industry and agriculture also play an important role and sharing the Moselle valley as it does, with Germany, Luxembourg produces some nice wines too.

Approximate distances from London to the main towns and cities of Luxembourg.

Luxembourg city – 301 miles
Dudelange – 307 miles
Schifflange – 303 miles
Bettembourg, - 306 miles
Petange – 296 miles
Ettelbruck – 296 miles
Diekirch – 298 miles
Strassen – 302 miles
Bertrange – 301 miles
Luxembourg
The city of Luxembourg is truly cosmopolitan. A recent poll found that just less than 70% of its inhabitants are actually from one of over 140 different countries, making the city extremely culturally diverse. Throw in a couple of state-of-the-art museums, some concert halls, a few theatres, some chic, trendy boutiques and a Michelin-starred restaurant or two and you have all the ingredients necessary to create a vibrant, happening, modern capital.
Removals to Luxembourg - click here for a detailed quote.
Esch-sur-Alzette
Capital of the iron and steel industry in Luxembourg, Esch is the country's second largest city. Like the capital, it is a cosmopolitan place with a population of around 27,000. Luxembourg's second city has a lot to offer; there's the National Resistance Museum, the tropical aquarium, the Berwart Tower which dates back to 1621, the war memorial and the city's parks as well as theatre and art galleries, a great library and some quite lovely restaurants.
Removals to Esch-sur-Alzette - click here for a detailed quote
Dudelange
Dudelange, close to the border with France, has around 18,300 inhabitants. It is an important industrial town that grew out of the merging together of three villages and a steel mill in 1900. The ruins of Dudelange Castle are well worth a look as is Dudelange's "Zeltic" festival, a festival of Celtic/Irish music held in Jan/Feb. Check this out together with the plays, musical recitals and performances put on regularly by the orgue-dudelange.
Removals to Dudelange - click here for a detailed quote.
Schifflange
Situated between the Alzette valley and the Alpine hills, approximately 9 miles from the capital, Schifflange is rich in iron ore and the city has attracted various big business as a result. The city's main attractions are its castles and its wonderful scenery. Many hiking and biking tours are organised to take these in. You can also pay a visit to the city's wineries and breweries.
Removals to Schifflange - Click here for a detailed quote.
Bettembourg
As a country, Luxembourg has been described as "small and beautiful" by travellers and Bettembourg may have been where they came for their inspiration. A very green city, it has some wonderful open parkland. Look out for "Jacquinot Park" the nature reserve and children's playgrounds as well as the indoor water complex with its slides and spa, sauna, Turkish bath and steam room.
Removals to Bettembourg - click here for a detailed quote
Pétange
Located in the south-west of the Grand Duchy of Luxembourg, the area known as Pétange includes the areas of Rodange and Lamadelaine. It is now one of Luxembourg's beautiful green space cities, check out the nature reserve at Prënzebierg. It was however once dominated by its steel industry and the railways, both of which, left their mark.
Removals to Pétange - click here for a detailed quote.

Removals to Luxembourg - Click here for a free detailed quote of your move or contact us to discuss your individual requirements.

Luxembourg relocation guide – click here