detailed quote
To get a
FREE
detailed quote of your move click the button below and fill out our online Contents of House form.
detailed quote

CALL US TODAY!
0800 246 5622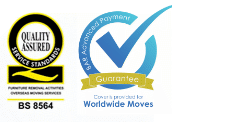 Removals to Spain| Moving House to Europe
Hamiltons Removals offer weekly removals to Spain. We a full range of removal services including European house moves, commercial and corporate relocations and the services we offer can be tailored to your requirements.

Whether you require packing, loading, transporting and unloading or just the moving of your belongings, we can provide a quote to suit your requirements. We also offer a range of professional cleaning services to thoroughly clean the house you are leaving and/or your new property, making your overseas move as simple and straightforward as possible.

For removals to Spain we offer a choice of three removal services:

Our dedicated service – This provides you with the sole use of a vehicle for transporting your belongings from A to B.

Our special service – With this service you can specify collection and delivery times to suit your schedule.

Our part-load or groupage service – This service is great for small loads. Your belongings share a vehicle with other part-loads, reducing the cost of the transportation.

Moving house to Spain is becoming increasingly popular as more and more people strive to get away from the unpredictable and often inclement English weather. Add this to the great golf, fabulous scenery and wonderful beaches and its no surprise that removals to Spain are amongst our most frequently requested journeys.

Hamiltons European and International removals are based approximately 150 miles from the Channel Tunnel and our road trains can take your belongings door to door, from the house you are leaving in the UK, under the water to Calais and on to your new home in the sun.

Removals to Spain - Click here for a free detailed quote of your move or contact us to discuss your individual requirements.

About Spain

Whether you choose to settle in Madrid, the Costa del Sol, Barcelona or The Costa Brava, you are sure to find the quality and pace of life you are looking for in Spain.

The Spanish capital of Madrid is a vibrant and colourful mix of happening bars and eateries, fabulous art galleries and museums. The architecture here is staggering, with pieces dating back to 16th century like the famous Plaza Mayor. If contemporary restaurants in the old quarter don't do it for you then how about the wonderful green space that is the Retiro Park or the botanical gardens not far from the Prado, featuring works by El Greco, Velazquez and Goya to name but a few.

The Costa del Sol is perhaps synonymous with Spain's tourist industry, its lovely beaches and splendid little towns attracting thousands of visitors every year. Malaga, the birthplace of Picasso features, amongst other awe-inspiring buildings, the Picasso Museum. This monument to the great artist houses many of his greatest works. Other must-sees in this part of Spain are Marbella and Torremolinos, truly famous places housing some truly famous names, all of which have come here in search of the good life, and found it.

Spain's second-largest city, Barcelona is a major commercial centre and a Mecca for the fashion conscious. It is also one of the busiest ports on the Med, connecting with over 825 ports worldwide. The main thoroughfare of Barcelona, Las Ramblas, is a real eye opener. It sees a wealth of trendy cafes and tapas bars rub shoulders with bookstalls, flower and bird markets and the street is lined with curious mime artists dressed in the most bizarre costumes! The works of the famous Spanish architect Anton Gaudi are much in evidence here. The Sagrada Familia and Parc Güell with its colourful mosaic lizard being perhaps his most famous pieces are open to the public for most of the year and well worth a visit.

Perhaps life on the Costa Brava or "Wild Coast" is more to your taste, with its 160-kilometre stretch of rugged coastline, sandy beaches and glorious summer sunshine, you'll find plenty to see and do here. Of course there are hotels and bars aplenty, this is a tourist and holidaymakers paradise after all, but among them and still largely unspoilt, are the original old fishing villages, medieval towns and ancient castles that have fascinated visitors for generations.

Approximate distances from London to the main towns and cities of Spain.

Madrid – 785 miles
Barcelona – 707 miles
Valencia – 831 miles
Seville – 1017 miles
Zaragoza – 682 miles
Malaga – 1042 miles
Murcia – 935 miles
Las Palmas – 1800 miles
Bilbao – 585 miles
Palma – 835 miles
Valladolid – 714 miles
Cordoba – 967 miles
Vigo – 758 miles
Gijon – 608 miles
Granada – 1003 miles
A Coruna – 682 miles
Santa Cruz de Tenerife – 1797 miles
Oviedo – 622 miles

Madrid
Madrid is the capital of Spain. Home to over 3 million, it is a cosmopolitan city with all the vibrancy you'd expect of a European capital. Home to the Spanish Parliament and to Spain's Royal family it is one of the principal tourist locations in all of Spain. The country's banking and industrial centres are here and they happily co-exist with the arts and culture which thrive on its streets and in its theatres. Madrid has an intensity about it, during the day and especially at night, which sets it apart from other European capitals.
Removals to Madrid – click here for a detailed quote.
Barcelona
Spain's other capital city, Barcelona sits on the north-eastern coast of the Iberian peninsula which gives it a distinct advantage over the Capital; a Mediterranean shoreline and beaches. The 1888 World Fair put Barcelona on the map and culture and the arts found a permanent home here. This is perhaps the reason that Gaudi decided to site his Parc Güell here and that the ever popular, Las Ramblas has become such a focal point for tourists, ex-pats and locals alike.
Removals to Barcelona – click here for a detailed quote
Valencia
Valencia is located right at the centre of the Spanish Mediterranean coastline. Perfectly positioned, it looks out over the Gulf of the same name and is backed by a group of medium to high rising mountains. If you can tear yourself away from the coast, there's loads to be seen inland; check out the city's old quarter, once contained within the city wall that linked the Torres de Serranos with the Torres de Quart amongst others. Some remains of the apron wall can still be seen in the basement of the Valencia Institute of Modern Arts (IVAM).
Removals to Valencia – click here for a detailed quote.
Seville
Seville in southern Spain is a provincial capital. That is to say that it is the seat of the government and parliament of the Comunidad Autónoma de Andalucía. This is a separate and regional government which is still bound by Spanish law but has the power to enforce its own, locally. A modern and dynamic city, it is one of the most active ports on the Iberian Peninsula and therefore very important to Spanish trade with the Americas and the rest of the world.
Removals to Sevilla – click here for a detailed quote
Zaragoza
Zaragoza sits in the northeastern quarter of Spain. It is a wealthy and prosperous city, which delights in wide boulevards. There are a number of quite large shopping districts and amongst them you'll find a decent selection of bars and fine dining opportunities. Zaragosa, like many Spanish cities has a Roman heritage of which it is justly proud. Some quite extensive Roman remains can still be seen in the centre of the city as well as on the outskirts.
Removals to Zaragosa – click here for a detailed quote.
Malaga
Malaga's international airport brings millions of people to the region, every year. Most of them will head off somewhere else on touchdown but those that don't will find the city and its surrounds have a great deal to offer, particularly in terms of its history. Malaga's history can be traced back three thousand years with remains from the Carthaginians, the Romans and the Moors and as a result, there is a large selection of historical monuments in the city.

Malaga – Click here for a detailed quote.

Removals to Spain - Click here for a free detailed quote of your move or contact us to discuss your individual requirements.

Spain relocation guide – click here

Removals to Madrid | Removals to Valencia | Removals to Barcelona