detailed quote
To get a
FREE
detailed quote of your move click the button below and fill out our online Contents of House form.
detailed quote

CALL US TODAY!
0800 246 5622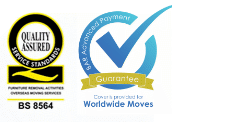 Removals to Spain - Moving to Spain - UK - Spain Removals
Hamiltons Removals provide weekly removals to Spain. Whether you require a quote for a domestic house move, commercial or corporate relocation, we can help. We also provide removals from Spain to the UK and between most other European and International destinations.
Removals to Spain – click here for full information about our removals to Spain service, or read on for advice on relocating to Spain.
Moving to Spain – An introduction
When moving to Spain, there is a lot more to think about than simply choosing a good
removals company
. We have prepared a guide to assist you choosing schools, obtaining visas, starting a new business and more. Please note that whilst every effort has been made to ensure the accuracy of this information, we advise you to check with our European Removals Department, prior to departure, to ensure all of the details are correct.
Visa and work permits
Since Spain is part of the EU, all EU residents are able to come to live and work in Spain without visas or work permits. On entry into the country, EU members should register with the employment office. They can then look for work and have up to 90 days to find a job. After this time if a job is not found it is possible to apply for an extension or leave the country to return again for another 90-day period.
Having landed a job a contract of employment will be provided. With this, it is possible to apply for a residence permit. Non-EU nationals must apply for both visas and work permits before entering Spain.
Setting up a business in Spain
Set out below is a broad stroke of the general steps involved in setting up a business in Spain. Certain business types may require additional steps. Please consult with a bi-lingual Spanish lawyer for further clarification.
Register the company name. Apply to the Central Commercial Registry for a certificate confirming that your company name is not already in use.
Apply for your CIF. This is the company's tax ID code equivalent to the UK VAT number.
Pay the capital into the bank. Set up a bank account in the new company's name and deposit the correct amount. That amount will vary depending upon what type of company you are setting up.
Sign the deed of incorporation. All partners, in the presence of a notary, must sign the deeds. You will need the company name certification, the CIF number and a receipt from the bank detailing the amount of capital paid in.
Pay the transfer tax. This must be paid at a post office within the province in which the company is to be set up. You'll need to present the deed of incorporation and the company's CIF number.
Register at the corporate registry. To do this you'll need your deed of incorporation.
Make the formal declaration. To officially start trading.
Give company details to the tax office. These details will be a description of the activity to be carried out by the business, the start date of the business and a description of the business premises. An official activity code will be allocated to enable your company pay this tax.
Register the company at the social security office.
Schooling in Spain
As with the UK, Spain has a state school system and private schooling as well as a good range of international or foreign schools. As you might expect, it is only the international schools that teach in English. English is taught at the others but simply, as a language class.
School life begins at age 6 in Spain. Starting at primary level, it goes on into secondary level and lasts for 8 years. After this time, the child leaves school with a leaving certificate detailing their achievements. Those with higher scores, go on to higher, secondary education whereas those with lower scores will move on to a vocational school.
Acceptance into the Spanish school system requires that the parents and children be interviewed. Evidence of a child's academic record must be shown for streaming purposes and it is recommended that the necessary paperwork be assembled prior to leaving the UK since doing this retrospectively can be time consuming and expensive.
The following paperwork is required to enrol a child into a Spanish school:
Proof of academic record or 'convalidation' as it's called.
Proof of residence, a bill, rent receipt or copy of lease agreement.
A passport sized photograph for your child's ID card
Proof of immunisation and birth certificate or passport
A typical school day in Spain will start at 9am and go on through until 5pm with a two-hour lunch break coinciding with siesta time. Another variation of the schooling day is a 9am start going through until 2pm with no breaks.

Healthcare in Spain
Similar to the UK, there is a free healthcare service in Spain, which is available to all who have a social security number. To get one of these, you have to be working in Spain or unemployed, a student or over 60.
You will find in Spain an excellent healthcare system that is backed up by modern, well-equipped hospitals and highly qualified doctors, nurses and paediatricians. Having said that many of them do not speak English so it is as well to check what translation services are available at your local hospital.
Appointments with GP's tend to be quick, on time and overall very efficient.
Some people moving to Spain choose to also take out private health insurance. Whilst the free healthcare system is pretty good here, a private policy may reduce waiting times for certain procedures. The cost of policies will vary depending on your age, health and requirements.
Removals to Spain
– contact us now to discuss your move.