detailed quote
To get a
FREE
detailed quote of your move click the button below and fill out our online Contents of House form.
detailed quote

CALL US TODAY!
0800 246 5622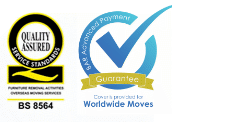 European Removals | Moving to Germany Helpful Guides
Guide to Driving in Germany
When moving to Germany, your removals company will usually transport the majority of your furniture and household belongings. The transport of you and your family is something that you will need to organise yourself. The method of transport will depend largely on which of the 16 states you are relocating to and whether or not you plan to drive to your chosen destination.
Read More...

Moving to Hamburg Germany
One of the first things you'll notice when visiting Hamburg for the first time, especially if you are used to travelling to the larger European cities, is its distinct lack of skyscrapers. There are one or two dotted about but the tallest buildings tend to be churches, which punctuate the skyline at regular intervals. One of these, St Michealis has a distinctive copper covered spire, and is featured on the 2 Euro coin.
Read More...
Moving to Munich
Perhaps the most impressive and architecturally diverse of the principal German cities, Munich is home to such masterpieces as the Nymphenburg Palace, one of the city's greatest attractions. This baroque palace in western Munich was the summer residence of the Bavarian royal family and the baroque theme is continued with the Lustheim and Schleiheim Palaces also located in the city.
Read More
...
Moving to Berlin Germany
Berlin, Germany's capital city has undergone huge change in its recent past, having to rebuild extensively after the last war. The subject of the largest construction programme in Europe, it is now a thriving, modern and very exciting city, welcoming tourists and business visitors from all over the world.
Read More...