detailed quote
To get a
FREE
detailed quote of your move click the button below and fill out our online Contents of House form.
detailed quote

CALL US TODAY!
0800 246 5622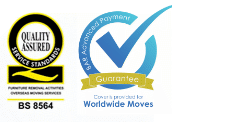 Removals to Germany | Moving HOUSE to Germany | UK Removals Company
Hamiltons Removals provide weekly removals to Germany. We cater for all domestic house moves, corporate and commercial moves, and will tailor the removal service to your requirements.
Removals to Germany - Click here to read more about our removals to Germany service. We also ship to and from most other European and International destinations.
Moving to Germany Introduction
If you are moving house to Germany, there is a lot more to consider than choosing a good removals company. Our guide below provides additional information on choosing schools, obtaining visas, starting a business and more. Please note this information is believed to be accurate at the time of writing. Please check with our European removals department prior to making any firm arrangements for your removals to Germany.
Visa and Work Permits
People moving house to Germany from the UK or another EU country are automatically issued with a residency permit when they register their residential address with the Bürgeramt. They do not require a permit to work providing that they have a valid passport or identity card. EU nationals are given the same rights as Germans in terms of equal pay, working conditions, access to housing, vocational training, social security and trade union membership. Family members and immediate dependants may move with the working member and will be given the same rights.
Germany has the largest economy in Europe, and an excellent social security system. This ensures its citizens can live comfortably even if they are ill, unemployed, retired or disabled. Working people pay approximately 20% of their gross income to the system and their employer matches their payment.
Setting up a business in Germany
German law does not make a distinction between Germans and foreigners in the establishment of companies. In addition, German company law is very similar to other EU countries, which can make it relatively straightforward to start a business here if you have enough capital. You will, however, have to deal with a certain amount of bureaucracy.
Like the UK, there are the equivalent of limited liability companies, public limited companies and partnerships. A lawyer can help you decide which is the best type of company to suit your business.
The first steps in starting a business are to hire a notary and register the business at the local court. Then you will need to arrange two sets of tax registration, one for commercial tax and one at the local tax office. After these steps have been completed, you will obtain a certificate of registration and you can start trading.
Moving House in Germany
Every time that you move house in Germany, you are required by law to report your change of residence to the registry offices. Both German nationals and migrants must do this.
Schools
Schooling is compulsory in Germany from the age of 6, and lasts for 12 to 13 years depending on which state the school is in. Education in public schools in free of charge, even to expats. However some of the classes will be taught in German which may pose a problem for students, particularly older children. There is also an excellent range of private and international schools. Home schooling is not allowed in Germany.
Before compulsory schooling, children have the opportunity to attend kindergarten between the ages of 3 and 6. Fees are charged for this.
Primary education is provided in the child's area of residence. To move up to the subsequent year they must fulfil certain minimum requirements in all of their subjects. Following this, students attend lower secondary school, vocational colleges and higher education.
Health Care
Health care in Germany is of an excellent standard and there are many clinics, hospitals, specialist doctors and pharmacies located throughout the country. It is expensive and therefore some kind of insurance, depending on your work arrangements should be taken out.
Health care insurance is obligatory for everyone who works in Germany. It is deducted through the salary, and the contribution is matched by the employer. Whilst there is a choice of insurance providers, it is recommended that a person goes with one of the big companies such as AOK or TKK. The self employed or freelancers must make their own arrangements.
There are two types of health care insurance, which are public health care insurance and private health care insurance. Which of these you are eligible for depends on your monthly income. Those earning less than the threshold amount, are automatically insured in the public health care system. Private health care insurance offers some additional cover but it is not necessarily better than the public option.
For expats moving house to Germany, it may be better for them to take out an international carrier policy instead of a German insurance policy. This is because an international policy can allow the holder to receive treatment in their own country and the policy can be ported from one country to another.
Moving House to Germany - contact us now to discuss your move.
Removals to Germany | Germany Relocation Guide | Driving in Germany | Moving to Germany | Importing Vehicles to Germany | Moving to Berlin | Moving to Munich | Moving to Hamburg