detailed quote
To get a
FREE
detailed quote of your move click the button below and fill out our online Contents of House form.
detailed quote

CALL US TODAY!
0800 246 5622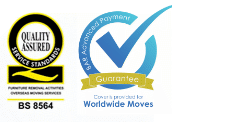 Shipping to UAE | Removals to Dubai, Abu Dhabi, Ajman, Al Ain, Ras al Khaimah, Sharjah and Umm al-Quwain
For shipping to UAE (United Arab Emirates) including removals to Dubai and Abu Dhabi, Hamiltons Removals can help. We are specialists in international removals and shipping and provide a full range of services for shipping to UAE as well as packing and storage. If you are moving to the United Arab Emirates, or returning to the UK, we can provide you with an extremely competitive international removals quote.
We provide shipping to each of the seven UAE states including removals to Dubai, Abu Dhabi, Ajman, Fujairah, Ras al-Khaimah, Sharjah, and Umm al-Quwain.
Shipping to UAE - click here to get a free online quote of your move, or call us now on 01379 855203 to discuss your removal requirements.
Shipping to UAE - Service Options
We tailor our shipping to UAE service to suit your individual requirements. Whether you require sole use of a 20 or 40ft container, or have a smaller consignment that can be sent as part of a groupage service, we provide highly competitive quotes and outstanding service every time.
Our shipping to UAE service can include any or all of the following: the transportation of your furniture and personal effects as well as packing and unpacking, moving your vehicles, pets and specialist items and cleaning services as required. We will also advise you on customs regulations and removals insurance.
Removals to Dubai - click here to get a free online quote, or call us now on 01379 855203 to discuss your removal requirements.
Dubai
If you are moving to Dubai and require shipping to UAE, Dubai has some incredible buildings and developments which act as a showcase to the rest of the world of what can be achieved. This includes the Khalifa Tower, the world's tallest building, and the world's only 7 star hotel, Burj Al Arab, which has been built to look like the sail of a Dhow, a type of ship. Dubai is also home to largest man-made harbour in the world.
The most populated city of the seven emirates, we frequently carry out removals to Dubai since around 80 per cent of the population are expats including Brits, Americans and people from India, Pakistan, Bangladesh and Somalia.
The economy of Dubai was generated initially by the oil industry, but today this only accounts for 6% of its income. Revenue now comes from tourism, trade, conferences, real estate and financial services.  Dubai has a thriving tourist trade and is the 8th visited city in the world.
Removals to Dubai – click here for a detailed quote.
Abu Dhabi
Many people are moving to the United Arab Emirates due to its lenient tax system and its growing economy.
UAE's capital city is Abu Dhabi which is a T-shaped island overlooking the Persian Gulf. Approximately 860,000 people lived here in 2007. It is a very cosmopolitan city as three quarters of Abu Dhabi's inhabitants are expatriates, from countries such as India, Pakistan, Eritrea, Ethiopia, Bangladesh, Sri Lanka, Philippines and the United Kingdom.
Abu Dhabi is the wealthiest emirate of the UAE and according to CNN it is also the richest city in the world. It is one of the largest producers of oil in the world. The city is also home to many major financial institutions and also many multi-national corporations have their headquarters here.
Expats have come here to enjoy a better standard of living as Abu Dhabi has a relatively high average income for its population. The people are friendly and accommodating and the city offers a safe environment with very little crime.
Removals to Abu Dhabi – click here for a free detailed quote of your move.
Ajman

Ajman is situated on the coast of the Persian Gulf between Sharjah and Ras Al-Khaimah. It is the smallest of the Emirates, offering its residents many of the shopping and entertainment amenities of Dubai without the hustle and bustle associated with that city. The residents enjoy a more peaceful and stress-free existence – in fact, this is where many UAE residents come to rest and relax.
Removals to Ajman – click here for a detailed quote

Al Ain

Al Ain is a fertile oasis located approximately 160 kilometres east of Abu Dhabi. Its name, which means "the spring" in English, comes from the fresh water which makes its way from the Omani mountains. For centuries the city was a major stop off and refreshment point for traders, leading to its increased popularity. In recent times Al Ain has been the subject of massive modern development thanks primarily to the investment and the influence of their Royal family who decreed that the United Arab Emirates University and the Al Ain Higher Colleges of Technology, both be sited here.
Removals to Al Ain – click here for a detailed quote

Ras al Khaimah

At a trading crossroads between East and West and with an excellent infrastructure and strong governmental support for the private sector, it is no surprise that the emirate of Ras al Khaimah has emerged as the destination of choice for investors and leisure travellers alike. Ideally positioned to service and access markets like the Middle East, Africa, the Indian Subcontinent and the CIS countries, Ras Al Khaimah has become a growth-driven emirate with an increased focus on manufacturing, services, land, construction and tourism.
Removals to Ras al Khaimah – click here for a detailed quote

Sharjah

Sharjah is the third largest of the seven United Arab Emirates and is the only one to have land on both the Arabian Gulf Coast and the Gulf of Oman. It is a place of contrasts where visitors and locals can enjoy the traditional markets called 'souks' and also visit modern, glass and steel shopping malls. There are many heritage sites, museums and mosques here and you are invited to stroll around the lagoons and experience the natural beauty of the Arabian Desert, its mountains and seas.
Umm al-Quwain
Umm al-Quwain can be translated as "Mother of Two Powers" and is the emirate with the smallest population. Expats have generally found it cheaper to live here than in Dubai or Sharjah.
The emirate has some amazing marine wildlife including green turtles and black tipped reef sharks. Situated along the coastline is the largest water park in the UAE which can receive up to 10,000 visitors a day.
Removals to Umm al-Quwain - click here for a detailed quote.
Shipping to UAE | Shipping to UAE Customs Information | Moving to United Arab Emirates Relocation Information | Removals to Dubai | Shipping to Abu Dhabi | Shipping to Sharjah