detailed quote
To get a
FREE
detailed quote of your move click the button below and fill out our online Contents of House form.
detailed quote

CALL US TODAY!
0800 246 5622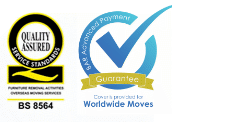 Moving to UAE - Shipping to United Arab Emirates - Relocating Overseas
If you are moving to UAE, there is a lot more to consider than choosing an international removals service. Here at Hamiltons Removals we aim to make moving to United Arab Emirates easier with our handy relocation guide.
Our moving to UAE guide below provides additional information on healthcare, schooling, visas and finances to assist you in planning your overseas house move. Please note this information is believed to be accurate at the time of writing, but please check with our international removals department prior to moving to UAE.
Moving to UAE - click here to read about our shipping to UAE service.
Moving to UAE - Visas and Work Permits
Many people are moving to the United Arab Emirates for work purposes. Due to its fast growing economy the UAE are experiencing skill shortages in many areas including engineering, construction, IT, sales and marketing, media, banking and more.

To work in the UAE, you must hold a work permit and a residency visa. To obtain a work permit, you must first have been offered a job. Your employer will then arrange your residency visa application on your behalf. The immigration department of the emirate you will be staying in will issue your visa and it will usually be valid for three years. In order to be successful in your visa application, you must also test negative for HIV and be in good health.
It is possible to apply for a residency visa after arriving in the country on a tourist visa.
If you are moving to UAE with other family members, then you can apply for a family visa. These will allow you to sponsor your spouse, children and parents, providing that you meet the minimum earning requirements.
Moving to UAE - Finances
You cannot open a bank account in the United Arab Emirates until you have moved out there. Some international banks have branches in the UAE, such as Lloyds TSB - which will allow you to open a multi currency account if you are moving to UAE. Other banks include Citibank UAE, Emirates Bank Group and the National Bank of Dubai.
Moving to UAE - Schools
If you are moving to United Arab Emirates with family, schooling is compulsory for all children in Dubai from the age of five years and up. To enrol, a child must have a valid residence visa.
There are a range of schooling options, which include public schools, private schools, community schools and independent schools. It is possible for expatriate children to attend public schools, however they do have to pay attendance fees to the government.
Private and independent schools charge a higher level of fees, the amount of which varies according to the establishment.
Community schools embrace citizens from India, Pakistan, Philippines, Russia, Japan and many others, and teach the pupils in a similar way to their home country curriculum.
All schools in the United Arab Emirates teach Arabic, and most teach girls and boys separately.
Moving to UAE - Health Care
Expatriates living in the UAE must take out a comprehensive insurance policy to cover their health care bills. Quite often this is provided by an employer, and in Abu Dhabi, the law now obliges all employers/sponsors to provide health insurance for their workers and their families. This policy is of a basic nature, which individuals can then add to if required.
The standard of health care you can expect in the United Arab Emirates, is generally equivalent to care provided in the UK, except for specialised treatments. The vast majority of medical staff in the UAE are foreign and were trained abroad.
Common health problems experienced by expatriates include respiratory diseases caused by the sand and dust in the air. Sunstroke and sunburn is also common. The UAE is affected by Malaria, so before moving to the UAE it is important to review the area you will be relocating to, and take anti-malarial medicine if required.
Moving to UAE - Taking Your Pet
It is possible to take your dog and cat with you to on moving to the UAE. You will need to take into account the heat that your pets will be subjected to for most of the year - however good air conditioning in the home will help to work round this.

It is also important to consider the type of accommodation that you will be moving to in the United Arab Emirates. If you are moving into a purchased property then you will have no problems in taking your cats and dogs with you. Rented accommodation should also be fine, providing that you are not intending to live in an apartment. It is worth double-checking your pets are allowed prior to signing any rental agreements!
Pets imported to the United Arab Emirates must be brought in as cargo rather than passenger baggage. You will need to obtain an import permit and this requires that the animal be vaccinated for Rabies, micro-chipped and in general good health. Most domestic pets can be imported, and will not require a stay in quarantine. Pets can only be imported if they are over 120 days old.
Moving to United Arab Emirates - click here to read about our removals service.
Shipping to UAE | Shipping to UAE Customs Information | Moving to United Arab Emirates Relocation Information | Removals to Dubai | Shipping to Abu Dhabi | Shipping to Sharjah