detailed quote
To get a
FREE
detailed quote of your move click the button below and fill out our online Contents of House form.
detailed quote

CALL US TODAY!
0800 246 5622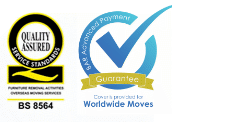 Shipping to Abu Dhabi | UK to UAE Removals Service
Hamiltons international removals department provides removals and shipping to Abu Dhabi in the United Arab Emirates and caters for all domestic and commercial moves. We offer a full range of services for shipping to Abu Dhabi including transportation by 20 and 40ft containers, groupage and airfreight. Our UK to UAE removals service can be tailored to suit your needs and can include packing and unpacking if required. We provide shipping to Abu Dhabi and the United Arab Emirates from the UK and most other European and international destinations. We can also move you back the other way.
Shipping to Abu Dhabi - click here for full information on our shipping to Abu Dhabi service or click here for a detailed quote.
Hamiltons are a member of the trade association BAR (British Association of Removers), The Road Haulage Association and are BS EN ISO 9001:2000 registered. This provides peace of mind that our shipping to Abu Dhabi is carried out to the highest possible standards. In addition, our friendly team of international removals consultants will be on hand throughout your move to provide full advice and support when you need it.
UK to UAE Removals Service - Where We Ship
We ship to all seven emirates within the UAE: Dubai, Ajman, Al Ain, Ras al Khaimah, Sharjah and Umm al-Quwain and of course, Abu Dhabi. As well as the main cities, we carry out removals to all other towns and cities within the UAE including, but not limited to: Khalifa City, Port Zayed, Tarif, Deira, Kalba, Masfut, Jazirat Al Hamra, Rams, Huwaylat, Khor Kalba and Masafi.
UK to UAE Removals Service - click here for full information on our shipping to Abu Dhabi service and our UK to UAE removals service or click here for a detailed quote.
Shipping to Abu Dhabi: About Abu Dhabi
Abu Dhabi is the capital of the United Arab Emirates and the second largest of the seven emirates that go to make up the UAE. It is almost incongruous to behold with its huge gleaming skyscrapers thrusting upwards from the desert but this is the shape of modern Abu Dhabi. It is all bright steel and glass, an air conditioned oasis where once there was desert.
The reason behind this spiralling success nowadays is of course oil, but there was money here before oil. The Gulf in which the island of Abu Dhabi sits was rich in pearls and many of the traditional wooden pearl and fishing boats called "dhows" can still be seen along the harbour. There are still pearls here, and a pearl industry, and Abu Dhabi is home to the international pearl festival. But pearl fishing has given way to the oil industry. The discovery of "black gold" as it is known, has not only put Abu Dhabi firmly on the world map, it has turned the emirate from a once small Bedouin village, into the most important city in the UAE and one of the richest and most influential in the world.
Abu Dhabi is a glamorous and happening city. It has broad boulevards, high-rise office and apartment buildings, luxurious, ultra modern hotels, glitzy shopping malls filled with designer boutiques and extensive entertainment and leisure facilities. It is, for all the world, at the forefront of all things modern, but the city also has a fascinating culture which it is keen to hold on to and you don't have to dig too deep to find it.
The Al Maqtaa Fort, for example, is a 200 year old fort visible as you approach the bridge of the same name. It was built as a watchtower in the channel between the mainland and Abu Dhabi island. The fort has been renovated over the years and stands today, a memorial and representative of the history of Abu Dhabi.
Across the water from here and between the Maqtaa and Mussafah bridges, is the Sheikh Zayed Mosque. Also known as the Grand Mosque, it is the 3rd largest mosque in the world and was named after Sheikh Zayed bin Sultan Al Nahyan, the founder and first President of the UAE. It is a truly remarkable sight and is open to visitors of all nationalities for educational tours. As with any mosque, there are dress and behavioural codes that must be respected.
Located in the middle of Abu Dhabi is Heritage village, a fascinating museum showcasing the Bedouin tradition and lifestyle. It displays the methods employed by these proud tribespeople in agriculture, fishing and trading. The site features tents, courtyard houses, an ancient irrigation system and workshops where craftsmen ply their trades and there are souvenir shops where authentic pottery and exotic spices can be purchased.
The dhows, to which we referred earlier, are still being made today. At the Bateen Shipyard you can watch as craftsmen build these vessels using traditional techniques. The boats are often used for trading and cruises but some are designed for racing. Although built to a traditional design, the modern dhow offers the latest facilities in comfort such as satellite navigation and quality rest rooms, making dhow cruising an extremely popular form of travel. Cruising in a dhow is a great way to get to know your way around. You can cruise around the gulf, visiting the various different parts of the city and stop off at the islands along the way.
Back on terra firma, you should take time to enjoy the surroundings at Khalifa Park. This is an idyllic place and just perfect for relaxing and having fun with the family. Located in Al Matar, behind the old airport, this landmark is popular among residents and sightseers alike. The park has a lot to offer visitors of any age. It has a beautifully landscaped grand avenue, a central plaza, a maritime museum, a time tunnel ride, a monorail, an Amphitheatre, a party hall, a women & children's garden, a theme park, a mosque and an Islamic garden. Tours can be taken by train or on foot, as you wish.
UK to UAE Removals Service - click here for full information on our shipping to Abu Dhabi service and our UK to UAE removals service or click here for a detailed quote.
Shipping to UAE | Shipping to UAE Customs Information | Moving to United Arab Emirates Relocation Information | Removals to Dubai | Shipping to Abu Dhabi | Shipping to Sharjah