detailed quote
To get a
FREE
detailed quote of your move click the button below and fill out our online Contents of House form.
detailed quote

CALL US TODAY!
0800 246 5622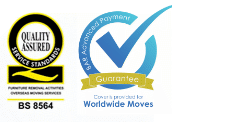 Removals to Dubai  | Shipping to UAE
Hamiltons international removals department are specialists in removals to Dubai and shipping to UAE (United Arab Emirates). We can provide extremely competitive, high quality removals to Dubai from the UK and between most other international destinations. Whether you require domestic or commercial removals to Dubai or shipping to UAE's six other emirates, talk to our team today for a UAE shipping quote.
Our high quality removals to Dubai service can be tailored to suit your needs and can include packing and unpacking if required. Depending on the size of your move to the UAE, we can provide removals to Dubai via dedicated container, airfreight or groupage services. Hamiltons are a member of the BAR (British Association of Removers) trade association and the Road Haulage Association and we are BS EN ISO 9001:2000 registered.
Removals to Dubai - click here for full information on our shipping to UAE service or click here for a detailed quote.
Removals to Dubai: About Dubai
The famous Dubai Shopping Festival takes place every January through to February and is one of the best attractions in town. Started in 1996, the "DSF" as it is known, initially attracted around 1.5 million shoppers but this number has grown over the years and figures from 2009 show that the event received over 3.25 million, making the DSF the leading shopping extravaganza in the world. There are some amazing discounts to be had and promotions and sales on a wide range of products, all available under one roof. The event includes street festivals, carnivals, fireworks, fashion shows and night souks as well as the chance to win huge prizes every day in the Lexus Mega Raffle.
There is of course much more to Dubai than the January sales. The city and emirate of Dubai is well known for its warm hospitality and the people of Dubai are also very welcoming and generous in nature. It is also a very safe city to live in, and bring up a family. In addition, Dubai offers a very good standard of living with a very lenient tax system, which is another draw to living and working here.
Luxury is a keyword here and Dubai has more than its fair share of luxurious hotels and high end shopping facilities. It also has the world's only seven star hotel, Burj Al Arab, which is identifiable by its landmark sail shaped design. Room prices vary from a thousand dollars right up to 27,000 dollars a night and you can enjoy breathtaking views of the city. It has some amazing features including a restaurant called Al Mahara which you get to via a simulated submarine voyage. The restaurant is translated in English as "the Oyster" and has a seawater aquarium.
Dubai's fascinating culture combines with a thriving business community to produce a tolerant and cosmopolitan city. It must be said however, that Islam is a way of life in the city, and therefore tourists, visitors and emigres should adopt a certain level of cultural and religious sensitivity for the duration of their stay.
Over the last 10 to 12 years Dubai's economy has grown throughout every sector. The government is constantly striving to make it easier to set up small to medium sized businesses and this has helped the economy to diversify and become less oil centric. Nowadays the trade, services and finance sectors are experiencing something of a boom. This is due in no uncertain terms to its geographical position which is central to the markets of Asia and Europe. For this same reason, the area of Dubai and the UAE as a whole has become a very popular tourist and emigre destination, with 80 per cent of the population expats.
The internet, as it is in all things, is playing its part, and Dubai has become central to a more streamlined electronic services system through which most aspects of the business set up procedure  are conducted. Add this to Dubai's "free zones" which have been created to attract more foreign investment and it's easy to see why many "offshore" investors have set up companies here. In a "free zone" which has its own unique laws regarding business ownership, taxation and labour, a company can be entirely foreign owned.
Full of character, culture, heritage and history, Dubai is a wonderful city. Take a stroll around the Bastakiya area, this is one of the oldest parts of the city and has seen much modernisation of late. It now boasts a collection of art galleries and shops but retains its charm through its distinctive wind towers. Designed to catch the slightest breeze, they are possibly the earliest form of air conditioning ever used.
Various religious, cultural and sporting events take place throughout the year, chief among which is Ramadan. During this period the streets during the day at least, will be very quiet, almost deserted, but come nightfall they will fill to the sounds of excited chatter, laughter and music as people celebrate the end of the fast. On the sporting agenda, amongst other fixtures, there is horse racing in the evenings midweek, camel racing at the weekends, and falconry displays which can generally be arranged at the drop of a hat.
There are also a multitude of attractions in and around the area including the Dubai fountains, which you can see every half hour from 8pm-11pm. These are set to music and rise as high as a 50 storey building. Burj Khalifa is the world's tallest building and has an outside observation deck on the 124th floor which is well worth a visit.
And if you like sporting activities, Dubai has almost everything to offer - even winter sports! Ski Dubai is the world's third largest indoor ski slope and has 6,000 tonnes of snow.
Shipping to UAE - click here for full information on our removals to Dubai service or click here for a detailed quote of your move.
Shipping to UAE | Shipping to UAE Customs Information | Moving to United Arab Emirates Relocation Information | Removals to Dubai | Shipping to Abu Dhabi | Shipping to Sharjah