detailed quote
To get a
FREE
detailed quote of your move click the button below and fill out our online Contents of House form.
detailed quote

CALL US TODAY!
0800 246 5622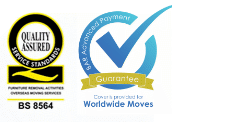 Shipping to Sharjah | UK to UAE Removals Service
Hamiltons international removals department provides removals and shipping to Sharjah in the UAE. Our high quality, competitive UK to UAE removals service service caters for all moves, including domestic, commercial and corporate relocations both to and from the United Arab Emirates. Shipping to Sharjah can be tailored to suit your specific needs and depending on your requirements can include the sole use of a 20 or 40 ft container, airfreight or groupage services. Hamiltons are a member of the trade association BAR (British Association of Removers), The Road Haulage Association and are BS EN ISO 9001:2000 registered.
In addition to our UK to UAE removals service, we also provide shipping to Sharjah from all other European destinations and back the other way.
Shipping to Sharjah - click here for full information on our UK to UAE removals service or click here for a detailed quote.
UK to UAE Removals Service - Where We Ship
Our UK to UAE removals service encompasses all states including Dubai, Abu Dhabi, Ajman, Al Ain, Ras al Khaimah  and Umm al-Quwain, as well as Sharjah. Whether you require shipping to Sharjah or one of the other emirates, contact Hamiltons today for a free quote.
UK to UAE Removals Service - click here for full information on our shipping to Sharjah service or click here for a detailed quote.
Shipping to Sharjah: About Sharjah
In 1998, UNESCO bestowed the honour of "Cultural Capital of the Arab World" on Sharjah. This was due at least in part to Sharjah's keenness to incorporate tradition into every aspect of its increasingly modern development. Combining this respect for its past with a healthy view of the future has created a Sharjah of the present which is both vibrant and modern.
In a champion's act of forward thinking, Sharjah has also been named "The Capital of Islamic Culture for 2014" as a result of the contributions it has made to the preservation, promotion and dissemination of Arabic and Islamic culture on the local, national and international stages. The upshot of this award is that in 2014, Sharjah will host a number of high profile cultural and Islamic events which will, in turn, provide a boost to Sharjah's cultural development.
There are many reasons that Sharjah has been chosen to receive these accolades, not least of which is the fact that it has managed to maintain the cultural traditions and skills of the desert tribes. These skills and trades have been passed on through word of mouth and are still evident for visitors to discover and appreciate today. Skills include pottery making, carpentry, embroidery, the making of weapons and the decoration and embellishment of doorways.
There have been pottery jars of various sizes unearthed at every archaeological dig in the area. They were used to transport and store water and grain. Today these jars are still fired in manmade wood-fuelled kilns as before and sold at the Plant Souk in Al Jubail.
Carpenters would create bridal chests made from Rosewood. These Arabic chests were usually quite ornate and decorated with inlaid brass. It was not unusual for them to have hidden compartments in which could be stored some of the bride's more valued items. Other chests were constructed for the pearl industry; chests would feature numerous compartments of different sizes, into which different grades of pearl would be placed. These items of furniture are now highly sought after and often used as sewing boxes.
Weaving and embroidery were very popular skills and, in the past, the girls and young women of the family would help to make the family's wardrobe. The patterns they used and the colours of the material and stitching were all important and handed down through generations. Arabian embroidery is a combination of rich and quite complicated needlework backed by materials in strong, vibrant colours. An open chain stitch would usually adorn the wrists, ankles and necklines of a garment and this would be of fine gold and silver thread. Sequins were added for embellishment and the trim on the trouser was made from a narrow strip of foil to create a decorative edging.
Men would complete their costume with an embroidered waist band into which they would slide their dagger. The dagger would also be highly decorated with silver on both the scabbard and its hilt. In the more ornate versions, silver would also be applied to the blade itself.
Another popular distraction for the townsfolk of Sharjah was to decorate their front doors. Many hours would be spent applying ornate carvings to the woodwork on the basis that the larger and more ornate the door, the more expensive it is and therefore the more important and influential the occupants of the house.
Outside of the home, the date palm tree is very important in Sharjah. There are over 50 different varieties of date palm, bearing fruit at different times of the year. Not so long ago this tree was vital to the very survival of the people of Sharjah. Its fruit provided a major natural source of highly nutritious food that could be eaten either fresh or dried, or drunk as a juice all year round. Every part of the tree was utilised in various ways; the leaves were dried and then woven together to make mats, baskets, brushes, bags and bowls and also used as roof matting for insulation; the mid-rib was a vital component in the construction of fishing boats and the trunk was hollowed out to form a mortar with the rest carved into a pestle for crushing wheat. Locally woven mats, baskets, bags and bowls are available for sale at Souk Al Arsah and Souk Al Bahar.
Perfume and Incense are an integral part of Arabic life for both men and women and are usually family run businesses. The three types of perfume and how they are mixed are a closely guarded secret. Attar is an oil based perfume, bukhoor are wood chips which have been soaked in fragrant oils ready to be burned in an incense burner, and the third type of scent is a wax sachet, which when burnt gives off a charcoal odour. There are many perfume shops to explore in the area between Al Bourj Avenue and the Arts Area that sell the oils, the incense woods, perfume bottles and traditional burners made from clay, porcelain or silver.
UK to UAE Removals Service - click here for full information on our shipping to Sharjah service or click here for a detailed quote.
Shipping to UAE | Shipping to UAE Customs Information | Moving to United Arab Emirates Relocation Information | Removals to Dubai | Shipping to Abu Dhabi | Shipping to Sharjah