detailed quote
To get a
FREE
detailed quote of your move click the button below and fill out our online Contents of House form.
detailed quote

CALL US TODAY!
0800 246 5622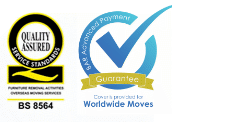 REMOVALS TO GERMANY | MOVING TO MUNICH | EUROPEAN HOUSE MOVES
Hamiltons Removals carry out regular removals to Germany and are well placed to assist you if you are moving to Munich in the near future. In addition to moving your household or office belongings we can also arrange the transportation of any vehicles that you may wish to take with you.
Removals to Germany can be arranged for all cities and towns including Berlin, Bonn, Bremen, Cologne, Dusseldorf, Elbe, Frankfurt, Fussen, Hamburg, Hannover, Heidelberg, Kiel, Leipzig, Magdeburg, Mannheim, Munich, Nurnberg, Rhine, Saale, Schwerinn, Stuttgart and Wiesbaden.

Removals to Germany - click here for detailed information on our removals to Germany service.

About Munich
Moving to Munich will place you in one of Europe's most important historical, cultural and industrial centres and offers residents a wide variety of architecture, entertainment and business activity.
Perhaps the most impressive and architecturally diverse of the principal German cities, Munich is home to such masterpieces as the Nymphenburg Palace, one of the city's greatest attractions. This baroque palace in western Munich was the summer residence of the Bavarian royal family and the baroque theme is continued with the Lustheim and Schleißheim Palaces also located in the city.

Of a more contemporary design, Munich is also home to the headquarters of BMW, which is an architectural wonder of glass and steel in the shape of four cylinders. The Hypo-Haus is another innovative building with its glass and aluminium facade, which consists of several circular concrete piers supporting the internal structure and flooring.

Aside from its architecture Munich is famed for its arts, culture and shopping, the delightful Christmas market and of course the Oktoberfest.

There is a wealth of art exhibitions, museums and galleries to visit in the city. The main art galleries are found along the Barer Strasse and include the Alte Pinakothek, the Neue Pinakothek and the Pinakothek der Moderne (Museum of Modern Art).

The best shopping can be found in the inner city, on the high streets where special gift shops and luxurious shopping malls await and at the Glockenbachviertel. This is the area between Viktualienmarkt (the victuals market) and the Gärtnerplatztheater, one of Munich's most exciting and trendy shopping areas.

The Christmas Market, which is held on Marienplatz in the heart of the city centre, is a wonderful seasonal treat, as is the Oktoberfest. This world famous event is all about the beer and takes place in late September and goes on through to early October. As soon as the mayor has tapped the barrel, the festivities can begin.
For more information about moving to Munich or other cities in Germany, check out our relocation guide, covering visas and work permits, setting up a business, healthcare and more.
Moving to Munich - Please contact us now to discuss your move.
Removals to Germany | Germany Relocation Guide | Driving in Germany | Moving to Germany | Importing Vehicles to Germany | Moving to Berlin | Moving to Munich | Moving to Hamburg