detailed quote
To get a
FREE
detailed quote of your move click the button below and fill out our online Contents of House form.
detailed quote

CALL US TODAY!
0800 246 5622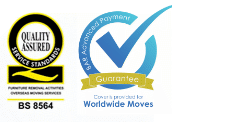 Removals to Spain | Removals to Barcelona | European House Moves

Hamiltons' European removals department provide weekly removals to Barcelona Spain. We cater for all domestic, commercial and corporate moves and can also assist with moving specialist items, vehicles and machinery. Whether you require full packing, loading, transporting and unloading of your belongings, professional cleaning or simply the transportation of your belongings, we will tailor our removals service to suit your individual requirements.

Removals to Barcelona Spain click here for full information on our removals to Spain service, or click here for an instant European removals quote.

About Barcelona
Barcelona is the second largest city in Spain and a major commercial centre not least because, unlike Madrid, it has a coastline and a port. In fact the Port of Barcelona is one of the busiest in the Mediterranean, connecting with more than eight hundred other ports around the world. Barcelona is famous not just for its football team but also for its shopping, nightlife, architecture and its artistic heritage.

The shopping in Barcelona is on a par with that in most major European cities and all the top brand names can be seen lining the streets. The best places to go shopping in the centre of the city are Passeig de Gracia and the streets to its southwest. These include the Boulevard Rosa arcade and streets, Carrer de la Portaferrissa, Carrer de la Boqueria, Carrer del Call, Carrer de la Llibreteria and Carrer de Ferran.

One of the tourist streets in the heart of the city is known as Las Ramblas. Las Ramblas in Barcelona is a cross between The Champs Elysee in Paris and Carnaby St in London. The place has a sense of magic and theatre about it that has to be seen to be believed.

Stalls on both sides of this wide pedestrianised boulevard sell everything from caged birds to henna tattoos. Men and women stand, posing for photographs dressed and made up, in weird, sometimes ghoulish outfits. Music of varying kinds can be heard floating up and down the walkway and there are plenty of places to stop and watch the world go by whilst enjoying a drink or a meal.

Famous tourist attractions in the city include the many works by Anton Gaudi, which can be seen all over the place. The Sagrada Familia, an ornate Roman Catholic Church is perhaps his most famous piece and his mosaic lizard in Parc Güell is a lot of fun. It's a great photo opportunity if you get the chance though there are usually people climbing all over it. Other attractions include the Cathedral in the gothic quarter, the Picasso museum, the Olympic stadium and the magic fountains of Montjuic.
Hamiltons specialise in removals to Barcelona and most other European destinations. We are a member of the trade association BAR (British Association of Removers), The Road Haulage Association and are BS EN ISO 9001:2000 registered.
Removals to Spain
contact us
now to discuss your move or click here for a
free removals quote
Spain relocation guide – click here

Removals to Madrid
|
Removals to Valencia