detailed quote
To get a
FREE
detailed quote of your move click the button below and fill out our online Contents of House form.
detailed quote

CALL US TODAY!
0800 246 5622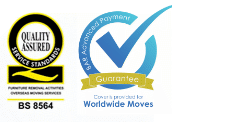 Removals to Australia | International Shipping to Perth
Hamiltons international removals department provides shipping to Perth, Melbourne, Canberra and all other Australian destinations. Australia is one of the most popular choices for UK people looking for a new life abroad, and of course there are many Australians who have settled in the UK and require removals to Australia when they eventually decide to return home.
                 
As a result, we have built up many years experience of providing a comprehensive removals to Australia service, including not only shipping to Perth, Sydney etc, but a range of additional services all designed to cater for every aspect of your move, from packing to cleaning, and from insurance to storage, either in the UK before you leave, or in Australia after you arrive. We carry out frequent shipping to Perth and other Australian cities for private and corporate customers, and can provide practical assistance with the paperwork and regulations that apply to all removals to Australia.
Shipping to Perth - click here for full information on our removals to Australia service, or click here for a detailed quote of your move
We pride ourselves on our attention to quality and service and are members of the British Association of Removers, The Road Haulage Association as well as being BS EN ISO 9001:2000 registered.
If you are planning removals to Australia, then arranging shipping to Perth is just one of the essential steps to creating a new life here - you will also need to find out more about your chosen home.
About Perth Australia
The capital of Western Australia, Perth has a population of a little over one million people. The city centre is small by comparison with other Australian cities and consists primarily of four main streets. These are St George's Terrace, Hay Street, Murray Street, and Wellington Street, which run east to west and these are dissected by five smaller roads running north to south. Perth sits between the Darling mountain range and the Indian Ocean on the banks of The Swan River.

The Swan River forms Perth's boundaries to the east and south and weaves its way through the city to the Port of Fremantle. There are many great restaurants and park areas along its banks and you'll often find large numbers of people enjoying the sunshine here, as they watch one of the many sporting events that are regularly held on the water. These activities include boating, sailing, water skiing, wind surfing, rowing, fishing, parasailing, swimming and jet skiing. There are a number of ferries that regularly cruise these waters acting as both water bus and viewing station.

The city of Perth is a sports fan's delight, it regularly holds spectacular sporting events including the Hopman Cup, a major event in Australia's tennis calendar. Other events to look out for are Western Australia's premier horse race, the Perth Cup which is held annually at Ascot Racecourse on New Year's Day and the Johnnie Walker Classic where you can cheer on the world's great golf players competing at the picturesque Novotel Vines Resort. Participants in the Volvo around the world yacht race can also be seen en-route. On a more local level you can regularly catch performances by The Bankwest Perth Wildcats in basketball, the Western Warriors at cricket and Perth Glory at soccer and the West Coast Eagles and Fremantle Dockers who both represent Western Australia in Aussie Rules Football.

Another form of entertainment that is alive and kicking in Perth is theatre, opera and the arts. There are 41 different theatres and concert halls in the city so budding thespians will never be short of inspiration. His Majesty's Theatre, as the name suggests is very grand and The Belvoir offers theatre "al-fresco". The Perth International Arts Festival showcases international talent in the fields of music, theatre, and film. As an annual event, the Leeuwin Estate Concert has achieved acclaim for presenting world class performers in the idyllic setting of a south west winery. Tickets to the Leeuwin Concerts sell out very quickly so get yourselves on the mailing list as soon as you can. Previous featured artists include Sting and Bryan Ferry so you can see it attracts some big names.

It is a tradition in Perth to go to the pub on Sunday afternoons for what's called a "Sunday session". So strong is this tradition, so entrenched in Perth's way of life, that all the pubs are geared up for it and many of them feature "happy hours" as a means of attracting custom. Some of the most popular venues for these sessions are the OBH, The Cottesloe Hotel, The Left Bank, Leederville, The Lookout and The Grosvenor. At places like these, gatherings of friends round off a busy week with a few drinks on a Sunday afternoon. They tend to be an older crowd that will visit the beer gardens along the banks of the river, rather than go into the Northbridge area which is generally targeted at the younger generation. Northbridge has about 10 pubs, 20 or so nightclubs and more than 100 eateries serving up a wide variety of cuisines. The Northbridge area is four blocks square and is the hub of the city's nightlife scene. As with any entertainment centre, the weekends are the busiest periods but the area has a great atmosphere and you'll find it reasonably busy throughout the rest of the week too.

The city of Perth has more restaurants per head than any other Australian city. Maybe it's the great weather that puts people off cooking themselves or maybe it's the availability of delightfully fresh foods. Whatever the reason, you can be guaranteed an enviable choice of eateries, particularly in areas such as Fremantle and Subiaco, Northbridge and Leederville. Many of the restaurants at these locations are literally minutes walk from each other and you are presented with a huge choice of foods from every different culture including Italian, Greek, Turkish, French, Chinese, Thai, Mexican, Lebanese, Japanese and of course Australian.
Please contact us now to discuss your move or click here for a free removals quote
Shipping to Australia Customs Information
Shipping to Australia Customs Information
Removals to Sydney | Removals to Melbourne | Removals to Adelaide | Removals to Perth | Removals to Canberra | Removals to Brisbane