detailed quote
To get a
FREE
detailed quote of your move click the button below and fill out our online Contents of House form.
detailed quote

CALL US TODAY!
0800 246 5622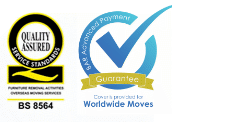 Shipping to Canberra Australia | UK to Australia Removals Service
Hamiltons removals department provides shipping to Canberra, Sydney, Melbourne, Adelaide and all other Australian towns and cities. We can arrange shipping to Australia whatever the reasons for your move: business relocation, individuals emigrating to Australia or returning home after a period in the UK.
                        
With shipping to Australia being one of our most frequently requested services, Hamiltons have built up many years of expertise backed up by our attention to service quality (we are a BS EN ISO 9001:2000 registered and members of the British Association of Removers and The Road Haulage Association). As an established international removals company we carry out regular shipping to Canberra along with other Australian cities.
Shipping to Canberra - click here for full information on our shipping to Australia service, or click here for a detailed quote of your move
As well as the excitement of arranging a move down under, we also understand how daunting such a move can be. That's why we aim to make our shipping to Canberra service as stress-free as possible, with a range of additional services for you to choose from to suit your needs, all from a single provider - from cleaning and packing to insurance and storage. Perhaps most daunting of all can be the strict customs requirements required for shipping to Australia - we can help you here too by giving you the most up to date advice and helping you with the paperwork.
With your shipping to Canberra under control, it's time to think ahead to what life will be like in your new home.
About Canberra Australia
The city of Canberra dates back only as far as the early 20th century. It was purpose built to be Australia's capital city. At the time there was intense rivalry for the title between the cities of Melbourne and Sydney and since they both made an equally good case, it was decided that neither one should have it. Instead a new city was built in an area that was previously scrub and bushland, a mixture of savannah, swamp, and dry eucalyptus forest.

Designed by Walter Burley Griffin, who has a large lake named after him in the city's central park, Canberra is home to Parliament House and the High Court of Australia as well as many federal government departments and agencies. Canberra is also home to many national, social and cultural institutions including the National Gallery of Australia, the National Museum of Australia and the National Library of Australia.

One of the cleanest capital cities in the world, Canberra and its residents employ more gardeners and landscape artists per head of population, than any other city in the world. The city's streets are lined with native trees and there are many hectares of well kept parkland to be enjoyed. It is the perfect place from which to explore the great outdoors, whether by bike, on the extensive cycle paths, or on foot, along one of the city's many walking trails.

The nature reserves and national parks of Tidbinbilla and Namadgi give a real insight into the native flora of this land and Canberra's botanical gardens help to preserve some of the older and more unusual specimens. There are few capital cities in the world where bush and parkland are so well integrated into the city plan. You can explore and relax on walking trails around the city and at sunrise or sunset visit one of the many reserves to see kangaroos and wallabies and to listen to the birds of Black Mountain, Red Hill or Mt Ainslie.

The Tidbinbilla reserve is a 45 minute drive from the city centre and is home to emus and kangaroos. You can visit the Tidbinbilla Nature Discovery Sanctuary here, which is a natural setting, rather than a zoo, where the indigenous species are not caged or fenced in. Animals seen here include the brush-tailed rock wallaby, the koala, the possum and various reptiles, all in their own natural habitat.

A lot of the family attractions in Canberra are either free to get into or quite cheap. This has the effect of encouraging people, new visitors and locals alike, to explore more and to get to know their city. Look out for something called a "3 in fun ticket". This is a single ticket that gives the holder access to three great local attractions:
Questacon, which is Australia's National Science and Technology Centre with more than 200 interactive exhibits relating to science and technology,
Cockington Green Gardens, Canberra's very own toy town. Here you'll find meticulously crafted miniature buildings set within beautifully landscaped miniature gardens. Created by Doug & Brenda Sarah, Cockington Green Gardens is family owned and has been attracting visitors for the past thirty plus years. Cockington Green is one of Canberra's landmark attractions and winner of many national and local tourism industry awards. Whilst in the gardens, you should look out for the Rose Room indoor exhibition, featuring 'Waverley' a 34 room Dolls House. You can enjoy a coffee in the Parsons Nose Garden Café, or bring a picnic lunch to enjoy while your little ones are entertained in 'Playtown' or riding on the miniature steam train which circles the International Display.
Australian Institute of Sport. You will get a 10 per cent discount plus a free pass to go back to your favourite 3 in Fun attraction.
Canberra is a great destination for food lovers. You can relax in modern cafés or dine at stylish restaurants supping award-winning locally produced wines. Alternatively, try the fresh food at vineyard cafés and restaurants set in lovely rural surroundings.

Many of the shops, galleries and boutiques stock only regional wares so you're guaranteed to find something out of the ordinary. In Canberra's shopping areas you'll find everything from luxury boutiques, malls and department stores to street markets and local designers. Look for City Walk, Garema Place and the Canberra Centre, here you'll find a fascinating array of boutiques, street fashion, designer shoes and cosy cafés.

The award-winning Old Bus Depot Market is open every Sunday and renowned for a mix of handcrafted jewellery, art, clothing, furniture and regional food and wine produce. The Capital's Regional Farmers Market on Saturday mornings offers up such delights as fruits, vegetables, plants, flowers, meats, cheeses and seafood. If you're really into markets, you'll find vintage treasures, second hand books, jewellery, international foods and much more at the Gorman House Market on Saturdays and regional craft and produce at the Hall Market on the first Sunday of every month.
Please contact us now to discuss your move or click here for a free removals quote