detailed quote
To get a
FREE
detailed quote of your move click the button below and fill out our online Contents of House form.
detailed quote

CALL US TODAY!
0800 246 5622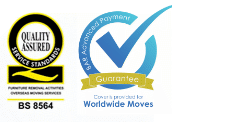 Removals to Melbourne Australia | UK to Australia Removals Service
Hamiltons Removals provide removals to Melbourne Australia for all domestic and commercial relocations. Our high quality removals to Australia service can be tailored to your requirements and can include packing, loading, transporting and unloading or just the movement of your belongings. As well as arranging removals to Melbourne we can provide additional useful services to help make your move easier including storage, insurance and even cleaning. We can also advise on customs regulations applying to removals to Australia.
 
We have many years experience of carrying out removals to Australia and carry out regular removals to Melbourne, Sydney, Canberra, Adelaide and Brisbane.
Removals to Melbourne - click here for full information on our removals to Australia service, or click here for a detailed quote of your move
We are members of the British Association of Removers, The Road Haulage Association and are BS EN ISO 9001:2000 registered.
Once you have arranged your removals to Melbourne you can turn your thoughts to creating a new life in this lively and cosmopolitan city.
About Melbourne Australia
Known as a trendsetting city, Melbourne is home to a non-stop programme of festivals, renowned dining, major art exhibitions, musical extravaganzas and sporting events as well as some fabulous shopping. This lively city combines a love of the creative arts and the good life, with a positive addiction to business, fine foods and sports making it a city like no other.

The central business district is orderly and pristine. It is a tidy, well planned grid of office blocks and separate shopping areas, where business really does mean business. Scratch beneath the surface however and you'll uncover the heart of this fine city and what really makes it tick. Melbourne's people like to enjoy life and they know that working hard is key to being able to do just that.

When it comes to food and drink, the choices on offer here are seemingly endless. You can visit every different culture through food in Melbourne from the Szechuan delights of Melbourne's Chinatown to Vietnamese, Italian, Spanish and Lebanese flavours of the suburban districts. Each district has its own unique flavour and is a must see for all of those wishing to get to know the real Melbourne through their taste buds.

Another great love of Melbourne is its theatre. Every week across the city literally dozens of shows are put on, from Broadway production musicals to fringe performances by local artists and experimental works. Catch these shows at the Princess Theatre or at Her Majesty's Playhouse. Both of these buildings are truly amazing to behold, their architecture and grandeur, an inspiration to any young thespian. Also well worth a visit are the Arts Centre and Malthouse, for edgy arthouse productions. Whatever the season Melbourne is abuzz with theatrical events which are bound to awaken the artist in you get your creative juices flowing.

Melbourne's laneways are another joy. Here you'll discover a world of intimate and quite enchanting lanes, alleys, streets and arcades many of which were once filled with workers cottages and named after whatever pub or hotel may have stood nearby. Many of these lanes have since undergone renaming to reflect the positive change in Melbourne's fortunes and outlook. Lanes like Romeo Lane and Juliet Terrace, near to the Princess Theatre are cases in point. No longer named after those two star crossed lovers, they are now called Liverpool and Crossley Streets. But despite their name change they remain infamous as Melbourne's red light district.

Another of Melbourne's great tourist attractions is the Colonial Tramcar restaurant. This is an actual tram car which has been fully converted to a travelling restaurant, the first of its kind, in the world. As it cruises around the streets of Melbourne you can enjoy fine cuisine and drink the very best of Australian wines.

If you are feeling brave, you could pay a visit to the remarkable Skydeck 88. The Skydeck is situated on the 88th floor of Melbourne's Eureka Tower and is the highest public vantage point in the Southern Hemisphere. A glass cube protrudes 3 metres from the buildings edge and suspends you almost 300 metres above the ground presenting an awesome, panoramic view of Melbourne. Thirteen lifts service the tower, travelling at more than 9 metres per second and if you chose to take the stairs instead, you'd have to climb 3,680 of them.

If you fancy getting out of town for a bit to see the countryside up close, you might try some local wine tasting. The Yarra Valley which is just about an hour's drive from the city is home to some of the most famous Australian cool climate wineries, among them De Bortoli's, Oakridge Wines, Toolangi Vineyards and Luke Lambert Wines. Keep a look out also for the Giant Steps/Innocent Bystander Winery in Healesville, they have a wonderful bakery, a cheese room and a great restaurant as well as a fine wine cellar.
Please contact us now to discuss your move or click here for a free removals quote
Shipping to Australia Customs Information
Shipping to Australia Customs Information
Removals to Sydney | Removals to Melbourne | Removals to Adelaide | Removals to Perth | Removals to Canberra | Removals to Brisbane