detailed quote
To get a
FREE
detailed quote of your move click the button below and fill out our online Contents of House form.
detailed quote

CALL US TODAY!
0800 246 5622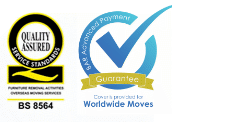 International Removals to Australia . Relocation to Australia . Moving House to Australia
If you are looking for international removals to Australia, there is a lot more to consider than choosing a removals service. Our relocation guide below provides additional information on choosing schools, working abroad, sorting your finances and more. Please note this information is believed to be accurate at the time of writing, but please check with our international removals department prior to your moving date.
As experienced providers of international removals to Australia we are well placed to help you navigate not just the legal requirements of moving to Australia, but also some of the more day to day aspects which help to make the process of settling in to your new life that much easier.
International Removals to Australia – click here to read about our removals service.
Visas
In order to move to Australia from the UK, you will need to obtain a visa of which there are a number of different options to choose from.
A skilled visa application is open to people aged under forty-five, who have a good grasp of the English language and skills or qualifications that are on Australia's skilled occupation list (SOL) or on the Employer Nomination Scheme Occupation List (ENSOL).
There are a number of types of visa in this category, including Skilled Independent Migrant (subclass 175), Skilled Sponsored Migrant (subclass 176), Skilled Regional Sponsored (subclass 475) and Skilled Recognised Graduate (subclass 476).
The above range from temporary to permanent and none require sponsorship from an employer. However if an applicant cannot meet the Skilled Independent pass mark, they will require sponsorship from an eligible relative who lives in Australia or nomination from a participating state or Territory government.
Employer sponsored visas are another option to gain residency in Australia. Of these there are again many different variations, ranging from temporary to permanent. The most common employer sponsored visa is the Temporary Business Long Stay visa (subclass 457). One of these allows the migrant to work legally in Australia for between three months and four years.
If a permanent visa is granted, then the migrant and all dependant family members are allowed to live and work in Australia permanently and receive subsidised health care and social security benefits.
All visa applications require the applicant to be of a certain standard of health. In some cases applicants will be required to undergo health tests and screening at their own expense – even if their application is unsuccessful.
Finances
It will make your move to Australia a lot smoother if you open an Australian bank account prior to leaving the UK. You can set up an account from the UK with the Commonwealth Bank of Australia, Westpac or the National Australia bank. Your new bank will assist you with all your banking needs, including transferring money, managing foreign currency, credit cards and home loans.
Schools
It is compulsory for children in Australia to attend school between the ages of five and fifteen and there is a diverse range of schooling options for parents to choose from including government schools, private schools, religious schools, boarding schools and alternative philosophy schools. Both co-educational and single sex schools are available.
After the compulsory education is completed, students are encouraged to continue studying to complete the Senior Secondary Certificate of Education in Year 12, which enables them to go on to university or attend a vocational training course. Alternatively students can study vocational skills in year 12, to provide them with a trade to earn their living from.
Australian schools are of a very high standard, and are keen to welcome immigrants. Students receive an interesting, varied curriculum with excellent sporting, recreational and artistic activities provided alongside academic lessons.
Healthcare
Most migrants to Australia who hold either a permanent visa or citizenship are eligible to join Medicare – Australia's public health scheme. This entitles them to receive healthcare in public hospitals, subsidised medicines and out of hospital care.
Things that are not covered by Medicare include ambulance transportation, dental care, optometry and private treatments.
To apply for membership, take your passport and travel documents to one of the many Medicare offices that are situated throughout the country. Membership can be applied for 7-10 days after you arrive.
It is also possible to take out private healthcare.
Moving Your Pet
It is possible to take your much-loved dog, cat or horse with you as part of your international removals to Australia, providing that they are fit and healthy enough to endure the long journey and the thirty days quarantine.
Other pet animals such as chinchillas, fish, ferrets, guinea pigs, hamsters, rabbits, birds, lizards, mice, snakes, spiders and turtles may not be imported.
In order to import a cat or dog, you must apply for an AQIS import permit via the Live Animal Imports Program. Your application will be assessed and providing your animal meets the requirements, a permit will be granted.
The cost to import your animal can be significant. You will need to budget for vet's fees to pay for vaccinations and blood tests, import permit costs, quarantine costs, licensing and registration in Australia. In addition to this there are the airfare costs to transport the animal, and pet insurance. You may also wish to employ a specialist company to manage the process for you.
Contact us now to discuss your requirements.
Shipping to Australia Customs Information
Shipping to Australia Customs Information
Removals to Sydney | Removals to Melbourne | Removals to Adelaide | Removals to Perth | Removals to Canberra | Removals to Brisbane