detailed quote
To get a
FREE
detailed quote of your move click the button below and fill out our online Contents of House form.
detailed quote

CALL US TODAY!
0800 246 5622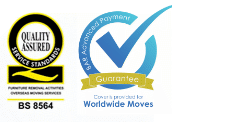 Removals to Durban South Africa | International Removals
Hamiltons Removals provide removals to South Africa's second largest city, Durban, as well as the cities of Johnnesburg, Cape Town, Port Elizabeth and more. For shipping to South Africa we provide 20 and 40ft container removals, groupage services and air freight as well as packing, unpacking, insurance and cleaning to create a complete removals service.
We provide removals to South Africa for either domestic moves or commercial relocations from most European and international destinations. Our removals quotes are free of charge, highly competitive and we provide a reliable and professional removals service.
With Durban being the second largest city in South Africa it naturally attracts many immigrants from all over the world, especially the UK, resulting in a good number of requests for removals to South Africa each year. We also have extensive experience of helping people who are moving South Africa to the UK, either Brits returning home after a work placement, or the many South Africans who decide to live and work in the UK.
As well as removals to Durban, we carry out regular removals to all South Africa destinations including the major cities of Johannesburg, Cape Town, Port Elizabeth, Bloemfontein, Soweto and Pretoria. Typical transit time for shipping to South Africa is around 3 weeks, so it's important to coordinate things like storage, accommodation and your own personal travel plans to work around this, and to arrange air freight for any items that you need immediately on arrival. Hamiltons can help you with all this detail to help you come up with an overall schedule for your move.
Moving home overseas can be a daunting prospect but Hamiltons are here to help you with every aspect of the process including helping with the customs regulations that apply when shipping to South Africa. As well as arranging shipping to South Africa for your general possessions, we can also advise and help with pets, vehicles or other specialist or delicate items – just call our international removals department.

Removals to South Africa – Click here for full information on our removals to South Africa service.
Hamiltons are a member of the trade association BAR (British Association of Removers), The Road Haulage Association and are BS EN ISO 9001:2000 registered.
About Durban
Durban is the largest city in KwaZulu-Natal and the second largest in South Africa as a whole. Home to more than 3 million people, it is now a sophisticated, cosmopolitan city, an industrial centre, a major seaport and a year round resort. It is driven by industries such as shipbuilding, petrol refining, fishing, car assembly and food production as well as the production of paint, chemicals, fertilizers, soap, footwear, and textiles but it has its roots firmly in the production and refinery of sugar.


Sugar cane grew well in its tropical climate, becoming known as 'white gold' and making vast fortunes for the early sugar barons who bought many thousands of labourers over from India to work the plantations. As a result, the city of Durban is now home to the largest number of Indians in any city, outside of India, a fact that is underlined by the strong Indian influences that can be seen, tasted and heard in Durban's architecture, cuisine and customs.


Durban, or eThekwini as it is known in Zulu, is a vibrant city, full of great restaurants and bars, museums, arts and crafts centres, theatres, marine parks, botanical gardens and some great shopping. It is also the ideal starting point from which to explore the Zulu Kingdom, the Transkei, the Natal Midlands, the game reserves of Zululand, the mountains of the Drakensberg and the many beaches that line Durban's 600km of subtropical, Indian Ocean coastline.


There are great restaurants dotted all over Durban with flavours from all 4 corners of the globe. The local speciality is fish but if you are looking for international flavours, your choice is endless. Portuguese, Indian, Italian, Chinese, French, Thai, Austrian, German, Japanese and Greek cooking styles can all be found here and many of them offer award winning menus. There is also a huge choice of bars and nightlife in Durban so whether your preference is for drinks at a lively pub followed by dinner or dinner first, followed by dancing til dawn, Durban will have something to suit.


Durban's beaches are a delight and there are plenty of them to choose from; some with familiar names like Margate Beach, Ramsgate Beach and the seemingly ubiquitous Brighton beach, which can be found between the city centre and Durban International Airport. The waters of the Indian Ocean are warm, with an abundance of tropical fish and coral reef. Five beaches in the Zulu Kingdom were recently awarded the blue flag for cleanliness, facilities and safety, among them, Margate Beach and Ramsgate Beach stand as shining examples.


Margate Beach is ideal for swimming, body boarding and surfing and there's some great fishing to be had off the pier. After enjoying a refreshing swim, stop off at one of the many café's in Margate town to sip a cool cocktail whilst admiring the magnificent view. The town has a vibrant, young feel to it with an abundance of restaurants, bars and shops.


Ramsgate Beach fringes the village of Ramsgate which is just south of Margate. It is a quiet beach with some great picnic facilities. It encourages a slightly older, less sport oriented crowd with beautiful scenic walking trails that extend southwards from Ramsgate towards the picturesque Southbroom beach and lagoon.


Shopping in Durban is a real treat. From its open air markets and small independent stores, to its many high street chains and large shopping malls, Durban delivers a shopping experience like no other. The centre of the city is home to many specialist shops and the atmosphere generated by Durban's street markets leaves a lasting impression. The Victoria Street Market and The Workshop are outdoor markets that sell pretty much everything and The Golden Hours Rustic Market in North Durban, held every Sunday, sells toys, food, pottery and homewares.


Retail outlets in Durban are generally open from 09:00 to 18:00. However, the larger shopping malls tend to stay open longer in the evening, particularly at weekends. The larger centres also have occasional late night opening hours during the year, especially in the run up to a national holiday or celebration.


The Gateway in Umhlanga is known as the theatre of shopping. It is said to be the largest shopping centre in the southern hemisphere. It has a huge range of shops and there are over 30 restaurants to choose from. The centre also puts on some unusual entertainments including a Wavepool, where you can learn to surf, and a rock climbing wall. You can join the centres "Imagine" club for discounts from the stores and go along to the many events and exhibitions the centre holds throughout the year.


Another great shopping experience and excuse for a bit of retail therapy is The Pavilion shopping centre, home to fun, food and fashion. "The Pav" as it is known locally, greets over 1.7 million shoppers every month and is one of Durban's most popular shopping centres. It regularly features events, exhibitions, competitions and movies for the whole family to enjoy as well as hosting a wealth of unusual shops. If you fancy a spot of haggling whilst shopping, Durban's beachfront vendors are usually prepared to bargain on a range of African curios but do be wary here, as they are not averse to ripping off the unsuspecting newcomer, but then, that's the same everywhere, isn't it?
Shipping to South Africa – Durban click here for a free quote on our shipping to South Africa service.
Hamiltons specialise in removals to South Africa, including Durban and other South African destinations. Please contact us now to discuss your move or click here for a free online removals quote.
Removals to South Africa – Click here for a free detailed quote of your move, or contact us to discuss your requirements.
South Africa removals customs information
Removals to Johannesburg | Removals to Durban | Removals to Cape Town