detailed quote
To get a
FREE
detailed quote of your move click the button below and fill out our online Contents of House form.
detailed quote

CALL US TODAY!
0800 246 5622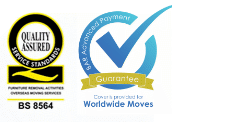 International Removals USA | A Guide to Boston, Massachusetts
Boston in Massachusetts is one of the oldest cities in America and was founded by Puritan settlers from England. There have been many major historical events here, including the Boston Tea Party, and the Boston Massacre, both of which led to the start of the American Revolution. Now the city is an important port and manufacturing hub, and the centre of culture and education, with as many as thirty-five universities in the local district.
If you are considering international removals to the USA, Hamiltons Removals arranges many moves from the UK and will take the hassle out of moving overseas, ensuring it all goes smoothly.
This large city is a world leader in enterprising and innovating ideas, and households in Boston have the highest rate of philanthropy in the USA. There are around two thousand start-up businesses founded here every year, with many of the business owners coming from the internationally recognised MIT and Harvard universities. The cost of living is one of the highest in all of America, so house prices will reflect this.
Popular Neighbourhoods for Expats in Boston
Boston's rental market is very seasonal, due to the number of students who opt to live off campus, and some landlords require the first and last month's rent up front and possibly a security sum too. This is an expensive city, where, due to the gentrification of the housing stock rents have rocketed in the last few years. Neighbourhoods in West Roxbury have lots of family homes and the area has a suburban feel.
The Dorchester district is vibrant and diverse with people from all over the world, and with the large Franklin Park on the doorstep you can enjoy cycling and walking every day. The South End neighbourhood is quite near the downtown area and is desirable for young professionals.
Education in Boston
Harvard and MIT are just two centres of higher education, but you will find there are  a high number of colleges and other universities who specialise in law, engineering, medicine and business studies.
For school-age children The Edward Brooke Charter School has a high reputation in the city and the Brooke Charter Schools in East Boston and Mattapan are very well respected.
Employment in Boston
Boston is known as one of the key economies in America, although there is a 'hidden market' for jobs in the city. This means that at least half of the jobs are not advertised anywhere and go to colleagues, family and friends before anyone else is aware of them. It is a very good idea to network with other business people to enter into this market, where most of the lucrative jobs are found.
If you do not have a network of friends of business associates you can still find a job in the city. There are many opportunities for those with the right qualifications in academic circles, due to the high volume of higher education venues in the vicinity.
Healthcare is one of the largest employment sectors here with a multitude of hospitals and healthcare centres to choose from. As with most big cities, there are all the service industries and several big tech companies, offering further career options for expats.
Social Life in Boston
Boston is known as a college town and as such many of the bars and restaurants cater to the huge student population, but most nightclubs close at 2am, and the public transport does not run 24 hours a day, unlike in New York where clubs and pubs stay open all night.
If you prefer the outdoor life, then Boston is a great city for these kinds of activities. There are lots of parks and green spaces and outside the main city you will find a choice of cycling and walking routes. The Boston Red Sox are an internationally known baseball club and Boston has its own football and soccer clubs in their respective leagues.
If you are planning international removals to the USA, Boston is a great place to consider, as a lively city which  is historically very important to the American people, and has millions of tourists and visitors every year.
International Removals to Boston with Hamiltons
Hamiltons are a leading removals company for overseas relocations, and have experience in transporting items all around the world, with tailored moving solutions to meet your requirements. If you are anticipating moving to America, click here for a quote.