detailed quote
To get a
FREE
detailed quote of your move click the button below and fill out our online Contents of House form.
detailed quote

CALL US TODAY!
0800 246 5622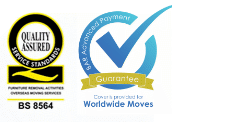 Removals to Austria - Moving to Austria - UK Removals to Austria
Hamiltons Removals operate a regular weekly removals service to Austria. Whether you require a quote for a domestic house move, commercial or corporate relocation, we can assist you. We also provide removals from Austria to the UK and between most other European and International destinations.
Our European removals service is tailored to suit your exact requirements and our quotations are extremely competitive. Hamiltons are a member of the trade association BAR (British Association of Removers), The Road Haulage Association and are BS EN ISO 9001:2000 registered.
Removals to Austria - click here to read more about our UK to Austria Removals Service or read on for advice on moving to Austria.
Moving to Austria
Choosing a good European removals company is just one of the many things that need to be considered when moving to Austria. We have prepared a guide to help with the other essentials like obtaining visas and work permits, choosing schools, healthcare and starting a business. Please note that whilst this information is believed to be correct at time of printing, certain aspects may be open to change from time to time. Please check all-important details with our European removals department prior to your departure.
Visas and Work Permits
Citizens of full European member countries are able to live and work in Austria without a visa or work permit.
These countries are; Belgium, Bulgaria, Cyprus, Czech Republic, Denmark, Estonia, Finland, France, Germany, Greece, Hungary, Iceland, Ireland, Italy, Latvia, Liechtenstein, Lithuania Luxembourg, Malta, Netherlands, Norway, Poland, Portugal, Romania, Slovakia, Slovenia, Spain, Sweden, Switzerland and the United Kingdom.

As for Bulgaria And Romania: Certain conditions may be applied that restrict the free movement of workers from these countries.

Austria joined the EU in 1995 making it quite easy for all EU-citizens to live and work here. EU citizens can move to Austria with very few formalities. Simply register at your new local police station within 3 days of your arrival. This 3-day rule also applies to people from outside the EU, but in their case all formalities have to be processed before registering with the police. This requires you to complete the registration process prior to leaving your home country.
Setting up a business in Austria
It is very easy to set up a business in Austria. Below are the basic steps you will need to go through to officially register your new business.
1. Obtain confirmation from the economic chamber that the start up company is a new enterprise. This normally takes 1 day and is done at no charge.
2. Notarise the statutes/articles of association or the declaration of establishment. This usually takes 4 days and there is a charge of 1500 Euros.
3. Deposit the minimum amount of cash capital in the bank. This usually takes 1 day and there is no charge.
4. Register the business at the local court and publish an announcement of formation in the Wiener Zeitung. It normally takes 1 week to register and 1-2 weeks to publish the announcement. There is a combined charge of 202 Euros for this.
5. Register with the trade authority. This normally takes 1 day and is free of charge except where stamp duties are payable. These vary depending on the type of trade intended and whether the trade and/or profession only requires registration or it requires permission by authorities.
6. Register with the Tax Office to obtain a VAT number. This usually takes 12 days and is done at no charge.
7. Register any employees for social security purposes. This usually takes 1 day and is done at no charge.
8. Register with the municipality. This usually takes 1 day and is done at no charge.
Schooling in Austria
Schooling in Austria is compulsory for all children permanently residing in the country and is set to last a period of 9 years.
Austrian primary schools have an excellent reputation and do extremely well in international comparative studies. 86% of parents are highly satisfied with the primary schools attended by their children.
The primary school education is designed to impart Austria's core values to the children. These include humanity, solidarity, tolerance, peace, fairness and environmental consciousness. Using these as a foundation, schools encourage their pupils to develop an open mind and an understanding of the problems of mankind. They are taught to share responsibility and to make an active contribution to a democracy, which is committed to human rights. Schools are required to nurture the pupils' ability to acquire a critical mind as well as judging but non-judgemental, decision-making and action-taking abilities.

The nursery classes of primary schools must help children achieve the mental and physical fitness for school required to attend the first grade. During the next four grades, the primary school is required to furnish its pupils with a common elementary education, paying due regard to the social integration of disabled children.
A range of school types, providing a general education with the emphasis either on the arts or the sciences covers secondary education but there are also vocational schools at various levels. A school-leaving certificate acquired at one of the above school types entitles the holder to enrol at university.

Austria's school system is governed by uniform regulations nationwide. No fees are paid at state-run schools. School textbooks and travel to and from school are largely free of charge also. The education policy currently being implemented is seeking to give schools a wider degree of autonomy. This involves empowering teachers, pupils and parents alike, in all school types.

Health Care in Austria
Austria is well known for its generous social care system. There is a very good healthcare and a strong social security system. There is also an extensive network of hospitals and doctors covering even the remotest areas of Austria.

Tourists or those staying in Austria temporarily who come from a European Union country are automatically entitled to free basic health care due to reciprocal agreements among EU countries. You'll need the EHIC card, which is available from your home country's health insurer.

Health insurance payments must be made by anyone living and working in Austria. Different fee scales are in place for those on varying salaries and different levels of cover can be purchased. You may want to include accident, pension and unemployment insurances for example. Basic healthcare and dental treatment care in public hospitals and medication are covered, as well as visits at specialists.


Removals to Austria - contact us now to discuss your move.
Removals to Vienna | Removals to Graz | Removals to Linz | Overseas Moves to Innsbruck