detailed quote
To get a
FREE
detailed quote of your move click the button below and fill out our online Contents of House form.
detailed quote

CALL US TODAY!
0800 246 5622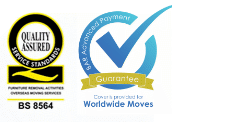 Removals to Cyprus: Customs Information
Removals to Cyprus . International Shipping and Removals . Moving House Overseas
International removals to Cyprus and other overseas destinations are more complicated than moving house within the UK due to the Customs & Excise regulations applied to importing your belongings.
Below is a guide to current Cypriot Customs & Excise regulations. Please note that information is correct at time of publishing but may change at any time. Hamilton's international removals department will guide you through all relevant Customs & Excise regulations prior to your overseas move.
Cyprus Moving Information
Now that Cyprus is an EU member, there is no customs clearance or government taxes or duties applied to the importation of household and personal effects. All consignments are in free circulation within the EU.
Documentation Required for Household Goods:
Copy passport
Inventory of goods (this will be completed by our removal team)
Restrictions / Prior Authorisation Required
Food - there are no restrictions on the import of food, beverages and alcohol. However, you should bear in mind the transit times and avoid fresh food.
We would not recommend importing plants – although they may be imported into Cyprus, you will need to provide an accompanying Phytosanitary Certificate and import licence which can prove extremely difficult to obtain.
Firearms – you are permitted to import a maximum of two hunting shotguns and/or one airgun, provided they are at least one year old and you can provide a police permit for them.
Importing Cars and Motor Vehicles
Motor vehicles can be imported into Cyprus (for first time immigrants taking up residency) provided that:
You have owned and used the vehicle in your previous country for 6 months prior to transfer of residency.
Your normal place of residence has been outside of Cyprus for a continuous period of at least 12 months.
The vehicle is imported within 6 months of your arrival.
The mileage is more than 6,000 km.
The vehicle has not been acquired under an import or Excise Duty Relief scheme in its country of registration.
You are taking up permanent residency in Cyprus.
You are not permitted to sell, dispose of, hire out, lend or transfer your imported vehicle without prior approval of the Director of Customs.
You will need to provide the following documentation at the port:
Vehicle registration papers
Original passport
Driving licence
Cyprus Road Insurance Certificate
Useful Information
| | | |
| --- | --- | --- |
| Electrical supply | | 240 volts AC, UK three pin plus are used. |
| TV/DVD/Videos | | Unless designed for American systems, these items will not function |
| Mobile networks | | Main operators include CYTA and Scancom |
| GMT | | + 2 hours |
| Dialling code | | 00 357 |
International removals to Cyprus – Click here for a free detailed quote of your move, or contact us to discuss your requirements.