Blog
Factors to Bear in Mind During Commercial Removals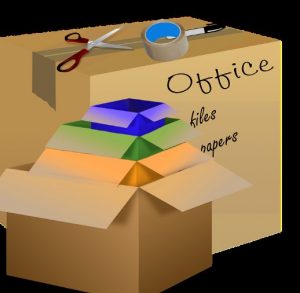 There are a whole host of reasons why firms opt to move, and they may not be purely financial ones. For instance, you might have outgrown your existing office and are looking for bigger premises, or you might want to be closer to your customers.
Hamiltons Removals specialise in organising commercial removals to Norfolk, Suffolk and the rest of the UK. We are also equally expert in handling moves to France, Germany and other European countries, plus worldwide destinations including Canada, the United States and Australia. Here is our guide to the factors you should be considering if your business is on the move.
Appoint Someone to Take Charge 
The old saying 'the devil is in the detail' certainly applies to office moves. There are so many separate items to consider, you may need to have someone to oversee the whole project to make sure any little but important matters are not forgotten.
If you would like to make the whole process a lot simpler, Hamiltons can provide a dedicated liaison manager. It will be our job to make sure there are no oversights, everything runs smoothly and your company is up and running again as soon as possible.
Even if you do have a professional co-ordinator, it is still important your staff know what is happening and what is expected from them. For instance, they may have to take charge of any personal effects they keep in the office, like photographs. As well as making sure they do not lose any valuable keepsakes, being informed about the move's progression will also help them feel part of the whole process.
Look After the Technology
In these high-tech times, it is vital that you have your internet connections sorted out. As well as knowing your new destination has the right connections already in place, you need to work out how much of your computer equipment is going to be moved too. You will also need to make sure everything is set up properly and is working at your new workplace.
Keep Copies of Everything
Even the best-laid plans sometimes go awry, so make sure all your computer files are backed up, and that you have copies of all the important paper documents.
It will also help if everything is labelled clearly, following a consistent style. This will mean that everyone, even outsiders, knows what each package contains, who it belongs to, and where it is intended to go in the new office.  This will help to avoid any risk of leaving  something vital behind.
Don't Forget to De-Clutter
You don't need to take everything with you when you move premises. An office move represents the ideal time to have a good spring clean, emptying all the old filing cabinets of paperwork which is now out of date.
You could also leave some of your old office furniture behind or dispose of it, and give your new workplace a modern, fresh feel by investing in some new desks and chairs. All of this will cut down on the workload for everyone involved.
Overseas Factors
The further away your new office is going to be, the more you have to think about, and this is amplified if you are moving abroad. As well as the distances involved, you will have to think about how everything is being transported to the new country. Have you got all the paperwork sorted out, not just for your business, but also the right sort of visas and work permits for yourself?
You may also need to think about staff relocations as well, and appreciate that this can be a massive personal upheaval for them. We can combine commercial and domestic moves in one package, which means it will be a load off your employees' minds, as well as your own.
It can be even more difficult to have an idea of the cost of your move once different currencies are involved. Hamiltons have enjoyed a link-up with Currencies Direct for more than five years. This comprehensive service can sort out all your bank transfers and works out much cheaper than many bank rates.
Storage Solutions
Wherever you are relocating to, it could save you a lot of time and energy if you store some of your company's items and move them after the big day, at a time which suits you and is less stressful.
We can also provide self storage for some or all of your business's possessions. We will look after your business-related equipment for whatever period of time you need, until you want them at your new headquarters. This can be arranged abroad as well as in the UK.
Hamiltons Removals also provide a number of other services, including specialist packing and vehicles for larger, fragile equipment, which are ideal for commercial removals to Norfolk, Suffolk and other areas of the UK, plus many European and worldwide locations. If you use us, you can be guaranteed a professional, expert service. Click on the link to find out more about the range of services we can offer you.
---
Popular Cities in Switzerland for Expats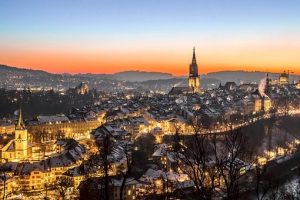 Switzerland is a popular destination for people moving from the UK to Europe. Its economy continues to thrive, meaning many people choose it for work reasons; but the beautiful countryside, healthy lifestyle and cosmopolitan atmosphere all make it attractive too.
Hamiltons Removals are experts in removals to Switzerland. Here we spotlight some of the main cities which people are choosing to move to.
Bern
This is the capital of the country, but it is not the largest city. It has a population of around 140,000 and is in central Switzerland, although the airport lies within the neighbouring town of Belp. The central railway station, Bahnhof Bern, is among the busiest in the country. There is an extensive public transport network, so you do not need to worry about driving once you get there.
Almost a third of the city's residents are expats. Historically the city is famed for its cheese, particularly Emmental, and wine. It is also the place where Ovaltine and Toblerone were invented. This means there are usually jobs available in the city's food, tourism and agricultural sectors. Recently Bern's number of high-tech firms has grown while the multi-lingual nature of the place means there are often vacancies for English teachers too.
Bern's Old Town was made a UNESCO World Heritage site in 1983, thanks to its network of ancient arcades which reflect its long history which dates back to its founding in 1191. Notable sights you might want to visit include the centuries-old ornate clock tower, complete with moving puppets and the spectacular Gothic cathedral, called the Munster.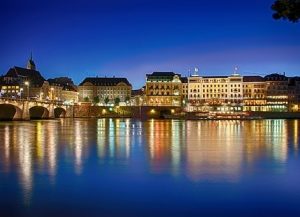 Basel
This city rates highly in a recent survey among expats. It is in north-west Switzerland, so both France and Germany are within easy reach. There is a lot of heavy industry along the countries' borders, and the River Rhine, which runs through the city, has also helped its reputation as a major importer and exporter. Finance, ICT and the chemical industry are major employment areas, but life sciences, entertainment and retail sectors have also been growing in importance recently.
Basel has a thriving arts and cultural scene. Several orchestras bear the name of the city and there are more than 30 museums. A number of cinemas show films in English as well as French or German. The Basel tourist office offers English language walking tours around the picturesque city.
Transport connections are excellent; not only is its international airport, EuroAirport, just 15 minutes away from the city centre, but the rail stations have regular services to France and Germany.  You could also choose a more relaxing manner of transport, namely by ship or boat down the Rhine.

Zurich
Switzerland's largest city is in the north of the country. It is still a major international business hub, but the major growth in employment opportunities these days are in sectors such as the aerospace industry, tourism, and health and life sciences.
The city's enduring popularity as a leading place for removals to Switzerland is also reflected by its high score in expats surveys. Its cosmopolitan profile means there are a wide variety of shops and restaurants to choose from.
Zurich also benefits from some stunning scenery. The River Limmat runs through the city, which lies on the northern shore of Lake Zurich. The city's airport is around 6 miles to the north-east and has its own railway station. Public transport in the city is extremely popular; this means you can get around not just by bus but by tram, boat, and, in a few cases, by cable car.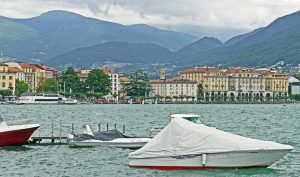 Lugano
This city is to the south of the country, close to the border with Italy. It lies on Lake Lugano, to the south of the Alps, so there are some stunning views to enjoy, especially if you enjoy getting out and about on one of the many cycle trails.
Finance is by far the biggest employment sector in this city. There are more than 100 banking organisations based here, employing around 20,000 people, and many of the banks are private international ones. Another thriving employment area is tourism, a natural by-product of the area's beautiful scenery, while scientific research, particularly relating to health, has also been flourishing.
Lugano Airport is about 2.5miles to the west, and is sometimes known as Lugano-Agno. Lugano lies on the European A2 motorway, although you could opt for a boat trip across Lake Lugano. Services are run to remote communities as well as to popular tourist attractions.
If you are thinking about overseas moves to Switzerland, Hamiltons Removals will be happy to arrange your move, so you can benefit from our detailed knowledge of the country. Click here if you would like to know more about the services we offer to Switzerland.
---