detailed quote
To get a
FREE
detailed quote of your move click the button below and fill out our online Contents of House form.
detailed quote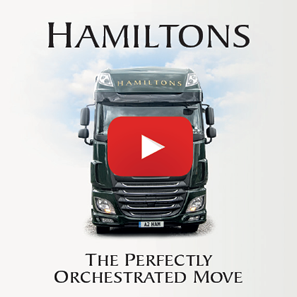 CALL US TODAY!
0800 246 5622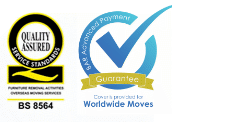 News
Hamiltons International Department has now gained BS 8564 accreditation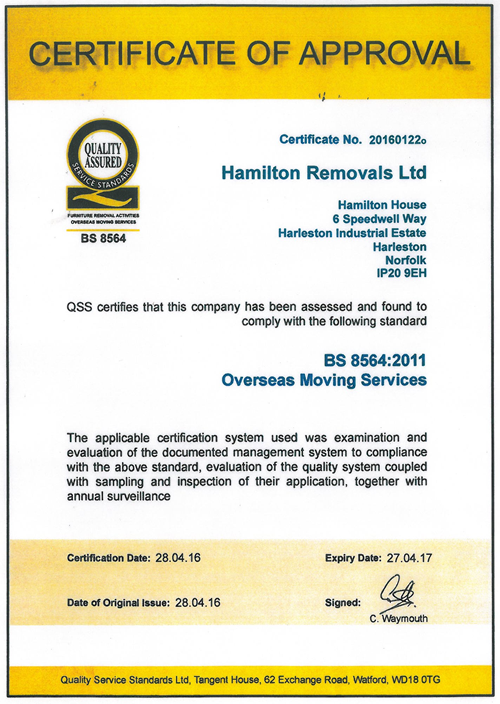 Move abroad for free?
Hamiltons has teamed up with Currencies Direct, one of Europe's leading providers of foreign exchange and international transfers, to offer substantial savings for families and companies moving abroad.

"Currencies Direct's savings on the exchange rates offered by high street banks are so substantial," says Hamiltons' Managing Director Michael Sawyer, "that our customers could be moving abroad for free!"

"Take for example Australia, one of our most popular destinations. Assume you are purchasing a property for 405,000 Australian dollars. Using Currencies Direct's preferential rate, you could save yourself over £10,000 - more than enough to cover the cost of the removal.''

Hamiltons has seen a rapid growth in the last five years in removals worldwide - and interest in the new service has been high. "In a recession, people are watching every penny they spend. At the same time, they are thinking ahead to a new life. We aim to help customers manage their move in the most effective way possible so that they arrive stress-free and equipped for the challenges of a new country."

Currencies Direct has been providing currency exchange and international payment services from their base in the City of London since 1996. Each client has access to a dedicated dealer, who guides them through the whole process. Likewise, Hamiltons' overseas department gives each customer individual attention and advice on a range of subjects, from customs clearance to insurance, as well as packing and the actual removals.

For more information, see www.hamiltonsremovals.co.uk/currencies-direct
Hamiltons acquire Aldeby Business Park
"Our rapid growth in removals worldwide over the past five years has driven us to look for additional and larger premises," says Michael Sawyer, Hamiltons' MD.
The acquisition of the 6.5 acre Aldeby Business Park in the Waveney Valley will provide customised facilities for our European and international, and deep sea, operations.
"We are very excited about this development as it will give us an extra 100,000 square feet of storage space for our customers, and state of the art facilities for our staff. The loading bays have self-levelling rising floors, which is particularly useful when you are loading 20 foot and 40 foot containers."
The site was for many years the headquarters of the Waveney Apple Growers, who processed apples from local growers in the summer and kept their staff employed over the winter making rush products. Since then, it has been used by Atlantic Country Superstores, and Tobar Ltd. Hamiltons will be undertaking a 12-month refurbishment of the whole site.
A number of units on the Park are available to let, and Hamiltons would like to encourage start-up businesses as well as established companies looking for large, light and spacious units in an attractive rural setting, within easy reach of road, rail and air networks.
Prices start at a very competitive £2 per square foot (£21.50 per square metre). There are twelve small units of 83 square metres each, a detached office building, and a series of industrial units which would be appropriate for warehousing - or even storing one's collection of vintage cars!
For more information on the available units, please contact Neil Akerman at Akermans Chartered Surveyors, 10a Market Hill, Framlingham, Suffolk IP13 9AN Email: neil@akermans.co.uk Telephone: 01728 621 621.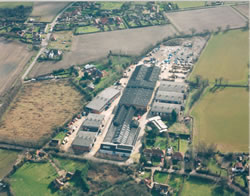 ---
Never-ending love affair with France
Hamiltons will be exhibiting at the French Property Exhibition at London's Olympia from 5th-7th October 2012. "The British love affair with living in France shows no sign of cooling," says managing director Michael Sawyer.
"When we took a stand at the previous exhibition in Yorkshire we talked to many people whose life-long ambition was to start a new life in France, retire there or have a second home."
They included Angela and Chris Webb, who had holidayed for many years in Brittany when their children were small. Angela had taken early retirement from her job as a primary school teacher and they were looking to relocate.
"Moving at any time is stressful," says Angela. "You lie awake at night and think through all the things that could go wrong - but nothing did! Hamiltons gave us an estimate really quickly, and there were no hidden extras. The staff were consistently helpful, even when the temperature during the actual move was 30 degrees. They not only carried in all the furniture, but offered to set up the rooms exactly as I wanted. All I did was make them cups of tea throughout the day!"
Hamiltons provide a weekly service to France, and the company has been able to turn this into two-way traffic. "We are increasingly providing a removal service to individuals or businesses relocating back to the UK, or French nationals moving here. This means that our removals vehicles are coming back fully loaded, and we can pass on these economies to our customers."
With the strength of the pound at a two year high against the euro, organisers Archant Lifestyle are expecting over 3,000 visitors to the exhibition, 80% of whom are actively looking to buy in France.
Hamiltons' French team of experts will be on hand to provide advice on everything from customs regulations to insurance requirements, setting up a business or schooling. "We can - and do - move anything," says Michael. "We even moved an entire farm from England to the Dordogne - including the livestock."
See our free guide to relocating in France.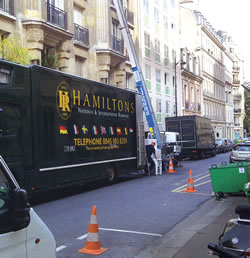 ---
A Night on the Tires
As the sun rose over Dunwich, on the Suffolk coast, on Sunday 1st July, Hamiltons were poised waiting - for 1,500 cyclists who had ridden 120 miles overnight from London. They had left Hackney by moonlight the night before to arrive from 5am onwards for breakfast on the beach and a swim in the sea.

This was the eleventh year that Hamiltons have transported the bikes back from the Dunwich Dynamo cycle run. "We support the ride every year because it is so rewarding to help these cyclists who have made the effort to cycle through the night," says Hamiltons' managing director Michael Sawyer, who personally oversaw the transportation.

"We have a special technique for packing the bikes. The first row goes in forwards, the next with their handlebars in the opposite direction. Then they are wrapped in cardboard, before the next row is loaded. These bikes are of immense value, in price and to their owners, and as with every job we undertake, we ensure that they are packed effectively."

The transportation of cyclists and cycles is arranged by Southwark Cyclists. "Most of us are regular, low tech commuters with a taste for adventure," says organiser Alex Crawford. "Many people say that doing this ride has changed their lives."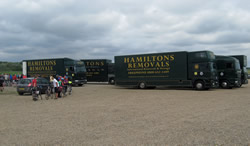 Hamiltons at French Property Exhibition
We had a very successful week-end at the French Property Exhibition recently. If you didn't manage to speak to us, please do get in touch now at info@hamiltonsremovals.co.uk info@hamiltonsremovals.co.uk Hamiltons offer a weekly removals service to France, specialising in domestic, corporate and commercial relocations.
http://www.fpeyorkshire.com
http://www.completefrance.com
Making inroads into Europe
Our superb photo of a fleet of Hamiltons' vehicles, captured en route for Europe, graced the front cover of the April issue of Removals and Storage magazine. Published by BAR, the British Association of Movers, the magazine also carried a two page interview with Brian Sawyer, chairman of Hamiltons, on the company's rapid growth and ongoing investment in vehicles, warehouse facilities, and European groupage services.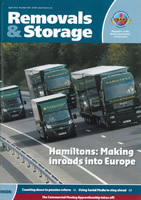 Removals and Storage front cover for April
Carry on trucking
Did you see us at Truckfest at Peterborough on 6th and 7th May? There were over 1,400 trucks of all shapes and sizes at the East of England Showground, including the Hamiltons' pantechnicons.

http://peterborough.truckfest.co.uk