Blog
COVID-19
Updated 19/05/2020
Hamiltons Removals are taking enquires and providing quotations for your removal and storage requirements. Our International, Corporate and UK sales teams are working remotely and can be contacted using the normal office numbers.
A small number of staff are manning the self-storage depots at Aldeby and Harleston and safely dispatching on-line orders for packaging materials. The Harleston self-storage centre is currently open Monday to Friday 09:15 – 17:15, please adhere to the governments social distancing policy when visiting the site. Should you require to visit your unit outside of these hours please contact our sales team to see if this can be arranged.
Should any client require a house survey our surveyors are carrying out physical surveys along with video surveys if prefered, visit https://www.hamiltonsremovals.co.uk/book-video-survey.php to find out more or contact the office to book a survey type of your choice.
We are carrying out removal services whilst adhering to government guidelines to ensure the ongoing safety of our crews, their families, our customers and the general public. All our operations teams have been issued with the necessary PPE required.
Many thanks for your continued understanding during these difficult times.
---
How to Organise Your Self Storage Unit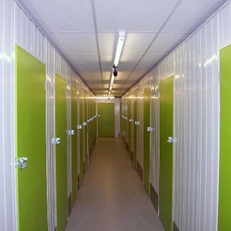 Deciding what goes into a self-storage unit, and how it's packed, is not a particularly difficult task but a few commonsense rules will help you get the most out of your new space.
Hamiltons Removals have competitively priced rental storage units available at two sites near Diss. Here are our top tips for making sure you pay for what you need and can access everything quickly and easily even when it's packed away.
Keep a Plan
It can be extremely frustrating if you can't remember whether you put something into your storage unit or not – and, assuming you did, which carton you put it in? It is best to keep a complete inventory, including pictures, of everything inside your storage room or container. This will also help in the unlikely event of any insurance claims.
As well as individually labelling every single box with full details of what's inside, make sure you keep a separate ground plan which shows where every carton is located within the unit. Keep at least two copies of everything – one at home and one in your storage space – so there's no problem if you ever lose one.
Save Space Where Practical
It can be tempting to put large items of furniture face down on the floor, but this will severely restrict your floor space. You could also damage your sofa or mattress if you put heavy items on top. If you lay them on their ends you will protect them and use your space much more efficiently. However, it's not a good idea to stack furniture against the walls, as this could prevent the air inside from circulating properly.
Chairs can be stored in pairs with the seating pad providing cushioning or placed on top of one another if they are stackable. Try not to leave any empty space. If you haven't got enough clothes to fill up a wardrobe carton then add something else, such as bed linen or pillows.
Be Methodical
Heavy boxes or individual items should be moved into your storage unit first and, where possible, placed on the floor or at ground level. Stacking smaller cartons on top of these will reduce the risk of any crush damage.
When filling up your storage space, always work from the back to the front of the unit. Don't be too fixated on saving space, as you should always leave a clear route through the whole unit so you can reach everything. For convenience's sake, put any items you know you will need regular access to close to the entrance.
It's A Wrap
If you are worried about anything being damaged, then the simple answer is to wrap it up. Items of china and glass should be individually wrapped in tissue paper and if your furniture has any exposed corners or bare legs (which you can't dismantle) then tape it with bubble wrap to avoid damage when it's moved in or out of the unit.
White goods like washing machines and dishwashers should also be wrapped up to avoid scratches but remember to drain them first as any residual moisture could lead to mould. Put a cover over any large items once they are in place to keep dust at bay.
Clean Everything
This is important if you are using your unit to store items which are normally kept outside, such as garden tools. Lawnmower blades and cutting tools should be oiled before storage. Make sure they are all in good working order too, otherwise you may face some expensive and time-consuming repairs before you can use them again.
Items which are normally kept inside your home should also be cleaned, or given a wipe down, before being put into storage. Clothing can be kept smelling fresh if you put a sprig of lavender in with it.
Leave it Up to Us
If you are worried about the best way of organising your self-storage items, then you can leave it to the experts – us! At Hamiltons Removals we offer on-site porterage as well as collection and delivery, so if you have any particularly heavy items or need help wrapping pieces of furniture, we can sort this out for you. These services need to be booked in advance.
Rental Storage Units from Hamiltons Removals
Hamiltons Removals has two 'Safe N Stored' rental storage units on the Norfolk/Suffolk border near Diss. Our Harleston facility has several rooms which can be rented for as little as £65 per month. There is 24/7 CCTV in place and an alarm system which alerts Norfolk Police when activated. The site also boasts a shop which sells a range of packing materials, including boxes, tape, bubble wrap plus glass and bottle dividers. We also have an online shop.
Our Aldeby premises house a selection of storage containers, from 35 square feet to 150 square feet. This makes them ideal for storing larger items, including boats, caravans and motorbikes. The site is also protected by CCTV.
If you would like to know more about our self-storage facilities, click on this link or call us on 01379 855203.
---
Top Tips on Packing for House Moves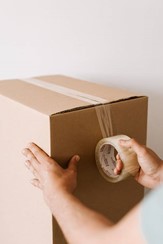 If you are moving house, one of the biggest problems you will face is how to protect all your precious possessions. Here leading moving company Hamiltons Removals, who are based in the heart of East Anglia, offer some top tips on how to avoid breakages on the big day.
Put Heavy Items in Small Boxes
Don't be tempted to put heavy items together in one massive box, as that way you will struggle to lift them up and run the risk of damaging your back or spine. Instead, put single heavy items in the smallest carton possible so that it becomes more manageable.
If you need to put a range of items of different sizes and weights in the same box, always put heavier or larger items at the bottom. This will mean there's no chance of any of your possessions suffering from crush damage while the box is in transit.
Protection, Protection, Protection
All valuables and breakables should be protected either with bubble wrap or some sort of tissue or packing paper. Plates should be stood on their ends, rather than on top of one another, and individually wrapped in packing or tissue paper. These measures will guard against any cracks caused by sudden shocks or vibrations.
Where possible, dismantle any large items of furniture to make them more manageable and ensure any bolts and screws are bagged up and clearly labelled so you know what item they go with. If it isn't possible to dismantle furniture, protect the extremities with bubble wrap or tape so if it does scrape against a doorway or wall it won't suffer any damage.
What to Avoid
While it can be tempting to put items in plastic or bin bags, this approach should be avoided. The bags won't keep your items safe and are more difficult to label and sort through afterwards.
Don't use old newspapers as a packing material, as the print can rub off onto your possessions and be difficult to shift. Avoid using older or unreinforced cardboard boxes as these may not be strong enough to endure the rigours of a house move.
Buy Specialist Containers
Wherever possible, use cartons and boxes which have been designed for a specific purpose. Wardrobe containers will help keep your clothes in an excellent, uncreased condition, whether you want them for self-storage or a house move. Clothing can also be put in layflat cartons, along with linen, curtains, wedding dresses and some electrical items like flat-screen TVs. Picture cartons will protect mirrors as well as artworks with glass.
Get Expert Help
The best way to ensure your packing and unpacking goes without a hitch is to employ qualified professionals. At Hamiltons Removals we can pack and unpack all your possessions as part of our service. Our experienced team will arrive the day before your move and pack everything into labelled cartons so you – and we – know where everything is. All fragile and glass items are individually wrapped.
If you prefer to do your own removals, then we can help there too. Hamiltons Removals have two secure storage facilities near Diss – at Harleston and Aldeby. Our 'Safe N Stored' site at Harleston also has a shop which sells a range of high-quality packing equipment, including medium, large and layflat cartons, bubblewrap (including Furniguard, which is designed specifically for furniture) and tissue paper. We also stock specialist cartons, including picture and wardrobe boxes, and all our cartons are double walled for additional strength.
Getting in Touch with East Anglian Moving Company Hamiltons Removals
If you would like to know more about our online shop, follow this link. Our 'Safe N Stored' sites are both being manned in line with the Government's social distancing policies. The Harleston site open from 9.15am-5.15pm, and we are still able to despatch online orders for packaging materials.  
If you are moving house and would like to know more about our packing and unpacking services, call us on 01379 855203. We are still carrying out our removal services while following the latest government advice and all our crews have been issued with the necessary PPE.
---