Blog
COVID-19
Undated 30/3/2020
At this challenging time, we would like to assure all our customers and staff that Hamiltons are following all Governmental recommendations around COVID-19.
Following the PM's latest briefing on the developing crisis arising from the global coronavirus pandemic, the message was absolutely clear and in a nutshell, the day to day life of the UK is now formally suspended for a period of at least 3 weeks. The question then arises for our clients what should happen with any moves that are either underway or booked to take place.
The recommendation from the British Association of Removers was that removal companies should only complete any moves that are underway (for clarity this does not include moves from store that were not loaded to vehicles prior to the announcement). Hamiltons have taken the decision to follow this advice.
Our warehouses, offices and self storage closed on 24th March, 2020. We are very sorry for the upset this may cause to those booked in for the future but it is equally evident that our absolute priority now must be on ensuring the safety of our staff and our customers, and of course their respective families.
Some members of our office staff are working from home remotely so the phones are manned as normal during office hours. We are also able to carry out video surveys and supply quotations as usual. As soon as the PM lifts restrictions we will of course carry out all removals that had to be postponed.
Thank you for your understanding during this unprecedented times.
We are committed to serving our valued customers as best as possible. Our senior management are meeting daily to review the situation and have put in place a Business Continuity Plan. This Plan is constantly monitored and updated as the situation changes.
Our aim is to ensure we have a robust and up-to-date monitoring response plan in place to secure the wellbeing and safety of our staff and customers.
We want you to know that we are being extra vigilant and have taken additional steps to minimise any possible impact.
Likewise, we would like to request our customers inform us should they feel unwell, have been in close contact with someone who has been confirmed with the Coronavirus or have recently been to a country or area with a high risk of Coronavirus in the last 14 days
Should you need further information or have any concerns or queries, please feel free to contact a customer service representative.
---
How A Self-Storage Unit Will Help You Spring Clean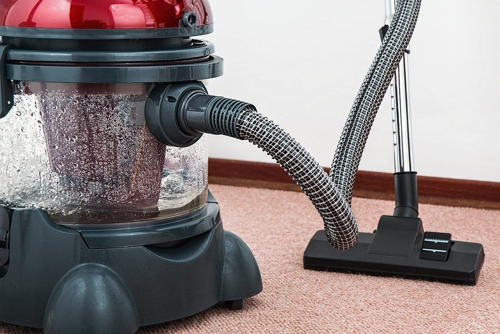 Once winter is finally over, many people's thoughts turn to spring cleaning their home. Here, Hamiltons Removals looks at the history of spring cleaning and how renting out a self-storage unit can help make it so much simpler.
The History of the Spring Clean
The practice of spring cleaning has deep roots. Some believe the tradition began as part of the Persian New Year, while others link it back to the Jewish tradition of preparing the house for the festival of Passover. Here in the UK, spring cleaning involved opening up the windows to freshen air in the house after winter, when open fires caused an accumulation of soot and dust.
While most homes now use central heating, the practice of spring cleaning is still common in the UK. It may not be done yearly now but most people feel the need at least every few years, and often as part of a wider declutter.
Self Storage Clears Covered Surfaces
If you'd like to spring clean your home, putting your belongings into self-storage while you tackle it makes the job so much easier. Instead of constantly moving items from one room to another while you clean and wait for surfaces to dry, you can clean everywhere in one go.
If you're redecorating or deep cleaning carpets, self-storage for bulky items of furniture can be particularly helpful. Our furniture storage units are ideal for people living in Diss, Bungay, Beccles and the surrounding area, allowing customers to move and collect their items whenever is most convenient for them. Placing them securely in storage also helps avoid the risk of damage from paint or cleaning materials.
Make it Part of an Overall Declutter
Whether you've been inspired by decluttering mogul Marie Kondo or just want to reorganise your living space, putting items into self-storage can help you decide what to keep and what to let go of.
Items you're sure you no longer want or need can be sold on internet auction sites, donated to friends, family or charity, or taken to your local household waste recycling centre. However, if there are items you're unsure about, putting them in storage can help you with the decision process. If you find you miss something, you know you should keep it. But if you don't miss something at all, and prefer the increased living space, you'll know it can go for good.
Make it Part of a Seasonal Swap-Around
Some things are only useful at certain times of the year and self-storage units enable you to move items winter items out of the way while bringing spring and summer items back as part of your spring clean.
Winter clothing, for example, can be safely stored away and summer clothing brought out. Christmas and Halloween decorations, fireside accessories and winter sports gear can also go into your storage unit while patio furniture, electric fans and gardening tools can come out.
Self Storage Rental in East Anglia with Hamiltons Removals
If you are interested in self storage rental in East Anglia, Hamiltons Removals have plenty of space at our Safe N Stored sites in South Norfolk.
Our Harleston site has storage rooms from 15 square feet upwards. Customers pay only for what they need, with prices from £65 per month. If you need to store a lawn mower, boat, motorbike or other large item, you'll find a range of larger units at our Aldeby site. Both sites have easy access for owners and are protected by CCTV cameras.
For more information about our Safe n Stored services, which also can include collection and delivery and insurance cover, visit our Safe N Stored self-storage pages or call us on 01379 855203.
---