Blog
April Fool's Day Traditions Across the World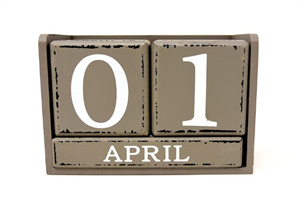 April 1 is a day you need to be on your guard in the UK as friends and relatives take the opportunity to play a prank or two on you. But what of the other countries around the world? Do you need to be wary on the first day of the fourth month?
Hamiltons Removals has been helping people move around the world for more than 25 years – so here is our guide to what you can expect in the way of tricks and japes if you are considering removals to Europe, the USA and other worldwide destinations.
France
Here April Fool's Day is celebrated by sticking a paper fish to someone else's back. This fishy custom is particularly popular with children and is also followed in Italy, Belgium, The Netherlands, and French-speaking areas of Switzerland and Canada.
April 1 is also known as April Fish Day (poissons d'avril) – as you will discover if you embark on removals to France. This is believed to stem from the time the countries adopted the Gregorian calendar, which had the effect of moving January 1 to April 1. Legend has it that many people were not happy with this change and gave the 'fishes', which were originally New Year gifts, as a form of protest. Another school of thought says that those who refused to accept new dates were mocked and tricked.
Scotland
Here April 1 is known as Hunt the Gowk Day, as a foolish person is known as a 'gowk'. Scotland celebrates it for two days, and the second, known as Taily Day, is devoted to physical pranks, which can mean sticking 'kick me' signs on victims' backs as well as playing the paper fish trick.
Ireland
In Ireland, pranksters sent their victims an important letter to be given to a named person, who would then send the victim on to someone else, and so on – because when the victim finally tumbled and opened it, all the contents said was 'send the fool further' – the ultimate fools' errand. Sending this unusual chain letter has also been a tradition in Scotland.
Another staple Irish April Fool is the fake news report, such as the story that Ireland's motorists will soon be driving on the right-hand side of the road. However, this story has now been run several times so most people recognise it as untrue.
USA
If you are considering moving house to the USA, you will find that April Fool's Day is celebrated all day long, unlike the UK and many European countries where the pranks end at noon. The term "fake news" isn't just an invention of Donald Trump, as media organisations take part with untrue news reports.
Among the most famous American stories include the sale of the Liberty Bell to the Taco Bell restaurant chain (who would have called it the Taco Liberty Bell) and the White House announcing that it had sold the naming rights to the Lincoln Memorial to Ford.
It's Not Always April 1
In Spain, Hispanic America and the Philippines, the nearest equivalent to April Fools' Day is celebrated on December 28. This day of the year is Holy Innocents Day – a Christian festival when it is acceptable to play pranks.
In Portugal, people throw flour at their friends on the Sunday and Monday before Lent, while in India, the Holi festival is celebrated the day before April Fools' Day. March 31 is a day to play jokes, wear face and body paint in what is believed to be a precursor of spring.
Removals to Europe and the USA with Hamiltons Removals
If you are planning removals to Europe, the USA or other parts of the UK, then Hamiltons Removals are the experts. We can help you with moves to France, Italy, Germany, the Netherlands and Scandinavia, as well as Scotland and Ireland.
As well as removals to the USA, we also offer moves to many other worldwide destinations, including Australia, New Zealand, South Africa and Canada. Our network of contacts throughout the removals industry means we can keep our prices competitive and will be able to tailor a package to meet your individual needs. Just click on the link above if you would like to learn more.
---
The Best Places to Move to in Northern Ireland
Why move to Northern Ireland? According to the Office for National Statistics, it's one of the happiest places to live in the whole of the UK, with some stunning scenery alongside a number of vibrant, modern towns and cities.
East Anglian removals firm Hamiltons has been helping people move to Northern Ireland for many years. Here is our guide to five of the country's best places to move to.
Lisburn
Lisburn, eight miles southwest of Belfast city centre, is the third largest city in Northern Ireland with a population standing at just over 70,000. It is situated in both County Down and County Antrim, and it is rated one of the country's most desirable places to live. Low levels of council tax and unemployment, high life expectancy and excellent access to public services are all contributing factors to this.
One major tourist attraction is the Castle Gardens, a picturesque public park which was gifted to the town in 1903, on the site of a former manor house. The Irish Linen Centre and Lisburn Museum should not be missed either. It is based in the former Market House, the city's oldest building, and is full of modern, interactive displays telling the story of the city and how its wealth was founded on the textile trade.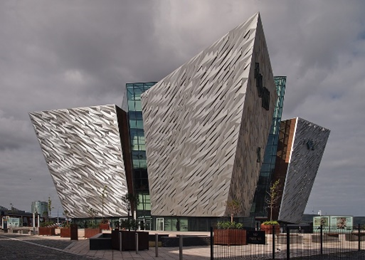 Belfast
Northern Ireland's capital, which is in both County Antrim and County Down, has developed into a modern metropolitan city with plenty to see and do. Many tourists are drawn to the Titanic Museum, above, which tells the story of the ill-fated liner. Ulster Museum and Crumlin Road Gaol are also well worth a look, while the city's zoo is home to more than 140 species of animals.
One popular part of Belfast to move to is the Ballyhackamore area in the east of the city. It is nicknamed Ballysnackamore because of the proliferation of eateries, and it has attracted a lot of young people and families looking to buy their first home. The area was recently rated the top place to live in Northern Ireland by The Sunday Times, which also named it as one of the top locations to live in the whole of Britain.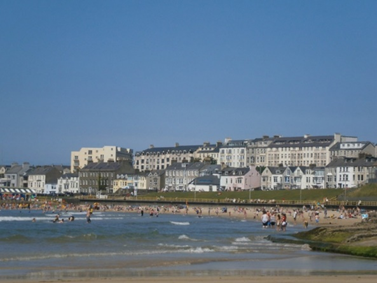 Portrush
This is also on the Sunday Times list of desirable places to move to. Portrush, above, in County Antrim, has a large student population, as it acts as a dormitory town for the University of Ulster in Coleraine. This helps keep the town lively during the off-season – in summer it relies heavily on the tourist trade, as it has plenty of sandy beaches to enjoy.
Royal Portrush Golf Club is due to host the 2019 Open, some 68 years after the tournament first came here, and should bring plenty of prestige and cash to the area. The city hosts an annual air show, an RNLI raft race, and the North West 2000, a prestigious motorcycle race which also runs through Portstewart and Coleraine.
Holywood
This coastal town's name comes from an area of woodland surrounding a nearby monastery, which subsequently became a priory. Holywood town centre's most striking feature is a maypole, thought to be a ship's mast given to the town by grateful Dutch sailors. They were so impressed by the welcome they received after their ship ran aground in around 1700, they gifted it to the town.
The town, which lies in County Down, grew thanks to its popularity as a sea bathing resort. Holywood today is well known for its fashionable shops and boutiques, and the town benefits from good transport links with Belfast, just 15 minutes' drive away. Belfast City Airport is nearby, and there are regular train services to and from the capital as well.
Newcastle
The town of Newcastle is also in County Down, and features in the Sunday Times list as well. Its name comes from a castle built in the 1580s at the mouth of the town's Shimna River. The building was demolished in the 1830s.
Tourism is also a main driver of this seaside town's economy, and it is keen to promote itself as an activity resort. Many visitors come for a round of golf at the world-famous Royal County Down links, or to enjoy walking and the wildlife at either Tollymore Forest Park or Donard Park. Both these parks lie in the stunning Mourne Mountains which tower over the town, including Slieve Donard, which at 850m is the highest peak in the country.
Moving to Northern Ireland with Hamiltons Removals
Wherever you want to move to in Northern Ireland, Hamiltons Removals can help. As a leading removals firm covering the whole of the UK, we can organise commercial and domestic removals to all cities, towns and villages in Northern Ireland, including Belfast, Lisburn, Portrush, Holywood and Newcastle.
Hamiltons can provide a free online removal quote and can offer additional services, including insurance and cleaning. We can also pack your items up for you – our friendly, professional team have many years of experience in making sure all your valuable or fragile items are fully protected during the move. To get in touch, follow the link above or call us on 01379 855203.
---