detailed quote
To get a
FREE
detailed quote of your move click the button below and fill out our online Contents of House form.
detailed quote

CALL US TODAY!
0800 246 5622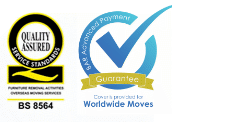 Removals to Germany - Tips on ensuring that your relocation to Germany is as stress-free as possible
Moving to Germany or any European country represents a life-changing situation and carries with it the bold excitement of new challenges. These start with the initial logistical challenge of getting there in the first place and organising your removals to Germany. A huge amount of organisation is involved in checking and re-checking departure plans, paperwork, routes, journey times, schedules, manifests, destination arrivals and onward journey planning. Hamiltons Removals can assist with all of these, to ensure your move to Germany is as stress-free as possible.
For more information on our
removals to Germany
, please click here.
We have put together a guide to
moving to Germany
, which covers the basics on starting a business in Germany, visas and work permits, choosing schools and health care.
Click here to view
This article discusses how you can make the move day itself as stress free as possible through choosing a reliable
removals company
, and preparing yourself for the move.
Moving to Germany - is the area you are moving to one that you and your family are going to enjoy living in?
The best and possibly the only way to find out for sure, is to visit the area beforehand. Visit at different times of the year if time permits and at different times of day too. In this way, you allow yourself plenty of time to familiarise and get comfortable with your new surroundings, seeing them in their many true and different lights.
Nowadays, with it being so easy to move around the European Union, many people are moving within Europe, with comparative ease and for many different reasons. Whether it's for job relocation or a family connection, a change of life-style or simply a change of scenery, whatever the reason for your relocation, Hamiltons Removals can help.
Choose a good removals company
A good
Removals Company
is aware of the stresses involved in moving and will do their best to alleviate as many of them as possible. At Hamiltons Removals you can be assured that we are time and deadline conscious and work within these constraints as far as possible. You will already have a lot to think about, and will most likely be tired from all of the packing, cleaning and finishing off at your old property.
Even with today's improved communication systems, whatever your mode of transport, whether it be road, rail or air, moving to Germany involves many hours of travelling which takes its toll. Leaving your international house move or office relocation to Hamiltons Removals means you can relax, secure in the knowledge that your belongings will be delivered, safely and on time.
Get to know as much as you can about the German culture, transport system, language and way of life
As we've said, moving to another country can take a bit of getting used to. There are cultural differences, differences in climate, food, customs and of course, language. The more you can find out about these local differences, the more comfortable you will be with them, when it comes to actually making your move.
A really good tip is to learn the language, even if just a little, enough to get by. You can build on what you've learned later by practising on those who speak it as their mother tongue. They will certainly appreciate you having made the effort. Of course if you are moving to Germany with your children, it wont be long before they are helping you too.
If you have been used to travelling around London and in the UK, you will notice a positive difference in the German roads, rail network and airlines. In Germany the transport system is well known for being clean, tidy, efficient, relatively new and importantly on time. A lot is made of the efficiency of the Germans and this is highlighted very clearly here.
This cleanliness and efficiency goes to the core of the German people. They are as a race, reliable and conscientious people and place a strong emphasis on traditional family values.
Get the children involved and make the move fun for them
Children, particularly younger ones, have a very short attention span, so it is important to keep them entertained as much as possible on your journey. This will help you feel more relaxed as you make your way to your new home.
Their move to Germany can easily be made both exciting and educational with a bit of careful planning. If they are old enough, why not get them to practise their German language skills with a German language course CD. These are very easy to get hold of and will keep the whole family entertained for hours.
For younger children, make sure their favourite toys are carried with you in the car. Take plenty of books and games to keep them amused and story cds or DVDs.
Break the journey up with regular stops for refreshment. This will help the children get used to the changes, not only in scenery but also in lifestyle and menu. Sausages, Mash and Beans vary greatly from London to Bonn. Stop along the way at tourist attractions, picnic sites and sites of special scientific or historic interest, this will eat up the miles (or kilometres) en route.
Removals to Germany
- Please
contact us
now to discuss your move or
click here
for a free removals quote.