detailed quote
To get a
FREE
detailed quote of your move click the button below and fill out our online Contents of House form.
detailed quote

CALL US TODAY!
0800 246 5622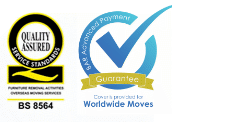 Removals to Turkey: Customs Information
Removals to Turkey . International Removals to Turkey . Moving House Overseas
International removals to Turkey and other overseas destinations are more complicated than moving house within the UK due to the Customs & Excise regulations applied to importing your belongings.
Below is a guide to current Turkish Customs & Excise regulations. Please note that information is correct at time of publishing but may change at any time. Hamilton's international removals department will guide you through all relevant Customs & Excise regulations prior to your overseas move.
Turkey Customs Information
There is no duty payable on household and personal effects for all new residents to Turkey. However, there is a band-roll fee payable locally levied on TV's, hi-fis and video equipment (for which you will need to provide serial numbers). It is worth noting that only one of each type of electrical equipment is allowed. Effects must arrive within 6 months of your arrival into Turkey.
If you are entering Turkey under a work visa, you may import effects duty free under the obligation that the goods will be exported out of the country when you leave. However, after five years that condition ceases.
For returning Turkish citizens, there is no duty payable on effects provided that you have been living outside of Turkey for more than two years.
Small quantities of food, beverage and alcohol are permitted but are subject to duties.
We will require the following documentation to clear your goods through customs.
Passport showing last entry stamp into Turkey
Permanent residence form or temporary residence permit and work permit
Guarantee documents to be provided by Turkish employer (if on work visa)
Inventory of goods (completed by our removal team)
Importing Cars and Motor Vehicles
All non-Turkish residents who do not hold a work visa are not permitted to import a vehicle, unless moving for marriage reasons. You can however, import a vehicle if travelling to Turkey on a work contract but only on the condition that the car is not sold to a Turkish citizen. A bank guarantee is then required which is calculated on the year and weight of the vehicle.
If you are a returning Turkish citizen you may import a vehicle but the import will be subject to duties and taxes. In this case, the car must not be older than three years and must have been used for at least six months prior to importation.
We will require the following documentation for motor vehicles:
Vehicle registration papers
ID card (if a returning Turk)
Additional Information
| | | |
| --- | --- | --- |
| Electrical supply | | 220 volts - adapters are necessary for UK plugs |
| GMT | | + 2 hours |
| Dialling code | | +90 |
International removals to Turkey – Click here for a free detailed quote of your move, or contact us to discuss your requirements.
Removals to Istanbul | Removals to Bursa | Removals to Adana