detailed quote
To get a
FREE
detailed quote of your move click the button below and fill out our online Contents of House form.
detailed quote

CALL US TODAY!
0800 246 5622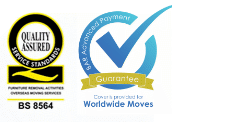 REMOVALS TO GERMANY: IMPORTING CARS AND OTHER VEHICLES
While most removals to Germany are focused on your household or office contents, many people moving abroad also need to arrange for one or more vehicles to be brought with them.
As well as quoting for your general removals to Germany, Hamiltons European Removals department can also assist you with importing vehicles to Germany, including cars, farm machinery, boats, motorbikes, jet skis and quad bikes. Here we focus on the most common request for vehicle transportation - cars.

Removals to Germany - Click here to read more about our removals to Germany service.
Importing vehicles to Germany is straightforward if your stay will be for less than a year, requiring the use of a GB sticker or number plates that include the GB emblem. But those moving to Germany for a stay of longer than one year will need to re-register their vehicles in order to use them on the public highways. We have put together the following guide to assist you in the registration process. Please note this information is correct at time of publishing but is subject to change at any time.

Importing vehicles to Germany in five easy steps
Step one
The first thing you will need to do is contact your car manufacturer and ask for a certificate of conformity. They will require a copy of your vehicle registration document (V5c form) and there will be a small cost involved.

Step two

Next you need to prepare your car for driving in Germany. Click here to read our guide to driving in Germany, and the changes you need to make to adjust your car for driving on the right hand side of the road.

Step three

On arrival in Germany you will need to present the following importation documents at the local registration office: proof of ownership (bill of sale or receipt), your original V5c, details of your vehicle insurance, an emissions test certificate, a tax clearance certificate and the certificate of conformity.

If the vehicle does not have the certificate of conformity (if it is too old, for example) it must be inspected by the TÜV (Technische Überwachungs-Verein) or DEKRA (in the new Federal States, formerly East Germany). They will issue the certificate if it meets the required standard.

Step four
Go to the registration office: You will receive notification of when this is due. Upon receipt of notification you must take all the above documentation together with your passport, proof of residency and GB number plates to the Motor Vehicle Registration Office at your place of residence in Germany. Here your documents are inspected and returned to you, your V5c is returned to the DVLA and your GB number plates are either destroyed or returned to you for safe keeping.

Whilst at the office, you complete an application for allocation of a German number plate and issue of a car ownership certificate. There may be problems if the car papers issued in your country differ considerably from those valid in Germany. If no difficulties arise, you will be given a registration number and a certificate to be taken to a nearby workshop to have authorized number plates made.

Step five

Having had the number plates made, you must return to the registration office to collect your German car documents (including the car registration certificate). The registration office will affix badges to your number plates certifying that the car has been properly registered and you will be notified of the dates when the next main test by the Technical Control Board (in two years' time) and the special exhaust emission test (ASU) are due.
Fees are payable at both the Technical Control Board and the registration office. In addition, you must buy the number plates.

Importing Vehicles to Germany - Contact us now to discuss your requirements.
Removals to Germany | Germany Relocation Guide | Driving in Germany | Moving to Germany | Importing Vehicles to Germany | Moving to Berlin | Moving to Munich | Moving to Hamburg