detailed quote
To get a
FREE
detailed quote of your move click the button below and fill out our online Contents of House form.
detailed quote

CALL US TODAY!
0800 246 5622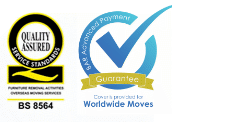 Removals to Canada: Customs Information
Removals to Canada. Moving House Overseas. Shipping to Canada
International removals to Canada and other overseas destinations are more complicated than moving house within the UK due to the Customs & Excise regulations applied to importing your belongings. It is essential to understand the customs regulations before arranging shipping to Canada, to avoid fines or even prosecution.
Below is a guide to current Canadian Customs & Excise regulations. Please note that information is correct at time of publishing but may change at any time. Hamilton's Canadian removals department will guide you through all relevant Customs & Excise regulations as part of our removals to Canada service.
Removals to Canada - click here for a free online quote
Shipping to Canada - Canadian Customs Information
Removals to Canada may include personal belongings and household contents duty free provided either a) you are taking up residency and have owned and used the effects immediately prior to moving from the UK to Canada; or b) you are a returning Canadian and have been away from the country for over 12 months (the exceptions being on any new or single items with a value of over $10,000 which will incur duty calculated on the value - proof of purchase is required).
In order to obtain Customs Clearance, you will be required to attend a meeting with local customs where you will need to present your passport and complete the necessary customs forms. We will have already supplied you with a full inventory, which must be presented upon arrival at the airport.
All items entering Canada will be subject to a physical examination by the CFIA (Canadian Food Inspection Agency).  Items such as gardening equipment, bicycles, patio furniture, footwear, golf clubs, etc which may have come into contact with soil and vegetation must be thoroughly cleaned beforehand. Extra cleaning costs may be incurred upon inspection.
We will require the following documentation to clear your goods through customs:
Original passport
Inventory or packing list (our removal team will have completed this)
B4E declaration form (supplied at airport upon arrival)
Proof of purchase/copy lease agreement is required for non-residents who own/lease a residential property
Shipping to Canada - Restrictions
Alcohol - may be imported with a licence (obtained prior to entry) from the Provincial Liquor Control Board but duties will be payable.
Food and beverage - it is not advisable to import any food or beverage.
Firearms - may be imported but you must have a licence, which can be obtained from the Canadian Authorities prior to entry.
Shipping to Canada - Importing Cars and Motor Vehicles
As a general rule, vehicles (other than current year manufacture) are prohibited from importation.  However, there are some exceptions so we would suggest you contact Transport Canada Vehicle Importation (Tel: (+1) 613 998 2508) for further information.
Shipping to Canada - click here for a free online quote
Useful Information
Electrical supply: 100 volts. Electrical appliances from the UK will not operate without a transformer.
TV/DVD/Videos: These appliances will not operate in Canada due to the broadcasting system not being compatible with the system in the UK.
Time Differences:
Halifax is in Atlantic Standard time (AST) = GMT -4 hours
Toronto is in Eastern Standard time (EST) =  GMT -5 hours
Edmonton is in Mountain Standard time (MST) = GMT -7 hours
Vancouver is in Pacific Standard time (PST) = GMT -8 hours
Canada Dialling code: +1 followed by local code:
Vancouver 604
Toronto 416
Ottawa 613
Halifax 902
Removals to Canada | Shipping to Canada Customs Information | Moving to Canada Relocation Information | Removals to Ottawa | Removals to Toronto | Removals to Montreal