detailed quote
To get a
FREE
detailed quote of your move click the button below and fill out our online Contents of House form.
detailed quote

CALL US TODAY!
0800 246 5622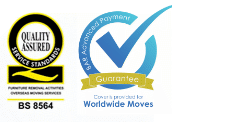 Removals to Montreal Canada | UK to Canada Removals Service
If you are relocating to Montreal, Hamiltons international removals department provide tailored removals to Canada's second largest city. Whether you are a private individual relocating for work, or a business wanting to move headquarters, we carry out high quality removals to Canada locations at competitive rates. We can arrange shipping to Montreal via a range of transport, packing, storage and insurance options.
Removals to Canada - Options
Removals to Canada / shipping to Montreal is available in a range of options depending on the size of your move and any additional services you may need. We can provide a full packing, loading, shipping and unloading service, or you can opt to pack and unpack yourself. Once your belongings are packed up, choose between dedicated container service (ideal for larger moves), or shared container service (ideal for smaller moves). If faster shipping to Montreal is required, use our airfreight service (ideal for smaller, lighter items). If you require a storage facility or a cleaning service we can provide that too. Finally, choose from a range of insurance options.
Removals to Canada - click here for full information on our shipping to Montreal service, or click here for a detailed quote
Removals to Canada - Destinations
Our removals to Canada service covers all Canadian destination including the provinces and territories of: Alberta, British Columbia, Labrador, Manitoba, New Brunswick, Newfoundland, Northwest Territories, Nova Scotia, Nunavut, Ontario, Prince Edward Island, Quebec, Saskatchewan and Yukon.
As well as shipping to Montreal, we ship to all Canadian cities including: Abbotsford, Brandon, Coquitlam, Sawson Creek, Estevan, Fredericton, Ghelph, Hamilton, Joliette, Kitchener, Lethbridge, Moncton, Niagara Falls, Ottowa, Penticton, Quinte West, Rimouski, St Johns, Toronto, Vancouver and Winnipeg.
Removals to Canada - click here for a free online quote
Hamiltons are members of the trade association BAR (British Association of Removers) and The Road Haulage Association and we are BS EN ISO 9001:2000 registered.
About Montreal Canada
Montreal is the largest city in Quebec with a population of well over 3 and a half million. It is a vibrant and cosmopolitan city that welcomes visitors and émigrés from all over the world. It is a 24/7 city with entertainments galore and it is a commercial hub, with many international companies represented here.
There are many retail attractions here with a wide range of international boutiques on Montreal's high streets. Some of the main shopping areas are centred around Sainte Catherine Street which itself is lined by hundreds of shops. Around St. Paul Street and along the side streets and at the Marché Bonsecours on St. Laurent Boulevard there is an extensive selection of alternative ethnic shops. The Westmount area has many exclusive shopping areas, as does the downtown district where you will find some of the city's main shops and high-street chains.
One of the principal shopping areas cannot even be seen above ground. The amazing underground shopping centre known as The Reso is the world's largest underground pedestrian network and shelters the city folk from both the scorching heat of the summer and the freezing winter winds. Here, more than 30 kilometres of passageway link the stations of Montreal's metro, which house over 1500 boutiques, 200 or so restaurants, 34 cinema screens and 1600 high quality apartments. Patronised by over half a million people daily, it remains open for business as long as the Metro stations themselves. The best time to visit the centre is between 9am-11am and 2pm-4pm, when it is least crowded. The Reso is continually expanding and at present links many major buildings and multi-level shopping malls in the downtown area. It is a shopper's paradise, keeping them warm and dry in any season.
Another sight to look out for is The Montreal Casino. Not for everyone of course, it is an extravaganza of gambling, food and drink. The casino utilises the pavilions of France and Quebec that were constructed for Expo 67 on the man-made Île Notre-Dame in the middle of the mighty St. Lawrence River. Like the mega casinos of Las Vegas, it's a multi-level assault on the senses, featuring card games, dice games, slot machines, keno and roulette.
Look out also for the Notre-Dame Basilica. One of the most beautiful churches in the city, it's where Céline Dion got married. This neogothic building dates from 1829 and is constructed on the site of a much older and considerably smaller church, which the parishioners at the time outgrew. Unlike its Parisian namesake, it is not a cathedral but, despite its lack of title, it is lavish in the extreme with stained glass windows, wonderful paintings, grand statues, and rich altarpieces. It also has a Casavant organ and the largest bell, le Gros Bourdon, on the continent.
Montreal's Olympic Stadium was built for the 1976 Summer Olympic Games and is still used today for occasional sports events. Mostly these days though, it's used for large trade shows and concerts. Buy a ticket and take the lift up the world's tallest inclined tower to a lookout post on the top.
And finally, no trip to Montreal would be complete without paying a visit to Mount Royal. Take bus number 11 then walk or, if driving, park in one of the spaces provided at the top and walk down. Or, if you're feeling really energetic, walk up from the top of Peel Street. You will be rewarded with an excellent view of Mount Royal Park which, incidentally, was laid out by the same person who landscaped Central Park in New York.
As you look out from the terrace, all of downtown Montreal is at your feet. It is an awesome sight, especially on a clear day when you get a great view of the River and out to the Monteregian Hills. But Mount Royal is an attraction all year round. In summertime it provides refuge from the heat, in autumn its changing colours are a delight and in winter it plays host to a range of sports including cross-country skiing, snowshoeing, skating and tobogganing. Some people prefer to use car inner tubes or plastic sheeting to aid their descent, but whatever you use, you can be sure it's great fun.
Shipping to Montreal Canada - please contact us now to discuss your move or click here for a free removals quote
Removals to Canada | Shipping to Canada Customs Information | Moving to Canada Relocation Information | Removals to Ottawa | Removals to Toronto | Removals to Montreal