detailed quote
To get a
FREE
detailed quote of your move click the button below and fill out our online Contents of House form.
detailed quote

CALL US TODAY!
0800 246 5622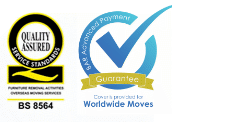 Removals to Toronto Canada | UK to Canada Removals Service
If you are relocating to Toronto, Hamiltons international removals department provide competitive removals to Canada's largest city. We carry out high quality, tailored removals to Canada locations, for domestic, commercial and corporate customers. We offer shipping to Toronto via a range of transport, storage and insurance options to suit each client's requirements.
Removals to Canada - Options
Removals to Canada can include a full packing, loading, shipping and unloading service, or simply the moving of your belongings. For larger moves you can have sole use of a 20 or 40ft container; or for smaller moves share a container and use our groupage service. Alternatively, for faster shipping to Toronto Canada of smaller, lighter items, use our airfreight service. If you require a storage facility we can provide that too, along with cleaning and insurance options where required. With removals to Canada at competitive prices, and a flexible range of services, we make your move easier.
Removals to Canada - click here for full information on our shipping to Toronto service, or click here for a detailed quote
Removals to Canada - Cities, Provinces and Territories Covered
Our removals to Canada service covers the whole of Canada including the provinces and territories of: Alberta, British Columbia, Labrador, Manitoba, New Brunswick, Newfoundland, Northwest Territories, Nova Scotia, Nunavut, Ontario, Prince Edward Island, Quebec, Saskatchewan and Yukon.
As well as shipping to Toronto, we ship to all Canadian cities including: Airdrie, Brampton, Coquitlam, Drummondville, Estevan, Gatineau, Hamilton, Joliette, Kelowna, Longueuil, Medicine Hat, Niagara Falls, Oshowa, Parksville, Quebec City, Regina, Saguenay, Thunder Bay, Vancouver and Whitehorse.
Removals to Canada - click here for a free online quote
Hamiltons are a member of the trade association BAR (British Association of Removers) and The Road Haulage Association and are BS EN ISO 9001:2000 registered.
About Toronto Canada
Toronto is the provincial capital of Ontario and with a population of well over two and a half million, it is easily the most highly populated city in Canada. Very much the home of the maple leaf, which is the national symbol of Canada, its own hockey team are known by the same name. Their fans stand out from the red and white of the national flag by wearing their team colours of blue and white and this has led to them becoming known colloquially, as "The Blue and Whites".
Along with The Maple Leafs, Toronto's sporting citizens can support a number of other local teams: the Toronto Argonauts who play in the Canadian Football League (CFL), The Toronto Blue Jays playing Major League Baseball, Toronto FC who play Soccer, The Toronto Marlies who play in the American Hockey League (AHL), The Toronto Raptors who play in the NBA and Toronto Rock, who play in the lacrosse league. All of these local sports teams ensure there is always something in the calendar for young and old sports fans alike.
Toronto is a clean, safe, cosmopolitan city with wonderful parks and recreational facilities. It is home to the AGO or Art Gallery of Ontario, which displays many fascinating collections including; modern and contemporary art from the Americas and Europe, African and Oceanic art, historical Canadian art, Dutch, Italian and French old masters, photography collections dating from 1840, prints and drawings from the early 1400's and The Thompson Collection, a permanent installation featuring Italian Renaissance art, sculpture from the Middle Ages to the 1700s and the centrepiece of the collection: Rubens' "Massacre of the Innocents".
Another "must see" is Toronto's St. Lawrence Market on Front Street East. This wonderful market is open all week and hosts over 120 specialist merchants and vendors. Food & Wine magazine from American Express dubbed this market "one of the 25 best markets in the world". The venue also plays host to a 200-year-old Saturday Farmers' Market and a delightful Sunday Antique Market.
For more in the way of retail therapy, head to the Eaton Centre on Yonge Street. This multi-floor, glass-roofed galleria consists of more than 320 shops and restaurants, 17 cinema screens, and a 400-room Marriott hotel. Built in 1979, the Eaton Centre is THE tourist attraction in Toronto, receiving over one million visitors a week.
If all that sounds a bit hectic for you and you prefer to do your shopping somewhere a little more exclusive, go to the Bloor St / Yorkville area. This part of town is reminiscent of Regent St and Bond St in London where famous name fashion emporiums rub shoulders with high end luxury goods stores. Here you can step into a world infused with historic charm and modern seduction for this is Toronto's most celebrated neighbourhood of style and culture, offering a unique blend of designer boutiques, fashionable restaurants, plush hotels and world-class galleries.
Toronto glories in its ethnic diversity and, as if to prove the point, has some very distinctive shopping districts and markets offering a wide range of unusual shopping experiences. These vibrant and quite different retail areas can be found on Queen Street West, in Kensington Market, in five different Chinatowns, in Little Italy which is along St. Clair West, in the Greek community which is to be found along "The Danforth", in Little Portugal on Dundas and Bathurst Streets and at the Indian Bazaar at the junction of Gerrard St East and Greenwood.
Leaving the shops behind, Toronto's waterfront is one of North America's largest recreational waterfront locations and provides a scenic backdrop for many popular attractions including Harbourfront, Ontario Place, Rogers Centre, the CN Tower, and the Toronto Islands. It's also the setting of many big events including the Toronto International Film Festival, the Canadian National Exhibition, the Caribbean Carnival and Winterlicious. Winterlicious is a foodie's delight during which you can discover new favourite restaurants by sampling mouth watering three-course, fixed price menus at 150 of Toronto's top restaurants. The event takes place every year and runs from the end of January to the middle of February but tickets go on sale in early December.
Shipping to Toronto Canada - please contact us now to discuss your move or click here for a free removals quote
Removals to Canada | Shipping to Canada Customs Information | Moving to Canada Relocation Information | Removals to Ottawa | Removals to Toronto | Removals to Montreal