detailed quote
To get a
FREE
detailed quote of your move click the button below and fill out our online Contents of House form.
detailed quote

CALL US TODAY!
0800 246 5622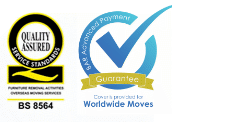 International Removals to America | Removals to San Francisco USA
Hamiltons International department specialise in arranging international removals to America including San Francisco. We carry out efficient removals to USA locations, for individuals relocating for work, businesses relocating or expanding to the US, and corporate customers assisting their staff with relocation. Whatever your reason for moving to America, Hamiltons can help.
International Removals to America - San Francisco
International removals to America's 13th largest city, San Francisco, can include a comprehensive packing, loading, shipping and unloading service, or we can collect and ship your belongings after you have packed them yourself. We make your international removals to America as easy as possible, for a competitive price.
International Removals to America - click here to read about our removals to USA service.
Removals to USA Cities and States
We can arrange removals to USA towns and cities everywhere including Atlanta, Boston, Charlotte, Detroit, El Paso, Fresno, Green Bay, Houston, Indianapolis, Jacksonville, Knoxville, Las Vegas, Memphis, Nashville, Omaha, Phoenix, Rockford, Sacramento, Tulsa, Virginia Beach, Wichita and, of course, San Francisco. For international removals to America, wherever you want to locate, check our prices.
We ship to and from all American states including: Alabama, California, Delaware, Florida, Georgia, Hawaii , Iowa, Kentucky, Louisiana, Michigan, Nebraska, Oklahoma, Pennsylvania, Rhode Island, South Dakota, Tennessee, Utah, Vermont and Wisconsin.
Removals to USA - click here for a free online quote
Hamiltons Removals are  BS EN ISO 9001:2000 registered and a member of the trade association BAR (British Association of Removers) and the Road Haulage Association
About San Francisco
It might be said that, as New York is to the east, so San Francisco is to the west. There are those that would describe San Francisco as glitzy and glamorous and there are those that would describe it as edgy and brittle. The truth is that like most pretenders to the crown of Capital city, San Francisco is both. The stylish party scene is headed up by well patronised bars and clubs and the key to getting any kind of reservation for a larger than average crowd is to book early. Visits to the Bourbon & Branch on Jones St, El Rio on Mission St and the Homestead on Folsom St, will confirm this. At the weekends in particular, these places and others just like them are heaving, especially later in the year around September time.
September is San Francisco's summer. The evenings are long and balmy and the air is thick with pulsing beats, excited chatter and the clink of toasting glasses.
The Bourbon & Branch was a speakeasy back in the 20's. In the time of prohibition, access to this elaborately disguised watering hole could only be gained through a series of passwords.
Removals to USA - click here for a free online quote for your move
Mission St and the Mission District as a whole is now a force to be reckoned with in terms of its ability to attract the well heeled and fashion conscious. Gone are the days of poor houses, slums and charity cases, though of course you will still see a few of these in closed shop doorways and down darkened alleyways. Nowadays the Mission District is colourful and enlivening but, at the same time, it hasn't totally shed the edginess and brittleness which made it so appealing a few years ago.
Just under 3 miles away from Mission St, or 1.5 miles as the crow flies, Mission Bay shines like a new penny. Built on 303 acres of abandoned railway yard, development began in 2004, the area now boasts 6,000 new units and a number of exciting developments with many more planned for the future. Look out for the Park Terrace community and the 235 Berry building. Mission Bay is the proud keeper of the first new public library in San Francisco for over forty years and is also home to the California Institute of Regenerative Medicine, the Gap corporate headquarters and a number of biotech companies.
Bernal Heights which is located on a hill at the southern edge of the Mission valley, is a quaint urban village. The main shopping strip is home to small markets, cafés, fruit stands and barber's shops, with a few trendy boutiques and innovative restaurants thrown in. Homes here are low rise, on good sized plots and the residents take life relatively easy.
International Removals to America - click here for a free online quote
The Castro district could not be more different. Here property prices are at a premium since the area is one of the city's most vibrant communities. The stylish shops and bars here are so popular that patrons spill out onto the street. The housing here is largely Victorian and impressive, and many of the homes have been lovingly restored.
Then there is Hayes Valley, which is different again. This area of the city, which was once run down, drug addled and vice filled, is now a haven for haute couture window shoppers and fancy restaurant goers. Trendy fashion boutiques and art galleries, high-end designer interior shops and hip nightspots are all the rage here and the area shows no sign of wishing to return to its former, less than tidy self.
Enter North Beach or "Little Italy" as it is known and you'll find a wealth of old Italian style restaurants, cafes and delis. It also has more than its fair share of night spots and bars. Small boutiques line the streets, specialising in handmade clothing and imported goods and a favourite place to shop is Grant Avenue. Turn a corner, on to Broadway though and things change - the fine dining and fancy clothes shops give way to neon lights and strip clubs.
Nob Hill is renowned for its landmarks and famous hotels. It has a swanky character but is still greatly influenced by its surrounding downtown neighbourhoods. Since the time of the Gold Rush, it has always had an air of the privileged about it.  In days gone by, it used to be that the further you got up the hill, the bigger and more imposing the house you had. These days most of the larger mansion houses have been turned into fabulously luxurious hotels.
Hamiltons Removals can provide competitively priced removal services to destinations throughout the USA, so wherever you are moving to in America, Hamiltons Removals can help.
We can help with removals to Alabama or Alaska or any of the other American States including Arizona, Arkansas, California, Colorado, Connecticut, Delaware, The District of Columbia, Florida, Georgia, Hawaii, Idaho, Illinois, Indiana, Iowa, Kansas, Kentucky, Louisiana, Maine, Maryland, Massachusetts, Michigan, Minnesota, Mississippi, Missouri, Montana, Nebraska, Nevada, New Hampshire, New Jersey, New Mexico, New York, North Carolina, North Dakota, Ohio, Oklahoma, Oregon, Pennsylvania, Puerto Rico, Rhode Island, South Carolina, South Dakota, Tennessee, Texas, Utah, Vermont, Virginia, The Virgin Islands, Washington, West Virginia, Wisconsin or Wyoming.
Removals to San Francisco USA - click here for full information on our international removals service, or click here for a free quote.
Removals to USA   | Moving to America Relocation Guide | Shipping to America Customs Information| Removals to Los Angeles | Removals to Chicago | Removals to New York | Removals to San Francisco | Removals to Washington | Removals to Houston