detailed quote
To get a
FREE
detailed quote of your move click the button below and fill out our online Contents of House form.
detailed quote

CALL US TODAY!
0800 246 5622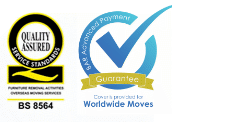 Removals to America, USA | UK to Los Angeles Removals Service
If you are relocating to Los Angeles, Hamiltons can arrange your removals to America. We carry out high quality removals to USA locations, including domestic, commercial and corporate moves.
Removals to USA - Los Angeles
Removals to Los Angeles can be tailored to your requirements and can include full packing, loading, shipping and unloading or simply the moving of your belongings. We also provide a professional cleaning service if required. With removals to USA at competitive prices, Hamiltons can help make your move to LA easier.
Removals to America - click here to read about our removals to USA service.
Removals to America - Locations
We ship to and from all American states from Alabama to Wyoming, and to all towns and cities in the USA from Albuquerque to Washington including, of course, Los Angeles. For removals to America, wherever you want to locate, check our prices.
Removals to America  - click here to read about our removals to USA service, or click here for a detailed quote
Hamiltons are a member of the trade association BAR (British Association of Removers), The Road Haulage Association and are BS EN ISO 9001:2000 registered.
About Los Angeles USA
Los Angeles is famous for its movie and television connections with Hollywood and Beverley Hills and all of their associated glitz and glamour. The movies continually glamorise the name of Los Angeles, ensuring that information and gossip about the goings on in the glittering City of Angels, is never far from the front pages of your newspapers, your TV screens or your internet news sites.
For those on the ground though, life in LA is pretty much the same as life in any other major city. It's all about family life, about getting on in your job and about what you're doing at the weekend.
Like most large American cities, Los Angeles is split into neighbourhoods. These "hoods" are divided up as follows; Downtown, Hollywood, the San Fernando Valley, Westside, the Beach Towns and the San Gabriel Valley.
The first thing to do when visiting downtown Los Angeles is to get to know the place - and the best way to do that is to ride the metro. The Los Angeles downtown metro is a combined bus and rail transport network that traverses the county via 200 or so different routes, 24 hours a day, 7 days a week. It is the ideal way to get to know the area and it is very cheap too - at the time of writing a full day travel pass costs just $6.00.
Another way to get around the city and see the sights is to DASH. DASH is the name of the city's downtown bus service. This Monday to Friday service visits all the major tourist spots and business locations and runs every 10 minutes or so, up till 7 o'clock at night. This too is very cheap - at the time of writing a DASH journey costs just 50 cents.
If you really can't do public transport or need to travel outside of the Downtown area, you can use one of the city's taxi services. There are at least half a dozen licensed cab companies in Los Angeles. Look out for the official City of LA taxicab seal. This is a sign that the cab driver is properly trained and insured and that the vehicle has been inspected and passed fit for service, by the City of Los Angeles.
Removals to USA - click here for a free online quote
Life in downtown Los Angeles is business like and hectic but then, that's why people love it. It is the land of the shop, office and high rise apartment building. For a quieter, more spacious and more family orientated way of life, you need to look outside of the downtown area, at one of the other regions mentioned above.
Hollywood, or Tinseltown as it is also known, is the land of the movie star and play boy/girl and it has the nightlife to match. There are no less than 14 nightspots and a virtual A to Z of restaurants, bars and eateries, serving up every different kind of food and drink. Life in Hollywood is all about glitz and glamour and you can see it in everything from the hotels to the attractions and from the dining experiences to the discos. There are movie locations on every street corner and castings and previews in almost every building. You might say, if you've got no business in show business, you've got no business in Hollywood, apart from sightseeing and star spotting of course. In fact if you type the word Hollywood into Google, you have got to go to about page 5 before you find anything that is not celebrity orientated.
If you live in the San Fernando Valley then you live in the place known as "The Valley". An area famed, as much for its parks and gardens as for its role in the seedier side of film production. There are so many small parks and recreation areas here, if you live and work anywhere locally and fancy some rest and relaxation, San Fernando is the place to come. Griffith Park, at the south eastern end of the valley in the Hollywood Hills is the largest municipal park in Los Angeles. Here you can go camping, play golf, go on hiking trips, ride horses, go jogging, have picnics, play soccer, go swimming or play tennis. It's all about the great outdoors, with great scenery and great weather too.
The Westside of LA is, arguably, one of the most desirable communities in Los Angeles. It's a great place to live, work and grow up. It has a special character all its own and is surrounded by some wonderful countryside. The air is fresh and clean and the weather is quite good all year round. A sea breeze comes in off the coast to keep residents cool in the summer and you can't really call the winters cold. Open and expansive, the Westside has many attractive green spaces and little in the way of congestion, either on the sidewalks or on the freeways. The relatively clear, wide roads allow for very easy access to all other parts of Los Angeles but since many of the residents here work locally, they have no need to travel. Schooling in the Westside is particularly good too with many of the best public and private schools in Los Angeles located here.
Removals to America - click here for a quote
The Beach Towns is, as the name suggests, the collective name for all those towns that front onto the beach along the Santa Monica Bay. They are: Hermosa Beach, with its pier, shops and restaurants; Malibu Coast Drive, which is famed for and even named after, its highway; Manhattan Beach, which is as up scale as the Beach Towns get; Marina Del Rey, with its lovely waterfront restaurants and great watersports; Redondo Beach, aka the Redondo Riviera with great shopping; Santa Monica with its seaside amusement park; and Venice Beach, famed for its Muscle Beach and graffiti. Each of the beach towns has something different to offer and a character all its own.
Pasadena, the City of Roses, is probably the most well known of the towns in The San Gabriel Valley. It is best known for its New Year's Day Rose Parade and the Rose Bowl football game which is the Varsity Match, only with extra padding. Pasadena has an exciting nightlife and the vibrant Old Town to the west, offers chic shopping and dining experiences. Downtown Pasadena is the land of the culture vulture. Here you'll find all the museums, theatres and independent arthouse cinemas you could wish for. And for a little piece of Hollywood, pop along to the botanical gardens at the Huntingdon Library, which have been used as the background in many popular mainstream films.
Removals to Los Angeles, USA - please contact us now to discuss your move or click here for a free removals quote
Removals to USA | Moving to America Relocation Guide | Shipping to America Customs Information| Removals to Los Angeles | Removals to Chicago | Removals to New York | Removals to San Francisco | Removals to Washington | Removals to Houston