detailed quote
To get a
FREE
detailed quote of your move click the button below and fill out our online Contents of House form.
detailed quote

CALL US TODAY!
0800 246 5622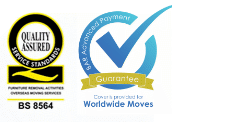 Removals to America, USA | UK to Chicago Removals Service
Hamiltons International department specialise in arranging removals to America. We carry out tailored removals to USA locations, for domestic, commercial and corporate customers.
Removals to USA - Chicago
Removals to Chicago can include a full packing, loading, shipping and unloading service, or simply the moving of your belongings. With removals to USA at competitive prices, we make your move easier.
Removals to America - click here to read about our removals to USA service.
Removals to America - States and Cities
We undertake removals to and from all American states from Alaska to New Mexico and from California to Maine. We can arrange removals to USA towns and cities from Portland to Pittsburg and from Anchorage to Albuquerque, including, of course, Chicago. For removals to America, wherever you want to locate, check our prices.
Removals to America - click here to read about our removals to USA service.
Hamiltons are a member of the trade association BAR (British Association of Removers), The Road Haulage Association and are BS EN ISO 9001:2000 registered.
About Chicago USA
Chicago, the capital city of the state of Illinois lies on the south-western shore of Lake Michigan. This vast metropolis, which covers an area of 60,000 hectares or nearly 232 sq miles, is split into 5 distinct areas: North West, North Central, Near South, South West and South East. These areas are further subdivided into some 200+ officially recognised neighbourhoods or "hoods". We won't list them all here, but we will pull out one or two of the more notable ones to give you an overview of the city as a whole.
The centre of the city, the CBD or Central Business District, is known as The Chicago Loop. This is the commercial centre of downtown Chicago and home to the Chicago city council. It is also the main theatre and shopping district in the city and the second largest downtown business district after Manhattan in New York.  Officially the CBD is bounded by the Chicago River to the west and north, by Lake Michigan to the east and by Roosevelt Road to the south but, as time passes and Chicago's businesses continue to grow, these boundaries are being forever expanded.
The community area, immediately outside the CBD is growing too. It now includes Grant Park and the Art Institute of Chicago, which is one of the largest art museums in the whole of the United States. Other culturally important institutions around the centre of the city include Chicago's Symphony Orchestra, Chicago's Lyric Opera, the Goodman Theatre, the Joffrey Ballet, the Chicago Cultural Centre and the Harold Washington Library. Chicago's undoubted passion for music and literature is matched with its enthusiasm for everything, from ballet to baseball and from political satire to architecture both old and new.
Removals to USA - click here for a free online quote
Another great passion in Chicago is food. Restaurants abound here serving up foods from all over the world. Italian dishes are an all time favourite of course, the city is said to be the home of the deep dish or deep pan pizza. Other favourites include Thai, Mediterranean, Eastern European, German, Mexican, Chinese, Indian and even Burmese and Ethiopian dishes. And let's not forget, the good old-fashioned barbecue ribs, the beef sandwich and the Chicago-style hot dog with its tomatoes, onions, hot peppers and pickles.
If you're heading into town in search of a good meal, go north and west of the Loop. Here you'll find a great many restaurants. On the western side you'll find Greektown with its yiaourtlou, kleftiko, diples and baklava, and Little Italy offering up pizza and pasta delights. Chinatown is not far either and although the area could use a facelift, the Cantonese and Szechuan food here is to die for.
In common with New York and Los Angeles, it is possible to take dinner cruises aboard luxuriously appointed boats but in Chicago as in Melbourne Australia, you can also take part in a progressive supper by coach.  On one of these exquisite culinary journeys, you are transported between the finest bars and restaurants, enjoying your starter at the first, your main course at a second and your dessert at a third with drinks at a bar beforehand, so you can get to know your fellow travelling diners.
There is mile after magnificent mile of shopping available in Chicago and one of the best places to start is the Magnificent Mile itself. This mile long stretch of retail therapy runs from the Chicago River to Oak Street. All the big names are here: Bloomingdale's, Lord & Taylor, Nordstrom, Gap, Banana Republic and Ralph Lauren, to name but a few. And as for jewellers, Tiffany has a place here as does Van Cleef & Arpels. Look out for State Street too, here you'll find a Marshall Field's amongst other big department stores.
Food and shopping aside, Chicago is alive with culture and activity and has a healthy respect for all things natural. Running through the University campus is the Midway Plaisance, a sporting venue for the city's schools and colleges, which also hosts a permanent rink used for rollerblading in the summer and frozen over for ice skating in the winter. This is set amid delightful landscaped gardens.
Removals to America - click here for a quote
Joggers, cyclists, swimmers and picnickers will enjoy life at the 57th Street beach and Promontory Point to the east of the Shoreland and, just south of there, is the South Shore Cultural Centre and Jackson Park, with its large open green spaces, beaches, yacht club, driving range, and 18-hole golf course which is open to the public.
Visitors to the city should also look out for Brookfield Zoo at the junction of First Avenue and 31st Street. Dolphin shows are regular attractions here. The skate park at Burnham on the junction of 31st Street and Lake Shore Drive is well worth a look if skateboarding or rollerblading is your thing. Here 20,000-square-foot of park has been turned over to benches, curbs, rails, and smooth, curved metal surfaces for jumps, flips and tricks.
For the naturalists among you, the city has a lot to offer. Chicago's Botanic Garden can be found at Glencoe, which is about 25 miles north of downtown. The 385-acre site includes some fascinating demonstration, research, and conservation gardens, which are well worth a look. The Garfield Park Conservatory on North Central Park Avenue features the largest public horticultural collection under glass in the world and the Lincoln Park Conservatory boasts a 50-foot fiddle-leaf rubber tree dating from 1891 and includes four huge greenhouses with some very unusual and exotic flora.
The Morton Arboretum has an interesting visitor centre, a restaurant, a maze garden, and a children's garden to accompany thousands of trees and other plants on its 1,700 acre site. The Morton can be found on Route 53 in Lisle. For tropical fern and desert greenhouses, pay a visit to the Oak Park Conservatory on Garfield St in Oak Park. Here, some very special floral displays are created in November, December, February, and March.
Removals to Los Chicago, USA - please contact us now to discuss your move or click here for a free removals quote
Removals to USA | Moving to America Relocation Guide | Shipping to America Customs Information| Removals to Los Angeles | Removals to Chicago | Removals to New York | Removals to San Francisco | Removals to Washington | Removals to Houston