detailed quote
To get a
FREE
detailed quote of your move click the button below and fill out our online Contents of House form.
detailed quote

CALL US TODAY!
0800 246 5622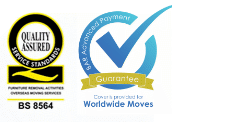 Removals to America, USA | UK to New York Removals Service
Hamiltons International Removals are experts in arranging removals to USA locations for private or commercial and corporate customers. For expert help arranging removals to America, talk to us today.
Removals to America - New York
Removals to New York can be tailored to suit your needs. We can provide a full packing, loading, shipping and unloading service, or you can arrange the packing yourself. We can even arrange for your departing house or office to be cleaned for you after your effects have been packed up. With removals to America at competitive prices, we make your move easier.
Removals to America  - click here to read about our removals to USA service.
Removals to USA - Destinations
We arrange shipping to and from all American destinations from Washington to Florida and from Minnesota to Texas. We carry out removals to USA towns and cities throughout mainland and beyond including islands such as Hawaii and San Juan Island. For removals to America including, of course, New York please check our prices.
Removals to America - click here to read about our removals to USA service.
Hamiltons are a member of the trade association BAR (British Association of Removers), The Road Haulage Association and are BS EN ISO 9001:2000 registered.
About New York USA
"New York, New York, so good they named it twice" The lyric from that famous song by Gerard Kenny actually refers to the fact that both the city and the state share the same name. Here we shall be looking at life in the city itself. The city of New York is divided into 5 boroughs; Manhattan, The Bronx, Queens, Staten Island and Brooklyn and each one has its own peculiar flavour.
Removals to USA - click here for a free online quote
Living in Manhattan
The island borough of Manhattan is connected by either bridge, tunnel or ferry to each of the 4 other boroughs making it a relatively easy commute, but for some it is not enough simply to work there, they have to live there too. Living in Manhattan comes at a cost though, not just financially but spatially. In Manhattan you get less for more. But if you can accept this fact, as over 1.5 million people do, you will be happy living in Manhattan.
Living in Manhattan New York, is about living right in the thick of it, right in the centre of everything. Being where it all happens and being a part of it, as it happens. It's about being able to leave your home and walk to work or to the theatre or cinema. It's about having your favourite restaurants and bars just around the corner and it's about living amongst the rich and famous, sharing the same air as John Lithgow, Kevin Spacey, Liza Minelli and Winona Ryder and being a part of that famous sky line.
Living in The Bronx
For many years the area of New York known as The Bronx suffered with a bad press, but over the last five years or so, all that has changed. It is now regarded as a hip and trendy place to live with many artists and antique dealers setting up shop here. The gutted tenement buildings have now been replaced with modern homes and the area has taken on an entirely new and more relaxed, family-centric feel.
Credited as the birthplace of hip-hop, it is on trend and happening. Parts of it are still edgy and raw but that's what gives the Bronx its appeal and makes it such an exciting place to live. That and the delightful mix of talent that has been attracted to the area, from freelance photographers and writers, to painters, sculptors and chefs and they will all agree that what you get for your money here, makes it well worth living outside of Manhattan.
Removals to America - click here for a quote
Living in Queens
As mentioned above, living in Manhattan carries a price tag and for some, that is just too high. Queens gives you more space for your dollar and yet it is still within easy striking distance of Manhattan. It has become a haven for those late twenties / early thirty somethings who work in Manhattan but can't or don't want to, afford the rent there.
European and Asian restaurants are common in Queens as are the large numbers of people that hail from these far-flung places. Equally common are the bars and delis frequented by young arty types who enjoy exchanging ideas over coffee and a bagel or croissant.
Living on Staten Island
Living and working on Staten Island is a joy. There are some really quite lovely parts to it, with pretty housing and some expansive, semi rural views as well as a fabulous beach. South beach Staten Island is the place to go for a relaxing break and/or an enjoyable family day out.
In much the same way as the Bronx has been regenerated, so too has Staten Island. The developers moved in some 10 years ago, tore down most of the existing housing stock and built small bungalows and town houses in their place. This had the effect of attracting many thousands of young families to the area, which spawned the creation of "Happyland", Staten Island's amusement park. The real appeal of Staten Island though is that you can get a lot of house for your money and still live in a quality neighbourhood.
Living in Brooklyn
Brooklyn is culture, music in the park and summer concerts on the beach, it is alfresco dining at some of the loveliest restaurants and a place where you are encouraged to sit back and relax or, if you're the adventurous, outdoors type, to don a crash hat and go biking or set off on a hiking trail to really enjoy the countryside.
Country life aside, the heart of Brooklyn is busy and thriving. With a strong local economy and all of the necessary amenities in place it is a confident borough, sure of its place in the world which is populated by those with real purpose and commitment, not only to themselves and their livelihoods but also to those of their friends and neighbours
Removals to New York, USA - please contact us now to discuss your move or click here for a free removals quote
Removals to USA   | Moving to America Relocation Guide | Shipping to America Customs Information| Removals to Los Angeles | Removals to Chicago | Removals to New York | Removals to San Francisco | Removals to Washington | Removals to Houston